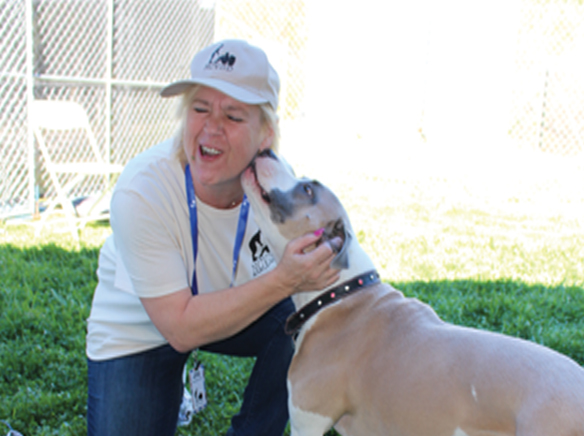 Former Marine Marcus Perry systematically walked up and down the makeshift shopping aisles created by melamine tables standing on the lawn at the North County Stand Down event. With a quick smile and shining eyes, he cracked a few jokes about the assorted pairs of cowboy boots lined up among the tables stacked with free clothing items, then eagerly moved on a pair of New Balance sneakers like a young man finding a deal at a local mall, exclaiming over the gently used soles.
A guest at the North County Stand Down event that was held Feb. 6-9 at Green Oak Ranch in Vista, Perry is 27 and has been battling alcohol­ism. He has no permanent home.
"I was in the Marine Corps from 2010 to 2015. I'm originally from Bakersfield but I'm staying in this area. I'd like to eventually get into something like fire fighting, maybe be an EMT," Perry said.
Perry was just one of about 300 prior service members from across San Diego County who at­tended the stand down.
Along with Perry, Santee VFW Auxiliary Presi­dent Sherri Mitchell was also at the event but in a different capacity. She volunteered as team leader for the pet zone, an area where homeless veterans were able to leave their dogs while circulating through the event, with the understanding that they would pick them up at the end of the day.
According to the Veterans Administration website, Stand Down events are typically one to three-day events during which VA staff and volunteers provide food, clothing and health screen­ings to homeless and at-risk Vet­erans. In addition, veterans also receive referrals for health care, housing solutions, employment, substance use treatment, mental health counseling and other es­sential services.
Regional VFW volunteer Ka­thie Okalski said that it is vet­erans like Perry that make volunteering important.
"This is an amazing event, it truly helps people, especial­ly those who have a whole life ahead of them," Okalski said.
In San Diego county, there is typically one Stand Down held on an annual basis at downtown San Diego High School as well as the more rural North County Stand Down. A similar event does not exist for East County. However, volunteers from San­tee, Alpine and Lakeside VFW posts answered the call for help at the North County Stand Down event held Feb. 6-9 at Green Oak Ranch in Vista.
Colored tennis balls and rope toys were scattered around the free-run dog area, a roughly 20 x 20 grassy spot sectioned off from the rest of the event. Hanging off the chain-link fence in one corner was a camp shower ca­pable of supplying warm water, a happy respite for dogs who might not have frequent oppor­tunities for a soapy dog bath.
Inside the adjoining tent, large bags of dog food stood in neatly stacked piles. Plastic bins filled with colorful toys and fresh col­lars waited alongside an orga­nized section of assorted treats, a cheerful distraction for the dogs while their owners consult­ed with employment service pro­viders, obtained fresh clothing and shoes, and visited a dentist.
Mitchell said the pet zone has grown well beyond a doggie daycare and into a booth where veterans are able to get help for their dogs including shots and basic care from a veterinary technician.
"I got tons of donations from Harrah's. Kahoots (pet store) do­nated so much as well— bags of food, toys, that huge bin of balls. The Santee VFW also gave me a financial donation which I used to buy flea medication. Honestly, the Pet Zone has been a growth project. So many people have nobody but their dog and when they come here, I want them to know their best friend is also getting cared for," Mitchell said.
Irvin Musgrove and his dog Kylie are repeat attendees at the event.
"I'm from Texas, a former Ma­rine. I really appreciate the help y'all are giving here. This is my second time coming here but I skipped one in the middle when my fiance died. They bless you here," Musgrove said.
North County Veterans Stand Down Director Matt Foster said the event brings veterans off the streets and that not all of them are homeless, but all need help. He speaks assertively, talking more about solutions than sym­pathy.
"The whole point is to help them. We're looking to help those who are homeless but also those who are one paycheck away from disaster. We want them to be self-sustaining. Only about 3% of the population volunteers to serve and we train them for com­bat but not much else once they get out," Foster said.
Unlike some Stand Down events that are held in urban areas, this particular event is somewhat isolated so interest­ed veterans are bussed in from across the county for the event. They are found on the streets, in shelters, through outreach work­ers and rehabilitation programs.
Volunteer Dan Regan turns up after a morning of driving in participants who share information on available resources be­fore they are checked in for the weekend as guests and assigned a bunk in which to sleep.
"It's interesting driving the vans because you have three or four guys in the back and you hear them talking— they know the system, they help each other out," Regan said.
Foster said the event is some­what driven by word of mouth. He says the veteran community's tendency to talk is help­ful as they spread word of vital resources available at the event that aren't readily available out­side of Stand Down such as free eyeglasses made on site after a visit with an optometrist for up­dated vision prescriptions.
He explained that although the event is officially held over the course of the weekend, some services, such as extensive den­tal work also require a follow-up visit so services are somewhat ongoing.
Foster said he has a full-time job but he is here on vacation as a labor of love to help veterans back to life.
"I don't want them on welfare for the rest of their lives, I want them to be productive. They need to do something, be productive, feel worthwhile. You can't just sit around on disability and lie around on a couch all day, that isn't living. I knew when I got out of the Marine Corps that if I didn't have something to do, bad things were going to happen. I try to give that to other veterans because we owe it to them. I just hope people will pay it forward,"  Foster said.