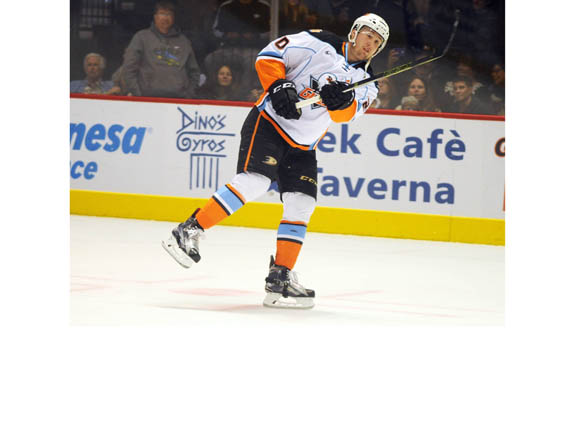 The San Diego Gulls are nearly the halfway mark of their maiden season and, by all accounts, the American Hockey League club has surpassed all expectations.
The AHL serves as the top-tier affiliate of the National Hockey League and local fans have flocked to the Gulls' new nest to watch top young prospects on their way up to the NHL as well as players with extensive NHL credentials working their way back to pro hockey's "big show."
The San Diego Gulls are nearly the halfway mark of their maiden season and, by all accounts, the American Hockey League club has surpassed all expectations.
The AHL serves as the top-tier affiliate of the National Hockey League and local fans have flocked to the Gulls' new nest to watch top young prospects on their way up to the NHL as well as players with extensive NHL credentials working their way back to pro hockey's "big show."
Besides being a hit at the turnstiles (the Gulls have the second-best attendance average of 8,621 in the 30-team league), the team – the top affiliate of the NHL Anaheim Ducks — has also proven to be a hit on the ice with a record of 17-12-0-1 heading into this weekend's set of games at the Valley View Casino Center.
The large and adoring fan base has served to help provide the Gulls with a distinct home ice advantage. The club, greeted by a sellout crowd of 12,920 on opening night, won its first six home games and has an overall home ice record of nine wins, two losses and one shootout loss (9-2-0-1) heading into Friday's game against the visiting Charlotte Checkers.
"The crowd is incredible, an unbelievable atmosphere down on the ice," San Diego head coach Dallas Eakins explained. "I can only imagine what's going on in those stands. The fans seem engaged, behind us and loud. That helps push the players along on the ice.
"For our start here, being in a new market, with the fan support we've had and how this community has wrapped its arms around us, this has far exceeded my expectations."
"We've had good crowds every game, they're loud for us if we're playing well, it helps our bench, it helps our team," forward Nick Ritchie said."It's a lot of fun playing at home here."
"They're loud, when they're making some noise, it really gets us going," defenseman Shea Theodore said.
Several Gulls have been making their own noise.
Defenseman Brandon Montour and Ritchie will both represent the Gulls in the 2016 Toyota AHL All-Star Classic Jan. 31-Feb. 1 in Syracuse, N.Y.
Both rookies will be making their first AHL All-Star appearances.
Montour, a 6-foot, 192-pound 21-year-old who has appeared in 30 games this season, leads the Gulls with 28 points (six goals, 22 assists). He was selected in the second round (55th overall) in the 2014 NHL Entry Draft.
Ritchie, 20, a 6-2, 232-pound left wing who has appeared in 21 games with San Diego, ranks third on the team with 20 points and first on the team with 12 goals despite an extended 11-game call-up to the Ducks. He was selected in the first round (10th overall) in the 2014 NHL Entry Draft.
Montour earned honors as the CCM/AHL's Rookie of the Month for November after collecting four goals and 15 points in 12 games during the month. At the time, Montour led all AHL rookies in scoring and currently ranks second in that department.
"It's good to get recognized like that but obviously we had a good month as a team and that definitely helped me earn me that," he said somewhat modestly. "It's great to get the recognition, but we have a long season ahead of us."
Besides Ritchie, defenseman Shea Theodore and goaltender John Gibson have also received call-ups of note during the first half of the season.
Theodore has appeared in five games with the Ducks during four separate call-ups while collecting four goals and 16 points in 27 games with the Gulls.
"It was cool, I enjoyed every minute, hopefully I'll get another chance," the 6-2, 195-pound blue-liner said.
Theodore considers his strength as his confidence as a defensemen, puck movement and skating ability. "I hope I can keep doing that and get called up," he said.
Ritchie recorded one assist and four penalty minutes in his first NHL call-up.
"That was pretty exciting to go up there for a little bit and play some games," he explained. "Obviously, I didn't want to come back down here but it's been good stepping down and, we've won a lot of hockey games."
As a first-round draft pick, Ritchie said he didn't put undo pressure on himself.
"Obviously, you're a little nervous when you first start (because) it is the best league," he said. "The emotions are high right away, but I didn't put too much pressure on myself, I just tried to play hard."
Ritchie will forever be a part of Gulls trivia: He scored the first goal in the relocated franchise's history in a 4-2 win over the Grand Rapids Griffins on opening night back in October.
"That was pretty exciting when it happened," he said, "but I think we have better things ahead here."
Gibson, 22, was in the net for seven of the Gulls' first eight victories before being called-up in mid-November. He posted a 7-4-1 record, 2.63 goals-against average and a .917 save percentage in 13 games with San Diego.
Gibson has stuck with the Ducks and, in fact, has taken over the No. 1 goaltending position in Anaheim. He has appeared in 14 games with the Ducks since starting the season with San Diego and is 8-5-2 with a 1.75 GAA and .929 save percentage with Anaheim.
Gibson earned the NHL's First Star Award for the week ending Dec. 6 after posting a 3-1-0 record with a 0.76 GAA, .968 save percentage and two shutouts to lift the NHL club into fourth place in the Pacific Division standings.
He was recently named the NHL's Rookie of the Month for December after posting a 5-3-1 record with a 1.62 GAA, .929 save percentage and three shutouts in 10 appearances.
The story gets even better for the former Gulls netminder. He was named this week to his first NHL All-Star Game (Jan. 31 in Nashville). He leads the NHL with his 1.75 GAA.
Player movement has also benefitted the Gulls after Ducks right wing Tim Jackman and goaltender Anton Khudobin were assigned to San Diego. Khudobin, who had appeared in eight games with the Ducks this season, won his first three starts with the Gulls.
Role models
The Gulls' return to San Diego after a nine-year absence of pro hockey in the region has certainly stirred up renewed interest in the sport. The team's home attendance figures attest to that.
But having a professional team within viewing distance goes farther than just cheering on wins. It's about creating a hockey culture.
"The amateur ice and roller hockey scene is very excited about the Gulls AHL team and we all hope that it will create some new interest in the sport of hockey," West Hills High School roller hockey coach Steve Baldwin explained. "Interest in hockey certainly declined after the departure of the old San Diego Gulls (of the ECHL) and now we are all willing to work with the new Gulls to promote hockey together.
"There's around 5,000 ice or roller hockey players in San Diego County who currently play on organized teams and this will be the base of the Gulls' fan support system."
Taking flight
The Gulls are currently in second place in the seven-team Pacific Division behind the division-leading Ontario Reign, the Los Angeles Kings' AHL affiliate. The division includes five California teams. Bakersfield, Stockton and San Jose join the two Interstate-15 rivals. Five standings points separate six of the seven teams in the division.
"We've got a pretty good division, it seems like all the teams are pretty strong, especially rebuilding coming to California," Theodore said. "We know we're going to be facing good opponents every night and it's going to be a battle."
The Gulls' magical 7-1 start was tempered somewhat by call-ups to the parent club and injuries that resulted in a six-game losing streak from Nov. 13- 25. The Gulls, healthy once again and restocked with players re-assigned from Anaheim, have since taken wing by winning six of their last eight games.
In particular, the team has developed a penchant for winning close games over the first half of the season.
Of the Gulls' opening 30 games, 12 have been decided by one goal, including seven either in overtime or in a shootout. The Gulls have won 10 of those one-goal games, including seven past regulation play for a stunning .875 winning percentage.
"We're playing harder, everyone is a little more precise," Ritchie explained of the team's recent surge. "We're winning all our close games and that's going to be good for us down the stretch. We've won a lot of the one-goal games. We were on the wrong side of them for a while but when they come your way, it's a good feeling."
At this level, consistency counts, Eakins noted.
"That what it's all about," the Gulls coach said. "With a full line-up, I'm fairly certain we can compete with anybody in the league. With call-ups and injuries, what's important is to stay in it and be competitive, and still get some wins, too. It's extremely important for our confidence and the development of these young men.
"We've had our fair share of injuries here, we've had guys step up and fill the holes very, very well … that only bodes well for us down the stretch.
I thought we started really well. We kind of let our foot off the pedal at little bit and (now) came back again."
"It's the sign of a good team winning those close games," Ritchie added. "Once we get into the playoffs, that's a long way away, but that's the way the game is played, it's one bounce here and there. It's not a bad way to play early on."
Battle tested
The Gulls and Reign have developed an intense rivalry that mimics that of their parent NHL clubs. While the Reign holds onto first place in the division standings with an 18-8-2-1record, the Gulls have gotten the better of their Southern California rivals by winning four of their opening five match-ups.
The teams play 12 games against one another this season.
Their last encounter – a 4-1 San Diego victory Dec. 26 on home ice – was witnessed by a crowd of 11,078 and created a buzz in the penalty box. Their next encounter is slated Jan. 15 in Ontario.
The Dec. 26 game was punctuated by a scuffle that erupted when Reign defenseman Kurtis MacDermid delivered a vicious upper body hit on San Diego right wing Matt Bailey.
MacDermid received a match penalty for a check to the head while also receiving a fighting major during a tussle with Gulls defenseman Stu Bickel, who immediately came to Bailey's defense.
The game featured 50 minutes in penalties between the teams.
MacDermid (6-5, 208) later received a 12-game suspension from the league. According to a media report, Bailey has had surgery to repair facial fractures.
The teams' mutual dislike for each other was apparent from their first preseason game and has progressed from there.
"When you play a team that many times and there's already bad blood from the two NHL teams, you're never quite sure how far it's going to go," Eakins explained. "There is a constant amount of chatter on the ice and you can see the level of physical play as well."
"We've played them a number of times now and it seems like every time we play them something happens or stuff gets heated," Montour added. "Obviously, they're a good team there and we're a good team here. Every game we play them it's going to be a battle. We get excited every time we get a chance to play each other."
Montour suggested the rivalry is due to what he termed "a little bit of everything."
"They're so close, that's a standpoint," he said. "We play them so many times this year. Like the other teams we play, they're all battles. Maybe the Kings and Ducks might have a little thing to do with it from the fans standpoint."
"It's been a good rivalry since we started of the season," Ritchie said. "The teams are so close, we've played them so much, they play hard, we play hard, it's been good games every time we played."
Fans should mark their calendars: Ontario returns to San Diego on Jan. 29.
Montour said the Gulls have definitely built up their confidence level in taking four of the first five meetings against the division leaders.
"Winning those games, four in row now, and getting that break (over Christmas) over with, and getting that win (on Dec. 26), we're excited," he said.
"It was good to get that win and we'll keep on getting better after the break," Ritchie added.
Fight the future
With players on every team in the AHL bent on making NHL game day rosters, the competition is understandably fierce. That seems to be the name of the game in the minors. But, obviously, there is more scrutiny by NHL scouts and executives at the AHL level.
"It doesn't matter if you are in this league or the NHL, every night is a tough game," Eakins explained. "You never go in a game with the mindset that you're going to kick the crap out of (an opponent), Every game is going to be close.
"It's basically a 3-2 league similar to the NHL. We always want to get on top in these games, we've got to be comfortable in these games, never panic whether you're down or it's even.
"It's all about today. You go into a season, I expect to win every night. That's the only way to go about it."
Inline hockey wars
While the Gulls appear to be flying high, another brand of hockey is ready to face off its season this weekend as the San Diego Tron Hosers host their American Inline Hockey League Pacific South/Southwest Division rivals (Arizona Ghostriders and Arizona Outcasts) in a two-day tournament at Skate San Diego in El Cajon.
The Hosers, who returned to play in the AIHL in 2014 after a five-year absence, are among the favorites to win this year's Elite Division title. This season's team is comprised of some of the top inline players not only from throughout San Diego County but also in the nation.
Top returners include defensemen David Baldwin, Anthony Mata and Morgan Capps, forwards Billy Metcalf and Johnny Noris and goaltender Zach Cummings.
Charles Baldwin will join the team late in the season after returning from playing professional ice hockey in the Czech Republic.
New to the team are roller hockey superstars and Team USA mainstays Itan and Juaquin Chavira. Steph Demopoulos also joins the Hosers after winning a national NCAA Division I ice hockey championship with Providence College. Also new to the team are former high school standouts Reed Kinsey, Dominic Keiser and Brad Majeski.
Kinsey, from Poway, earned honors as the 2011-12 CIF-Metro Conference Player of the Year while Keiser and Majeski starred on the court for West Hills High School. Majeski was a member of the fabled "Great Eight" group that guided the Wolf Pack to the 2012-13 CIF-Metro Conference Kiwanis Cup championship – the only East County team to do so.
"It's a very solid team and may be the best Hoser team ever assembled," noted team manager Steve Baldwin.
Competition will include games at the Elite and Minor division levels. Besides the Hosers' semi-pro (Elite) team, the Hosers are also fielding two Minor Division squads.
Admission is $5. The rink is located at 165 Denny Way, El Cajon. Call (619) 562-0323 for information.
Game schedule
Saturday, Jan. 8
| | | | | | |
| --- | --- | --- | --- | --- | --- |
| | | | | | |
| 3:00 | ARIZONA GHOSTRIDERS | SAN DIEGO HOSERS BLACK | Minor | MINOR | |
| 3:45 | ARIZONA OUTCASTS | SAN DIEGO HOSERS | Elite | ELITE | |
| 4:30 | ARIZONA OUTCASTS | SAN DIEGO HOSERS BLACK | Minor | MINOR | |
| 5:15 | ARIZONA GHOSTRIDERS | ARIZONA OUTCASTS | Elite | ELITE | |
| 6:00 | SAN DIEGO HOSERS WHITE | ARIZONA OUTCASTS | Minor | MINOR | |
| 6:45 | SAN DIEGO HOSERS | ARIZONA GHOSTRIDERS | Elite | ELITE | |
| 7:30 | SAN DIEGO HOSERS WHITE | ARIZONA GHOSTRIDERS | Minor | MINOR | |
| 8:15 | ARIZONA OUTCASTS | ARIZONA GHOSTRIDERS | Elite | ELITE | |
| 9:00 | ARIZONA OUTCASTS | ARIZONA GHOSTRIDERS | Minor | MINOR | |
| 9:45 | SAN DIEGO HOSERS | ARIZONA OUTCASTS | Elite | ELITE | |
| 10:30 | SAN DIEGO HOSERS WHITE | SAN DIEGO HOSERS BLACK | Minor | MINOR | |
Sunday, Jan. 9
| | | | |
| --- | --- | --- | --- |
| 9:00 | ARIZONA GHOSTRIDERS | SAN DIEGO HOSERS BLACK | Minor |
| 9:45 | ARIZONA GHOSTRIDERS | SAN DIEGO HOSERS | Elite |
| 10:30 | ARIZONA OUTCASTS | SAN DIEGO HOSERS BLACK | Minor |
| 11:15 | ARIZONA GHOSTRIDERS | ARIZONA OUTCASTS | Minor |
| 12:00 | ARIZONA OUTCASTS | ARIZONA GHOSTRIDERS | Elite |
| 12:45 | ARIZONA GHOSTRIDERS | SAN DIEGO HOSERS WHITE | Minor |
| 1:30 | SAN DIEGO HOSERS | ARIZONA GHOSTRIDERS | Elite |
| 2:15 | SAN DIEGO HOSERS WHITE | ARIZONA OUTCASTS | Minor |
| 3:00 | ARIZONA OUTCASTS | SAN DIEGO HOSERS | Elite |
| 3:45 | SAN DIEGO HOSERS WHITE | SAN DIEGO HOSERS BLACK | Minor |