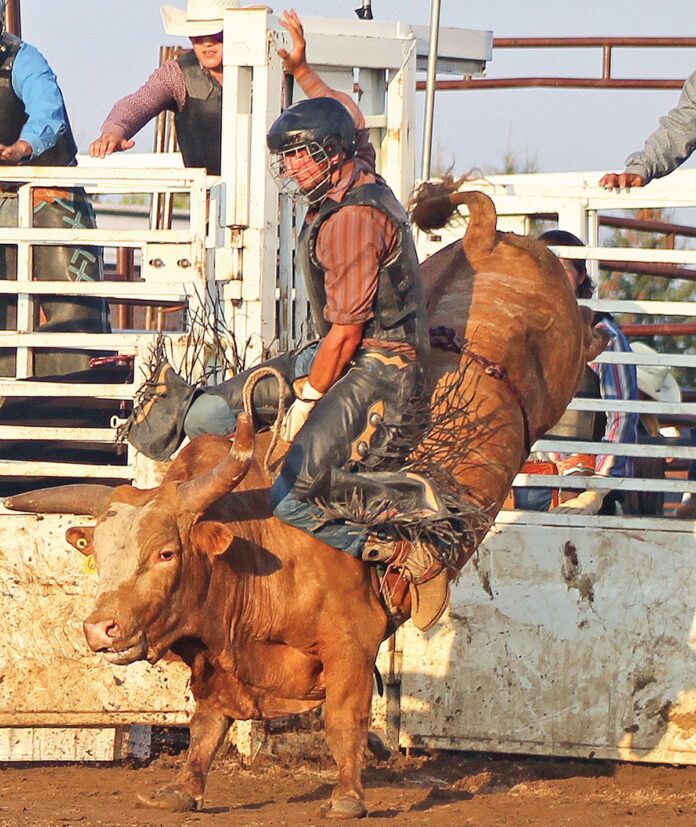 The Lakeside Rodeo takes place through this weekend at the Lakeside Rodeo Grounds. The annual event serves as one of the main fundraisers for the non-profit El Capitan Stadium Association, which donates money to various youth groups throughout the community. Here you'll find terminology and trivia to acquaint you with the basics of rodeo. For ticket information visit lakesiderodeo.com
ROUGH HOUSE
Roughstock are the horses and bulls used in the barback riding, saddle bronc riding and bull riding events. The animals are bred and raised specifically for the job and supplied by stock contractors. The Lakeside Rodeo gets its roughstock from Western Rodeo.
KEEPING SCORE
In roughstock events contestants are awarded points based on the difficulty of the ride—the degree of bucking—and the skill of the rider. Using only one hand, riders must stay on the horse or bull for 8 seconds. If a rider touches the animal, himself or any of his equipment with his free hand he is disqualified.
TIED UP IN KNOTS
The hooey is a knot used to finish tying a calf's legs together in tie-down roping
KNOW THE ROPES
In rodeo they are called ropes, not lariats or lassos and are used in timed events. They are made of flexible and braided material. Riders may decide which ropes to use based on cattle and weather conditions.
TALE OF THE SCALES
The average bucking bull used in rodeos weighs between 1,700 and 1,800 pounds. By contrast a bull rider such as #1 ranked Ky Hamilton (not pictured), weighs 145 pounds.
DON'T HANG UP
When a bareback or bull rider cannot remove his hand from the rope or handle before he dismounts or is thrown off by the animal, he is "hung up" and pickup men or bullfighters must reach in to help dislodge his hand.
NO BULL, THEY ARE PICKUP ARTISTS
Pickup men are riders on horsebak who help a cowboy dismount a bucking horse after his ride or who has been hung up. Help can be in the form of releasing the bucking horse's flank strap or riding next to the horse so that the cowboy can switch to the pickup man's animal. Bull fighters are the people in the arena who distract the bull away from the rider after he has been bucked off or dismounts.