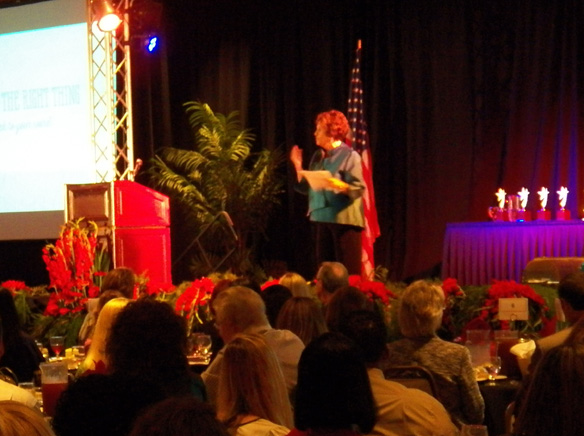 Leadership in theory is one thing. Leadership in practice is another. Training, encouraging and molding followers to actually adhere to a leader's principles and standards through real life actions can be a nearly daunting challenge.

Leadership in theory is one thing. Leadership in practice is another. Training, encouraging and molding followers to actually adhere to a leader's principles and standards through real life actions can be a nearly daunting challenge.
But the San Diego East County Chamber of Commerce gathered current and would-be leaders from throughout the area, to recognize local women serving in leadership roles, who are attempting to do just that, as the business organization hosted the 13th annual Women in Leadership Luncheon on Friday, Oct. 16, at the Town & Country Resort Hotel in Mission Valley.
The yearly event honors San Diego County women of distinction, who have been nominated for recognition of their demonstrated exemplary character, integrity, and outstanding leadership qualities, whether as executives in companies, entrepreneurs, or leaders in nonprofit groups or public agencies. The awards acknowledge leadership not only within the woman's organization but also on behalf of the larger community the organization serves. A total of 41 women were nominees for this year's awards. Eight of them were selected as award recipients.
Leah McIvor, who currently chairs the East County Chamber, offered brief remarks welcoming attendees and noting that the event "keeps getting better every year."
This year's luncheon guest speaker was the co-owner and vice president of Keller Williams Realty, Mo Anderson, who held the rapt attention of attendees as she began describing her experiences "reinventing" herself repeatedly. Her stage presence was vibrant and engaging. Then she dropped the bombshell, informing the audience that she is 78 years old, declaring that her 70s have been her best decade of life. Moreover, Anderson said that she is planning to reinvent herself again during her 80s — and that she is "looking forward to 100."
Anderson has been a CEO at Keller Williams for 10 years, during which time the company has grown from 35 offices to 530. Anderson disclosed that by nickname she is known as the "Velvet Hammer." Part of her most recent reinvention involved writing a book detailing her "pillars" of a "joy-filled life," and she told her listeners she would speak on three of her chosen seven "pillars" during her luncheon address.
Anderson's first pillar principle was this: "Follow your dreams and ask for what you need." She grew up during the 1930s in an Oklahoma tenant farmer family. Her family task from when she was six was bringing in the livestock. While performing that chore, she dreamed. "I can't tell you how important dreams are," she said. She urged those listening to emphasize this to their children and grandchildren. "Especially when you are poor, the poor need dreams." She continued, "Dreams give hope. …Never stop dreaming."
Her second pillar was: "Do the right thing and stick to your word." She told the audience that she is a woman of faith who believes a handshake agreement should be as binding as a legal contract. She further stated that trusting in God and desiring to not fail are essential to character development.
Anderson's third pillar involved this: "Build a culture and set high standards." She explained that women are leaders in life, whether they admit to it or not. She said that women should learn how to exhibit "tough love," because conflict is inescapable at home or in business. "You need to get over it," she smiled. She stated, "Forgiveness comes with accountability." Then she continued, "Standards matter, and you should enforce them quickly and fairly. You are the keeper and defender of the culture you build, whether you believe it or not." She urged audience members who seek better leadership skills to "appreciate and acknowledge each individual who serves" by freely giving out "praise and recognition." She said she called this "filling up buckets."
Anderson concluded, "Accept that you will be tested. That's what life is." And she advised the audience that "distance, wisdom, age and experience will reveal the design to your life" even through the inevitable challenges and trials.
As the luncheon meeting was wrapping up, awards to the eight honored women leaders were presented in alphabetical order. First up was Mara Fortin, acknowledged for her entrepreneurship in building her small business network of Nothing Bundt Cakes during the past nine years. Fortin noted that often "women lack confidence," although she said each should "trust herself." She said her experience has been that women are excellent to work with because they "dot the i's and cross the t's" and are "humble without ego" in ways not commonly found in male coworkers.
Next up was Cary Guthrie, President of Pacific Southwest Association of Realtors, a recognized authority on private property rights and teamwork. Guthrie was further applauded for her exemplary volunteerism on behalf of those in need.
Third honoree was Molly Nocon, CEO of Noah Homes, an organization that supports housing for adults with developmental disabilities and dementia. Nocon was emphatic, in expressing that people with disabilities should be able to decide for themselves where they live, instead of being relegated to whatever spot is open for their residence.
Erica Pinto was brought to the podium for the fourth award. Pinto is the Chairwoman of Jamul Indian Village, the first elected chairwoman of the small band that first had electricity on the reservation in 1980. Pinto has been serving on the tribal council since she was 20, and she is currently overseeing development of a casino to open next year.
Miriam Raftery, founder and editor of "East County Magazine" was next up for recognition. Out of the ashes and embers of the East County wildfires of 2003 and 2007, she created a widely read publication that focuses on emergency and disaster alerts. In accepting her award, Raftery observed that her publication emphasizes "voices not heard" often, including the local tribes, Chaldeans and military veterans.
Sixth honoree to the stage was Elizabeth Smith-Chavez, of Smith Chavez Law, who wrote a highly regarded textbook on real property dispute resolution. She also serves on multiple nonprofit boards. She encouraged luncheon attendees to "give thanks more" in their own lives.
Wendy Urushima-Conn stepped to the podium next, honored for her work as president and CEO of the Asian Business Association. She said that she felt blessed, especially to "work for an organization" she "adores."
Eighth and final honoree of the day was Shelly Zimmerman, chief of the San Diego Police Department. Although Chief Zimmerman could not be attendance, luncheon organizers praised her 31 years of exemplary service as a police officer, which culminated in her rise to the department's top spot.