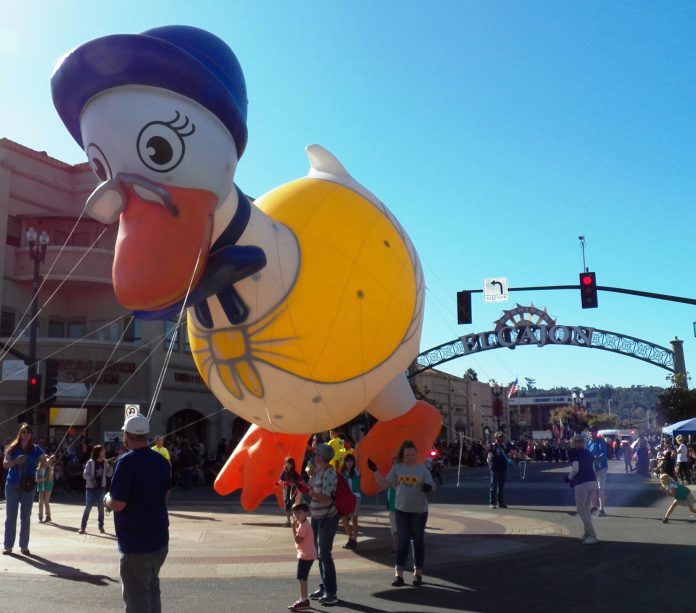 The storybook Mother Goose Parade presented its 73rd annual edition for children of all ages in downtown El Cajon on Sunday, Nov. 24. This is recognized as the largest parade of its type in San Diego County, and furthermore largest west of the Mississippi.
Each year, the pre-holiday season parade draws thousands of delighted spectators and participants to downtown El Cajon.
This year's parade commenced at 1 p.m., with a dove release staged by the Unarius Academy of Science, an El Cajon-based organization promoting exploration of extraterrestrial life. Chapter 1 of the parade followed, organized by the City of El Cajon. Honorary Grand Marshal of this chapter was Mother Goose herself, riding in a special parade vehicle.
El Cajon Mayor Bill Wells waved to the parade route crowd as he rode atop Truck 6 of City of El Cajon's Heartland Fire-Rescue.
Each of the nine parade "chapters" was organized by a lead parade sponsoring organization, and each featured a chapter Honorary Grand Marshal.
The local Lions Club sponsored Chapter 2. This division of the parade featured the Mother Goose balloon, which was tether-guided by local Girl Scouts, who skillfully dipped the giant balloon under the City of El Cajon sign and then lofted the balloon back upright to proceed along the parade route.
Antique and vintage vehicles, motorcycles, stilt walkers, other large animal character balloons, and horses, lions, tigers and bears appeared as parade entries. In fact, firefighting icon Smokey Bear was Honorary Grand Marshal of Chapter 3.
Other local dignitaries and celebrities serving as Honorary Grand Marshals included longtime San Diego County radio and television personalities Shotgun Tom Kelly and Ken Kramer and Padres second baseman Greg Garcia.
Veteran traffic reporter and recently retired City of El Cajon public information officer Monica Zech rode as Honorary Grand Marshal in Chapter 6.
And this storybook parade always has as its final entry a very happy ending. Santa Claus arrives on the last float of the parade.