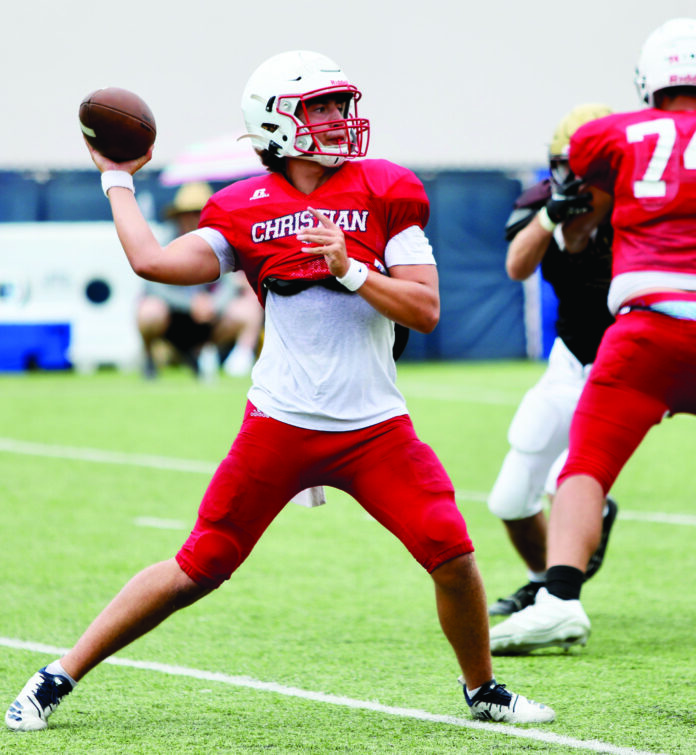 The Christian Patriots return to the City Conference's Eastern League where the team finished 2-2 in league play, 3-2 overall, in the abbreviated spring season under new head coach Danny Mitchell
The Patriots are fielding the most players (87) at the varsity-junior varsity levels in years and expect to continue their flair for offensive football under Mitchell, the quarterback on Christian's 2006 Division V section championship team, in his second year at the helm.
Christian's high-powered offense averaged 317.8 yards per game in five games during the spring season. With losses to graduation, several players will be looked on to step up to fill the shoes of departed players.
They seem to be a capable group.
Quarterback Jake Davila passed for 312 yards with two touchdowns and one interception as a sophomore in the spring while tacking on 172 rushing yards and two scores.
The team's receiving corps includes senior J.C. Gustin and juniors Chris Akridge, Joey Merritt and Hunter Provience. Gustin led the Pats with 328 receiving yards in the spring while Provience (towering over the field at 6 feet, 6 inches tall) caught two touchdown passes.
Aaron Shebloski ranked fifth on the team with 18 tackles last season while Akridge had 13 stops and Merritt had 12 stops. Merritt had two interceptions while Gustin had one pick.
Provience was six-for-six on extra-point conversions and split the uprights on a 23-yard field goal.
The Patriots' league opponents this season include the Mira Mesa Marauders, Scripps Ranch Falcons, Canyon Hills Rattlers (former Serra High School) and Point Loma Pointers (moving over from the Western League).
Christian kicks off the 2021 season with a non-league home game against Rancho Christian on Saturday, Aug. 21, at 7 p.m. Following non-league contests are against San Juan Capistrano (away, Aug. 27), Mission Bay) home, Sept. 4), Santa Fe Christian (away, Sept. 10), Central Union (away, Sept. 17) and La Jolla (away, Sept. 24).
Overall, it's a challenging schedule.
Opening Weekend PREP FOOTBALL Schedule Log
Thursday, Aug. 19
Non-League
Sweetwater at Grossmont
Mount Miguel at Patrick Henry
Friday, Aug. 20
Non-League
Steele Canyon at Eastlake, 6:30 p.m.
Poway at Granite Hills, 7 p.m.
Mira Mesa at Helix Charter, 7 p.m.
Mission Bay at El Cajon Valley, 7 p.m.
Hilltop at Valhalla, 7 p.m.
Kearny at West Hills, 7 p.m.
El Capitan at Canyon Hills, 7 p.m.
Monte Vista at Lincoln, 7 p.m.
Santana at Coronado, 7 p.m.
Saturday, Aug. 21
Non-League
Rancho Christian at Christian, 7 p.m. at Granite Hills High School