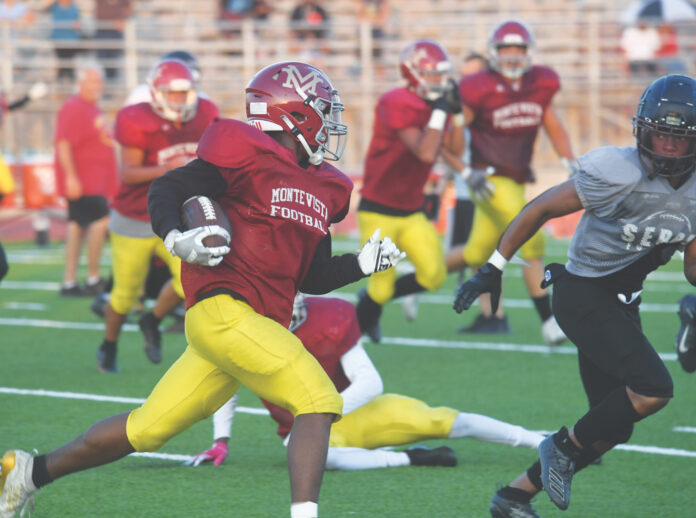 The 2021 high school football season kicked off last Friday for the Monte Vista Monarchs with a three-way scrimmage against Canyon Hills and Sweetwater high schools in National City.
The teams rotated their respective offenses against the other teams' defenses.
All three teams got the opportunity to shake off some dust, get out on the field and show their respective coaches what they were capable of following two weeks of training camp. Competition against a live opponent apart from intra-squad matchups was key at this point of the season.
Foremost, it served as a learning experience.
"We kept going," veteran Monte Vista head coach Ron Hamamoto said with a grin. "We got to hit somebody else for a change. We went out healthy, which was the most important thing."
Monte Vista's Tony Lewis scored one touchdown while teammate Jayden Richardson had one interception.
Both are seniors and expect to impact the Monarchs both on offense and defense this season.
Lewis is making the transition from basketball to the gridiron this season as a running back and safety.
"It's fun," said Lewis, who helped lead Monte Vista to the Grossmont Valley League championship during the spring basketball season. "It's different — It's more physical. It turns you into a man."
Richardson will see duty at the quarterback/defensive back positions.
"It's going to be fun coming back from the spring, March through May," Richardson said. "It's a short offseason. We're already in 'go' mode."
A little bit of feistiness demonstrated how close the teams were to starting the regular season — and games that count in the divisional rankings and conference/league standings.
Monte Vista, which tied for the Grossmont North League lead with El Capitan and Santana duering the spring season, kicks off the new season with a a non-league road matchup at Lincoln on Friday.
Canyon Hills, the former Serra High School, hosts El Capitan in its season opener on Friday. The renamed school also boasts a new nickname: Rattlers. Sweetwater was set to visit Grossmont on Thursday.
Lincoln finished 4-1 during the shortened spring season while Sweetwater finished 5-0 as the Metro-Pacific League champion. Serra finished the spring season 2-2, including a 46-7 non-league win over Valhalla.
"The favorite in the Grossmont Valley league has to be Monte Vista," West Hills coach Casey Ash noted. "They are the three-time defending champs.  I think our league will have improved depth this year — it looks like it's going to be very competitive.  We are going to try to improve each week and play our best football at the end of the season.  If we do so, we will be in position to compete for championships."
"Our league is going to be a pretty strong league this year," El Capitan High School coach Ron Burner said. "El Cajon is vastly improved and, of course, West Hills, Santana and Monte Vista seem very competitive right now. It's going to be a fun year with the league title up for grabs as all of us are going to be pretty even this year.
"We feel we are the front runners with a lot of our guys back from last year, eight returners on offense and seven on defense but we will have some youth as well. It's going to be some great competition for sure."