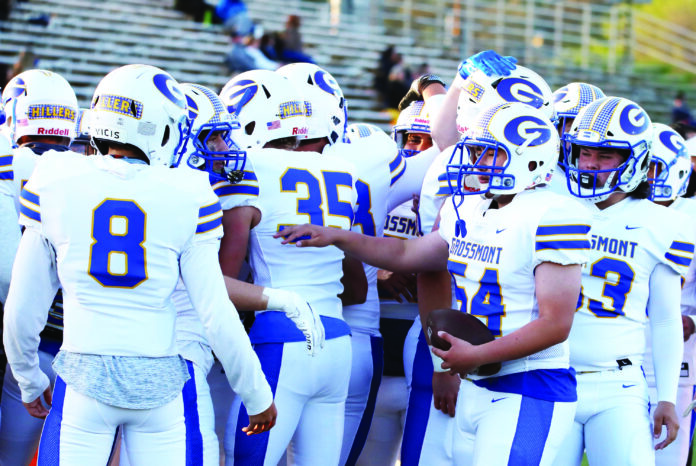 Point Loma High School and Cal Lutheran University alumnus Chris Holmes has assumed the head coaching position of Grossmont High School's football team. The new Foothillers sideline boss has been eager to get to work to craft a potential championship contender.
"I am excited to have joined the Foothiller family and feel blessed at the opportunity to lead the football program," said Holmes, who previously served as an offensive coordinator at Granite Hills High School and prior to that coached eight years at Helix Charter High School. "It has been a blessing to have taken over such an excellent program with such rich culture and traditions. The school and community are a place I am happy to now call home."
Holmes succeeds Tom Karlo, who served as head coach at Grossmont for nine years. Karlo led the Foothillers to a 2-3 record during the abbreviated 2021 spring season and resigned following the shortened season with a career coaching record of 110-68-2 (.618 winning percentage).
Karlo posted a 44-31-2 record in seven years at Mount Miguel High School before joining the Foothillers.
Holmes' first assignment came during the offseason by competing in seven-on-seven passing tournaments in preparation for the 2021 fall season.
"This passing league season we were able to accomplish a lot of install from our defensive and offensive playbooks," Holmes explained. "We wanted to utilize the passing league season as a way to familiarize our units with the defensive and offensive plays they will use in the fall. We also wanted to get as many guys reps as possible. We were successful in working our first through third teams regularly at each tournament game."
Holmes said the seven-on-seven summer events provided the team with a sense of familiarity with offensive passing playbook and defensive calls.
"We will now be able to focus on getting better within those concepts and calls," Holmes said.
"I told my units we are concerned with being competitive, learning the systems and getting everyone reps. I think we competed well against some top programs in the county. I think we grew as an offense and defense. I was extremely happy with the commitment of the players and their willingness to use the passing league season to learn our playbooks."
The Foothillers, who kick off regular season play with an Aug. 20 non-league home game against the Sweetwater High School Red Devils, produced the most pass-productive offense in the county during the spring as senior quarterback Justin Brown passed for 1.525 yards with 11 touchdowns in five games and junior Nathan Acevedo caught 34 passes for 866 yards and eight touchdowns.
Brown has since graduated and Acevedo is now playing at Lincoln High School.
Top returners on offense include senior quarterback Trenton Giles, senior running back Daniel Flores, senior halfbacks Joe Holenstein and Cavin Howard, and senior receivers Gio Burns, Ryan Rodieck and Elijah Williams.
Giles completed 16 of 26 passing attempts in a back-up role to Brown last season with 229 passing yards and two touchdowns. Impressively, he posted a quarterback efficiency rating of 115.7.
Rodiek caught 10 passes for 154 yards and one touchdown in the spring while Flores averaged 2.8 yards per carry on 21 rushing attempts.
Senior guard Doncey Lockett will play at guard on the offensive line.
The Foothillers seem better suited on defense to kick off the new season.
Top returners include senior linebackers Ryan Odom, Brennan Sanders and Howard, senior defensive backs Jacob Benevente and Cristian Espino.
Odom earned First Team All-Grossmont Hills League recognition after leading the Foothillers with 48 tackles during the spring. Sanders ranked second on the team with 47 tackles while Espino was third with 38 tackles.
Odom added two sacks while Sanders had one. Espino had two fumble recoveries.
Howard will serve dual duty on defense as a defensive back after collecting 26 tackles, including 17 solo stops, and one fumble recovery last season.
Burns will also play at defensive back while Holenstein (16 tackles, one sack and one fumble recovery in the spring) will also play on the defensive line.
Thomas Warsaw is the team's senior utility athlete after making 16 tackles, including 12 unassisted tackles, and three sacks during the spring season.
Senior Riego Montejano will help anchor the defensive line.
First-year varsity players hoping to make an impact include junior tight end/defensive end Logan Moore, junior defensive tackles/guard Braydon Armstrong, junior receiver/defensive back Zeke Maleno, junior center Aidan Abram, junior guard Nick Parra and junior tackle Ahmed Alhadithi.
Holmes, who earned All-Southern California Intercollegiate Athletic Conference honors in 2004, first team all-league in 2006 and is on the Kingsmen's 2000-09 all-decade team as an offensive lineman, is looking for his team to play competitive football for four quarters each and every week.
"We want to respect our opponent and maintain our focus on our team's preparation and execution," Holmes said. "We, as a program, want to raise the standard each week. We want to focus on our strengths and work hard every week to improve our level of play. Our goal this season is to play sound-fundamental football and execute our game plans so that we have the opportunities in tough ball games to finish on top.
"The expectations we follow to achieve our goal is that we expect to out-work our opponents, we do not quit on each other, that we lift one another up, we embrace putting in the work to be prepared, and we hold each other accountable. We expect that if we own our team expectations that we will have an opportunity to make a run at the Grossmont Hills League title and make a title run in a stacked Division I San Diego Section playoff field."