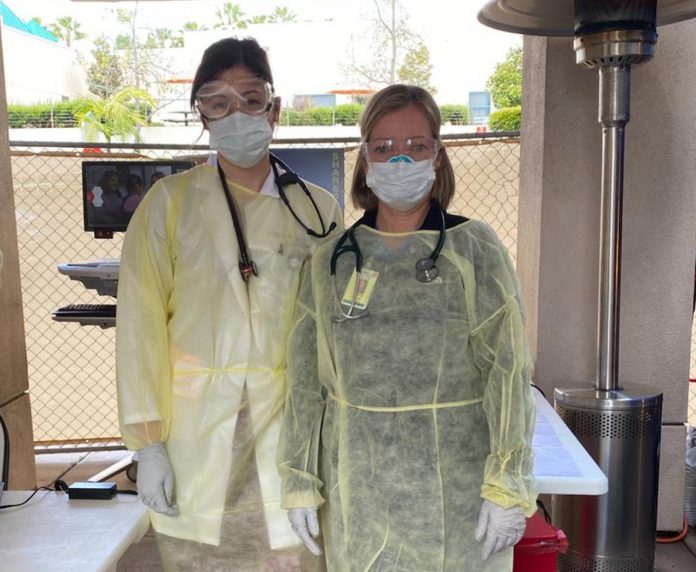 The year 2020 was unlike any year in recent memory. From a  global pandemic that found its way into the homes and businesses of East County  to marches for social justice amidst tinges of white supremacy and police brutality, punctuated by a presidential election that saw the outgoing president encourage his supporters to protest the results.
But in between the big moments of history there were episodes of "normalcy" — albeit socially distanced and via video conferencing. Some of those, and the grander moments, include:
• The service provided by Reflections Salon owner Ginger Rich to a unique group of clientele —the unsheltered.
The January event was the fourth annual Haircut for the Homeless.
"As a child, I grew up homeless in foster care and was homeless off and on until I was 21. Instead of being sad about the past, I decided to change my journey I was on. I wanted to become a hairstylist and decided I was going to own my own business. Somebody believed in me, just like I want to do for these patrons. It's my prayer and hope to give hope to the homeless. We've come together with resources so they might be able to change their path, change their journey," Rich said.
•Mast Park in Santee celebrated a grand reopening that featured an estimated $10 million in renovations and improvements. The changes provided more than aesthetic improvements.
"…the (San Diego River Conservancy) gave a grant to Santee for $250,000 to put in a high-tech collection device that allows a great deal of debris and sediments to be collected in this park, so it will not go into the river," said Santee councilman Stephan Houlahan.
• Edna Kouns, a founding member of the Lakeside Historical Society in 1972, passed away in her home Feb. 5. She was 105 years old.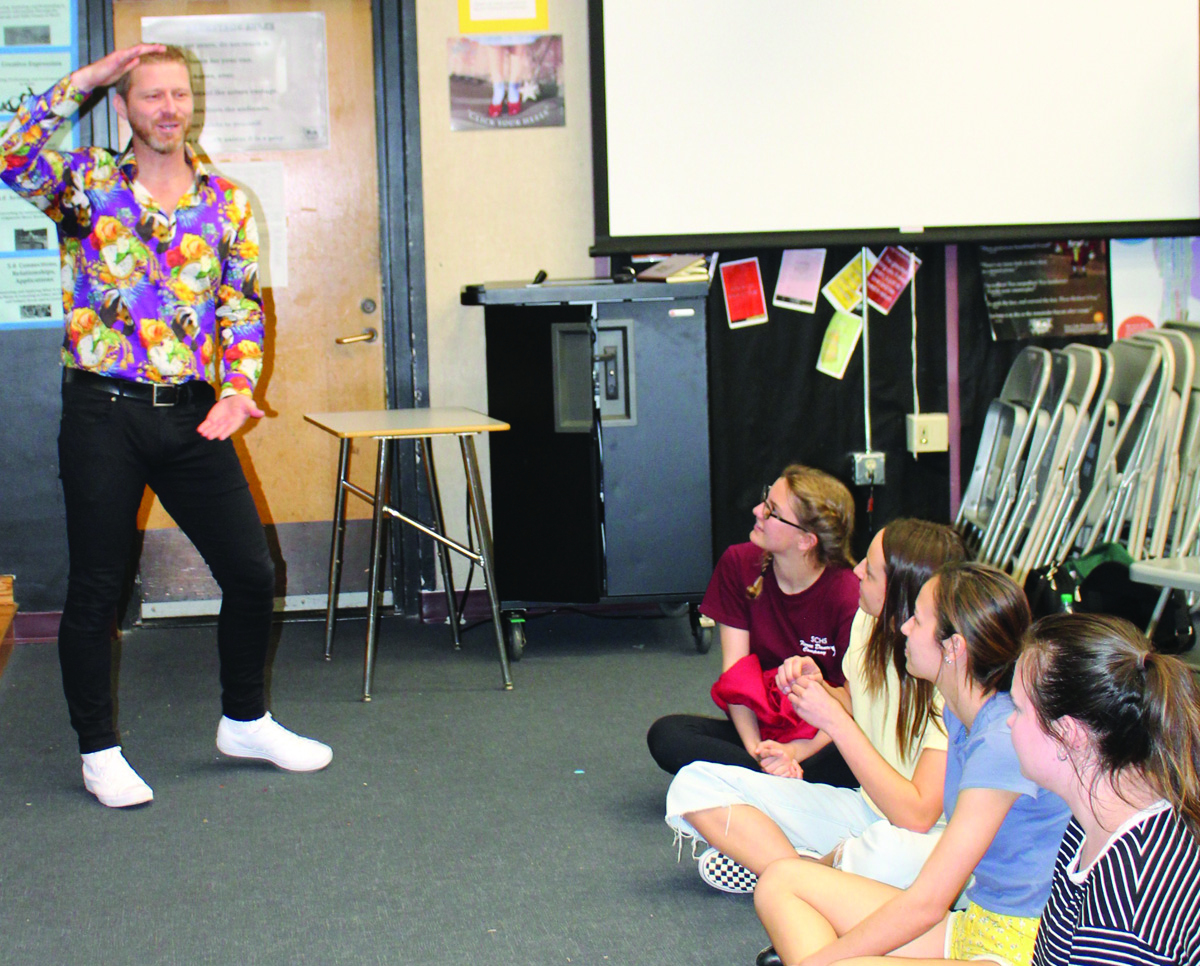 • London stage actor Dean Chisnall made a return trip to Steele Canyon High School in March. The actor, who has played Jean Valjean from "Les Miserables" shared stories about his acting career as well as tips and encouragement to drama students who were working on their production of "Shrek, the Musical."
"You guys are brilliant, utterly brilliant. I did this in rehearsal in England with Shrek and I wasn't nearly as good, I hadn't thought up my backstory yet. You're all brilliant," Chisnall told them.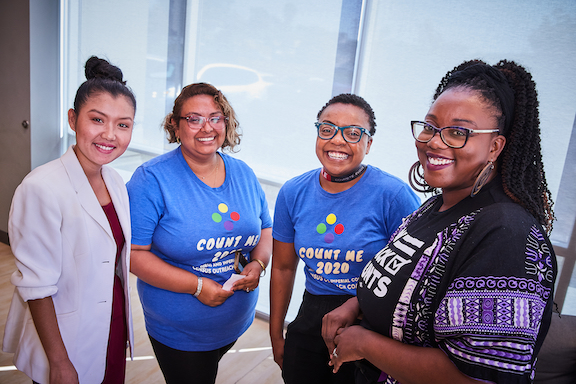 •The once-a-decade census got underway with training for census takers beginning in early March.
•By March 13 concern over the spread of the coronavirus which causes COVID-19 intensified as spread of the disease worldwide raged out of control and the World Health Organization that month declared it a pandemic. It was that month that cities throughout the county, including El Cajon, declared a state of emergency in anticipation of receiving federal funds.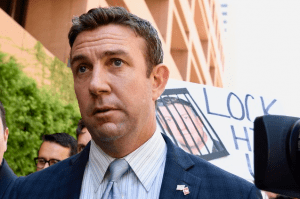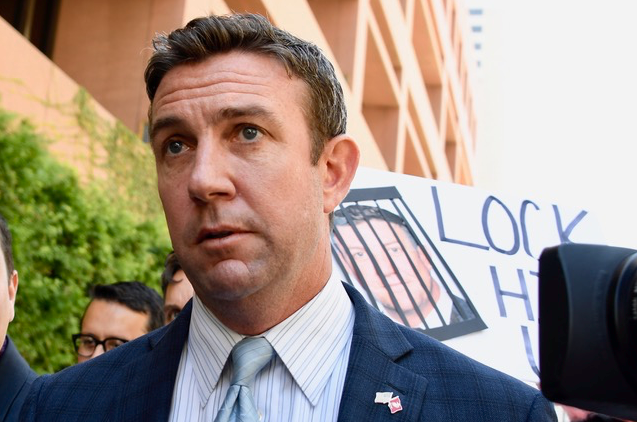 • Also in March, ex-congressman Duncan D. Hunter was sentenced to 11 months in federal prison for his role in misusing campaign funds for personal expenses such as family vacations, private school tuition and getaway weekends for him and a variety of female companions.
• Santee saw the opening of the East County San Diego Administration Center in Santee. The East County branch office is a 25,000-square-foot LEED Gold certified and Net Zero Energy Building and includes the County of San Diego's first consolidated archive and a new wedding venue.
• Schools throughout East County started closing campuses and transitioning to distance learning in response to the spread of COVID-19.
•The long-running Lakeside tradition of concentrating wranglers, clowns, bulls, and queens in an outdoor arena was cancelled when El Capitan Stadium Association's Betty Washburn said the Lakeside Rodeo was cancelled.
"Unfortunately without a rodeo that is our main fundraiser for the year, and having no events, we have no income," said Washburn. "But without knowing when and if this coronavirus is going to subside anytime soon and not having any defined information on it, I had dates in August, but the board chose to cancel everything until next year."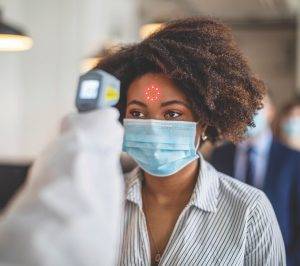 • In the early days of the pandemic facial coverings and masks were hard to come by. But manufacturers such as Flexsystems USA Inc., did their part to alleviate the strain on limited supplies but switching production from 2D mold products to cloth masks and face guards for local convalescent homes and businesses.
"We had to figure out a way to keep our people employed while we wait for the economy to turn around," said owner Diane Chapman.
•  A little more than two months after the governor of California issued stay-at-home-orders and non-essential businesses were required to limit operations or close down indefinitely, regional casinos such as Sycuan and Viejas reopened their doors to the public. Casinos are located on tribal reservations which are considered sovereign territory and not subject to state laws.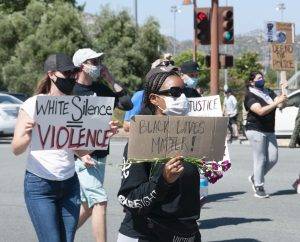 • During Memorial Day weekend in May a peaceful civil rights and anti-police brutality rally during the day turned violent after protestors and police clashed as night fell. Businesses in downtown La Mesa were burned and looted and people were injured after San Diego County Sheriff's deputies fired tear gas into a large crowd of people.
•Graduating high school seniors in June did not participate in traditional commencement exercises as a precaution to spreading COVID-19. Schools within the Grossmont Union High School district were left to decide how they would mark the occasion, with some offering drive-thru celebrations.
•Hundreds of people marched through the streets of Santee in support of the Black Lives Matter movement against police brutality. Earlier in the year a shopper wearing a Ku Klux Klan-style head dress had been spotted shopping at a local store.
• In August La Mesa officials revealed a La Mesa police officer who had been placed on administrative leave for shoving a Black man prior to arresting him for allegedly smoking near a trolley stop was no longer with the department. In the fall it was made public the officer had been fired.
• In October El Capitan High School's Jay Tweet was one of five educators named Teacher of the Year.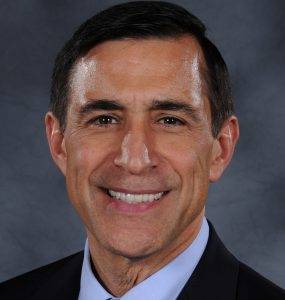 • The November elections saw former North County congressman Darrell Issa was elected to represent District 50 after former East County Congressman Duncan D. Hunter chose not to run for reelection after pleading guilty to misusing campaign funds.
• President Donald Trump pardoned ex Congressman Duncan D. Hunter.