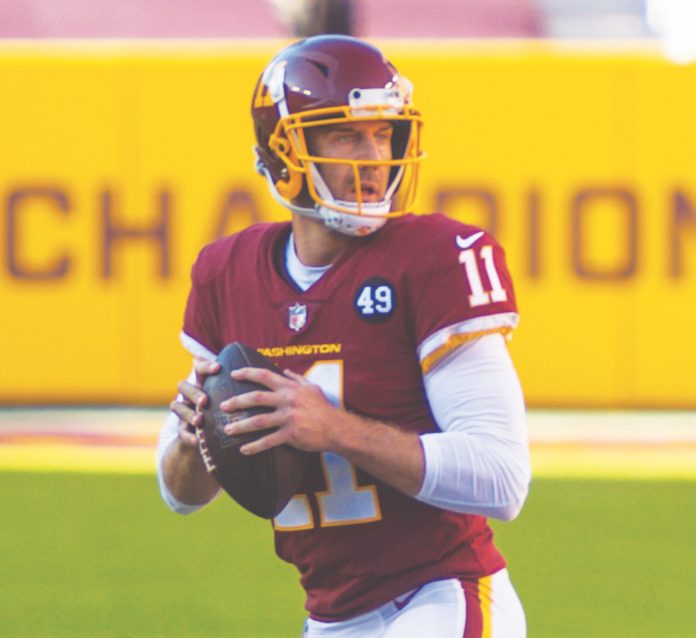 Alex Smith's NFL comeback story keeps getting better.
Considered a shoo-in for the Associated Press NFL Comeback Player of the Year Award, the former Bonita Vista Middle School and Helix High School alumnus helped guide the Washington Football Team, off to a miserable 2-7 start to the 2020-21 season, to what some observers may have considered some highly unlikely accolades.
Smith, 36, passed for 162 yards and two touchdowns in Sunday night's 20-14 win over the host Philadelphia Eagles in front of a national television audience to allow Washington to clinch the NFC East championship and a berth in the upcoming NFL playoffs.
Smith, fighting a calf strain that left him visibly immobile during Sunday's game, bounced back after missing two games due to the injury to complete his comeback season. Back in the starting quarterback position after missing all last season while recovering from a compound fracture in his right leg that required 17 surgeries, he improved to 5-1 this season as the team's starter.
It wasn't the prettiest of wins — Smith threw two interceptions and was sacked three times — but Smith did enough, and the Washington defense did the rest, to keep the New York Giants from winning the division title and advancing to the playoffs.
Washington needed a win or a tie against the Eagles on Sunday night to clinch the division title while a Philadelphia win would have sent the Giants to the NFL's postseason party instead.
Washington (7-9) got out to an early 10-0 lead on a five-yard touchdown pass from Smith to Terry McLaurin and a 42-yard field goal by Dustin Hopkins in the first quarter.
However, the Eagles (4-10-1) scored the next 14 points to present a possible roadblock to Washington's path to the playoffs as Philadelphia signal-caller Jalen Hurts scored on a pair of six-yard touchdown runs.
Smith completed a 13-yard touchdown pass to a leaping Logan Thomas just before halftime to give Washington a 17-14 lead.
The Eagles had a glorious opportunity to take the lead with first-and-goal at the Washington five-yard line but turned the ball over on downs.
The outcome of the contest remained in doubt until Hopkins booted a 42-yard field goal midway through the fourth quarter.
The visitors came up big in the final quarter with an interception and fumble recovery.
Washington enters the playoffs as the NFC's No. 4 seed and will host the fifth-seeded Tampa Bay Bucs and quarterback Tom Brady in Saturday's Super Wild Card Round. The playoff match-up airs at 5:15 p.m. on NBC-TV.
During a post-game interview on NBC Sunday night, Smith acknowledged there is "a lot to be grateful for, starting with those guys in the locker room."
"We had some bumps early and continue to keep fighting and getting better and here we are," Smith said. "This speaks to the character of the team with everything stacked against us. For us to find a way to battle back says a lot about the character in the locker room."
There were other adversities to battle which players on either team could not control: a light rain, 38-degree temperature with a wind chill of 31 degrees.
Washington is the first team in NFL history to make the playoffs after a 2-7 start.
Smith's story isn't the only inspirational one on the team. Head coach Ron Rivera overcame a form of skin cancer in October.
But it's a tough road ahead for Smith, Rivera and Co. while facing a Bucs team that narrowly missed winning the NFC South and topped the Atlanta Falcons, 44-27, to secure the top wild card playoff berth.
Brady, 43, led Tampa Bay to an 11-5 record this season, equaling the second-highest win total in franchise history.
Smith has completed 66.7 percent of his passes for 1,582 yards this season with six touchdowns and eight interceptions while Brady has completed 65.7 percent of his passes for 4,633 yards with 40 touchdowns and 12 interceptions.
Brady, winner of six Super Bowl rings, the most of any player in NFL history, holds a 102.2 quarterback rating while Smith has a 78.5 quarterback rating.
It's unknown if Smith will return next season.
But don't count Smith and his resilient team out quite yet. Strange things often transpire on the road to the Super Bowl.
Extra points
Helix alum Levine Toilolo made one reception for 10 yards in Sunday's 23-19 win over the visiting Dallas Cowboys to end the season with five receptions for 46 yards for the Giants (6-10).
In eight NFL seasons (five with Atlanta) Toilolo, 29, has made 103 catches for 1,042 yards and eight touchdowns. He had 50 receptions for 763 yards and 19 touchdowns during his college career at Stanford University.
The Falcons selected him in the fourth round of the 2013 NFL Draft.
Super Wild Card Weekend
Saturday, Jan. 9
(7) Indianapolis Colts (11-5) at (2) Buffalo Bills (13-3), 10:05 a.m. PT (CBS-TV)
(6) Los Angeles Rams (10-6) at (3) Seattle Seahawks (12-4), 1:40 p.m. PT (FOX-TV)
(5) Tampa Bay Bucs (11-5) at (4) Washington Football Team (7-9), 5:15 p.m. PT (NBC-TV)
Sunday, Jan. 10
(5) Baltimore Ravens (11-5) at (4) Tennessee Titans (11-5), 10:05 a.m. PT (ABC-TV/ESPN)
(7) Chicago Bears (8-8) at (2) New Orleans Saints (13-3), 1:40 p.m. PT (CBS-TV)
(6) Cleveland Browns (11-5) at (3) Pittsburgh Steelers (12-4), 5:15 p.m. PT (NBC-TV)