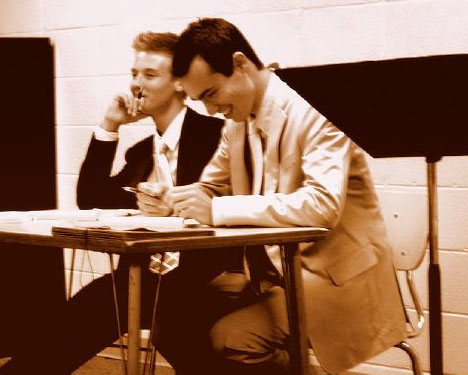 On Monday morning, San Diego woke up to the devastating news that it had lost three of its own in a tragic helicopter accident in Kenya – Asher Burke, Brandon Stapper and David Baker, along with another American, Kyle Forti.
In the following two days, an immense outpouring of appreciation surfaced in local news and on social media for one of those young men who has, in his short lifetime, had an extraordinary impact on San Diego and the communities of East County.
I met Asher Burke as an eighth grader – then, he was a long-haired, wiry kid who had our homeschool speech and debate league tied in knots. He was a riot. In his senior year, he partnered with my brother and they became nationally ranked team policy competitors. It was no surprise to any of us who had watched Asher develop as a debater through high school. He was a smooth orator – glib and calm and confidant. To us underclassman, he was half genius-half madman, the kind of guy who comes up with ideas that are "so crazy they just might work," and he wanted us all involved.
When his high school class graduated in 2008 and his buddies went off to college, he took those ideas to the bank.
The very first thing anyone should know about Asher is that he never followed the crowd.
Although raised in Poway, Asher jumped into East County politics after high school. 2008 was an election year, and Asher spent most of it helping now-state senator Brian Jones fight for a seat in the State Assembly.
Jones didn't win the seat until 2010, but that first run set a lot of events in motion.
"In 2008 Asher Burke and his best buddy Kyle Gantzer (both 17) showed up to work on a Congressional campaign and turned the world upside down," said Jones in a Facebook post this week, sharing his condolences as that the news of Asher's passing. "We didn't end up winning that one, but we won many others together and their leadership and hard work helped get me where I am today. Some nights they literally worked around the clock and slept in the campaign office."
Someone commented on Jones' post, "My favorite part of that campaign wasn't winning – it was meeting Asher Burke. He took 10 kids and made it seem like an army of 100 was marching."
Asher made the rounds in San Diego's political sphere. It's hard not to take notice of a guy, barely 20-years-old, whose mind is the only thing that runs faster than his mouth. From 2010-2014, he worked on local and state campaigns, from Santee and El Cajon to La Jolla and Escondido.
Radio host and former state assemblyman Tim Donnelly was so impressed with Asher's competence that he made him the architect of his 2014 gubernatorial race.
"Although Asher always looked as if he were still a teenager, he was more successful in his short 28 years on this earth than most are in twice that time," said Donnelly in a similar Facebook eulogy. "Asher was always upbeat, optimistic and knew how to put a smile on your face, no matter how bad the circumstances. It can be said about him that he truly knew how to live."
In 2012, I ended up working with Asher during the months leading up to the general election. I had been hired as the executive assistant for a campaign coordinator with The San Diego Group – a job I was vastly under qualified for – and was working directly out of Asher's office.
A nervous twenty-year-old with a freshly-minted associate's degree, I was hardly prepared for the fast-paced world of campaign politics that Asher lived in. And while my boss was almost never in the office, Asher proved to be a great supervisor.
Executive Assistant was a nice title for Chief Cook and Bottle Washer, which is basically what I was. I ran errands for the office and picked up the lunches they ordered. I deposited checks and picked up boxes of campaign flyers from warehouses just to deliver them immediately to interns in a parking lot off the highway.
Asher walked me through every step.
The day I almost quit the job, he talked me out of it, walking me back from the ledge like a lion tamer trying to convince a scared kitten that the world outside the sliding glass door isn't so scary.
At the time, I didn't have a smartphone or a GPS and getting lost on the road was a daily occurrence. I must have called Asher a dozen times, holding back tears and asking for directions.
"Where are you? What are your crossroads?" he would ask me patiently. "And why don't you have a GPS?"
"A GPS?" I blubbered over the phone, "I can barely afford lunch!"
"If you're going to do this job, you need a GPS," he told me before relaying coordinating information for the tenth time.
He paid for every lunch I ate in the office from that day on.
I will always be amazed at the patience a 23-year-old guy had for his friend's kid sister.
One day, I called him up in the middle of depositing several checks for the office to tell him I just didn't think I could do it. The machine outside wouldn't let me deposit so much money at one time and the teller inside the bank had given me a suspicious look when I approached her about the deposit. I have always been a fastidious rule-follower. All the T's must be crossed, all the I's must be dotted – I was one sharp glance from a security guard away from a total meltdown.
"Just go back in and deposit the checks," Asher told me as I clutched my phone to my ear in a panic. "You have all the documentation from our office that you need. What's the worst that could happen?"
"They could arrest me!" I balked, not entirely sure if that was actually a possibility.
"Hey, if they arrest you," he said, his tone completely serious, "I will bail you out of jail. I promise."
That was Asher. He took care of his own.
I was not the last nervous kid to walk through his door with a job and not enough qualifications, and more than one of East County's native sons has benefited from the tutelage of the young madman we all admired.
Asher saw something in the world that most people miss and he was good at getting people to see his vision, to walk with him down the road less traveled.
I am grateful my road overlapped with his for a time.
Among his many great qualities – his fearless pursuit of the next grand idea, his knack for business, his impeccable taste in sushi – Asher brought people together.
So many of my professional contacts as an editor of a community paper here in East County are people that I first met through Asher. As appreciation for who he was and how he impacted East County over the years surfaces on social media, I am discovering more colleagues and acquaintances who knew him.
Who am I kidding? Everyone knew Asher.
Mason Herron, a La Mesa native and State Assemblyman Randy Voepel's former chief of staff, was one of the many people I met through Asher. As Herron puts it, Asher's unstoppable drive in business was matched in his personal life.
"When you felt his capacity for human connection surely had been reached, it only pushed new boundaries," said Herron. "Asher didn't just have friends – he had true friendships. Deep, meaningful connections – each one special for its own reasons."
I know this to be true because the people I love have been the beneficiaries of Asher's friendship, and I am grateful for that.
Asher eventually moved on from politics and went into business, chasing those crazy ideas we knew him so well for. He was extremely successful as a businessman and his LinkedIn profile describes his current company, Bland, as "a brand incubator with over $100 million in annual revenue."
Over the years, as I found a career more suitable to my T-crossing and I-dotting, I watched Asher and his gang of merry men explore the world together.
Asher and his girlfriend are phenomenal world travelers and have trotted across the globe in all directions, documenting their adventures on Instagram. It almost seems fitting that Asher's last day would be in the throes of an African adventure, skimming across wild waters in a helicopter with nothing but sky and sun and wind between him and the horizon.
Fearless, that's what he was.
The people he leaves behind – parents, two sisters, a girlfriend and a myriad of friends and colleagues – will miss him dearly.
This community will miss him, too, though they won't see it. His loss will be like a shadow, a cast of what might have been, of good left undone. East County – everywhere, really – could use more men like him, men who empower others and build things and bring out the best in the people they meet.
"There is no shortage of ambition in this world, but so frequently, ambition is used to accrue money, or power, or fame to be enjoyed only by its beneficiary," said Herron. "While it is clear Asher wanted success, he didn't want it for himself – he wanted it so he could share it with others. His mindset was never 'what can I do?' but 'what can we do together?' He saw the fruits of life as a bountiful table to be shared with others, not a meal to be consumed alone."
People like Asher don't come around all the time. Maybe just once in a lifetime? He was a rare find. It isn't often you meet someone who is brilliant and talented but also kind, someone who strives for success but doesn't idolize it, someone who can walk far out onto a limb and then convince others to follow him. Asher didn't just reach for the stars, he built them.
The last thing Asher posted on his Facebook was a comment on a friend's photo – Brett Stapper had put up some photos of their trip to Kenya, the one Asher and Brett's brother Brandon would not come home from. He thanked Asher for inviting him to come along for a leg of the trip, what a great time, what an amazing experience.
"Pictures may not do it justice, but these are about as good as it gets," Asher responded. "Thanks for taking the leap of faith (especially on short notice). It's impossible to convey what's on the other side – you just have to experience it."
Asher Burke 
June 16, 1990 – March 3, 2019
Thanks for everything.