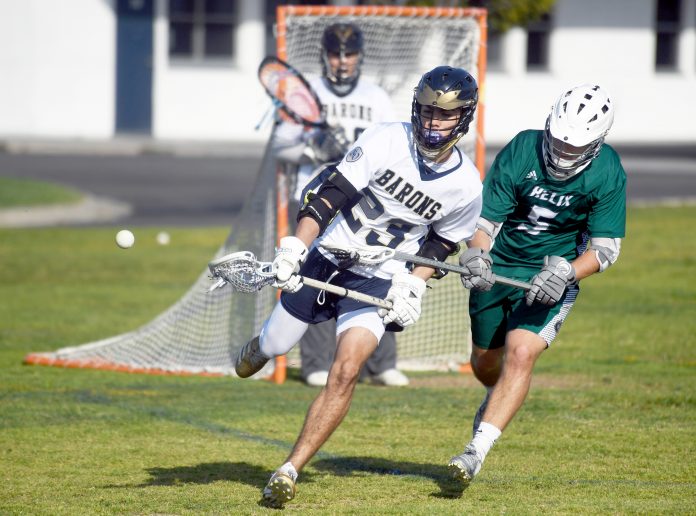 The Helix High School boys lacrosse team is looking to make up ground for last year's 6-12 finish. The Highlanders are certainly making good on that so far this season.
The Scotties improved to 6-2 after defeating host Bonita Vista, 12-4, in a non-league game on Monday.
Helix coach John Whittles said this season's start is the best since 2015 when the team advanced to the San Diego Section Division II semifinals en route to posting a final 12-7 record.
He said there is a lot of motivation to excel this year.
"We had a bad season last year," Whittles said. "We want to come back to redeem ourselves. We'd like to make a deep run in the playoffs."
Top returners for Helix include Jake Owens, Jagger Giles and Barak Castro.
Impact newcomers include Kevin Olsen, Wakili Johnson and Isaac Yerardi.
Giles is familiar to anyone who has followed Helix football.
He's played the last three varsity seasons at linebacker and was part of the Highlander squad that finished runner-up to St. Augustine in last December's hotly contested Division I championship game at Southwestern College.
Helix lost, 21-20, when the snap from center was fumbled while the Scotties were going for a potential two-point conversion play to win the game.
Giles, a long stick in lacrosse, said playing football has helped with his footwork, intensity and "being able to be a defender against the offense" in the transition to lacrosse.
"I love it," Giles said of playing lacrosse. "It's constant movement. There's also some hitting, and a lot of hand-eye coordination involved. It moves every part of your body. I like being active."
Giles, a 6-foot-tall, 200-pounder, said he remains uncommitted as to whether he'll be playing football or lacrosse in college.
The Highlanders and Barons weren't separated by much on the scoreboard in the early stages of Monday's contest before the visitors pulled away for a 10-2 halftime lead. Scoring was minimal in the second half, with the teams each scoring twice.
Beasts in the East
Grossmont (7-0-1) and Granite Hills (5-0) remain the powers in East County boys lacrosse.
Both the Foothillers and Eagles entered the week with 4-0 league records, followed by Helix with a 3-2 league record, Valhalla with a 2-2 league record, Santana with a 1-3 league record, El Capitan with a 1-4 league record and Monte Vista with a 0-4 league record.
According to statistics maintained by the MaxPreps website, Granite Hills is currently ranked No. 1 among Division II teams while Helix is ranked fourth and Valhalla is ranked fifth.
Grossmont is ranked fourth among the section's Division I teams.
The Highlanders lost 15-0 to Grossmont on March 12 and 14-4 to Granite Hills on March 15.
Santana plays at Grossmont on Thursday, March 28, at 7 p.m. Grossmont defeated Monte Vista, 22-0, on March 22.
"We'd like to try to keep our place in third in league behind Grossmont and Granite Hills," Whittles said after Monday's victory over the Barons (2-7).
"The guys are working hard, they're focused. We're playing together as a team, unselfish."
Helix carried a three-game winning streak into Wednesday's scheduled home game against Hilltop after previously logging league victories against Valhalla (7-4 on March 19) and El Capitan (12-9 on March 21).
Helix will host three more home games in a row: Friday, March 29, against Monte Vista, April 2 against Santana and April 4 against Grossmont.