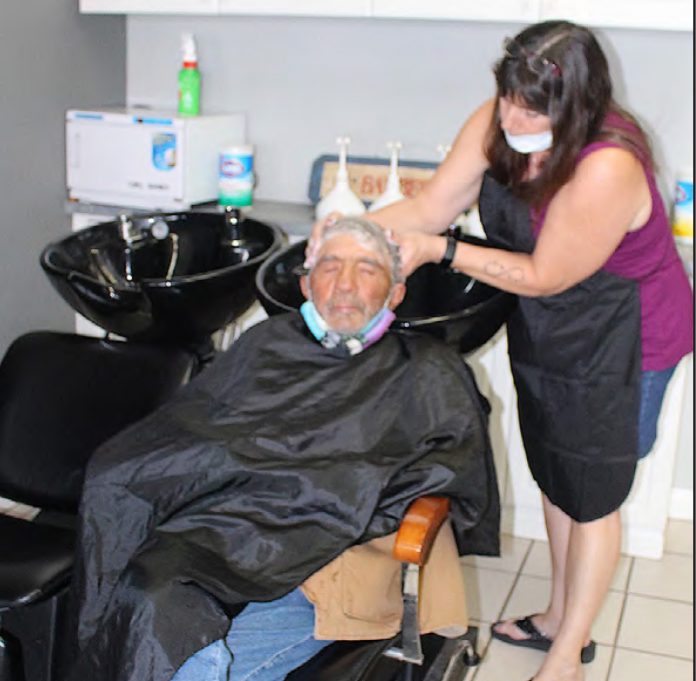 Reflections Salon owner Ginger Rich said extra volunteers made this year's Haircut for the Homeless event in Lakeside different than in years past; having extra help allowed her the freedom to step out of her salon where she usually gives fresh haircuts to homeless individuals at the annual event and immerse herself in connecting people with resource information.
"I had a lot more volunteers to cut hair so I could get out to the homeless and really connect them with information. Also, La Palapa restaurant gave me half off and sent enough lunch to feed at least 70 people, all purchased with donations and I got to see that everyone who showed up hungry had a hot, safe, healthy meal which I could only do because I had so much help this year," Rich said.
Directly in front of the storefront salon, Mental Health Systems Program Manager Roxy Walnum had a team of her own volunteers on hand for Rich's event, all multiple offenders who are going through an 18-month Adult Drug Court program intended to break the cycle of homelessness, insobriety, and stints in jail.
"District Attorneys and judges don't always have a chance to see the success stories," Walnum said and when they run into someone who has made it through the program and turned their life around, their response is often "Wow, I haven't seen you in so long that I thought you were dead".
The young men, several in their late twenties and early thirties, once forgotten or thought as good as dead are on the other side now, going through recovery and Rich later said the court program volunteers stayed long past the event to help her clean up the shop.
"You know, those newcomer clients with Roxy are just getting into recovery and changing their lives. They were there on Saturday to help me set up and they stayed late Sunday to help clean up and when you think about it, not only did they help with the event but it also helps them see a different way to live. It shows them they can live, that change is possible. The goodness multiplies on itself," Rich said.
To the left of the salon, volunteers handed out clean clothing to anyone who needed it, whether or not they felt comfortable utilizing the Humanity Showers trailer parked a couple blocks away at a water source.
E. Rose, 16, a homeschooled Lakeside resident who comes from a military family said "the guy who got to me was the one with the Navy bracelet" because he was so grateful for something as simple as clean socks.
"He kept thanking us for a new tent and I had no idea how to respond because he sounded like we were giving him a house," Rose said.
The next man she spoke with, she said, told her he lives in his car and is trying to land a job.
"He was completely covered in dirt and looked like he'd been through hell. We sent him down to the shower truck and tried to find him new pants, socks and shirts while he was down there. As soon as he got his haircut, he was a whole new man, he looked ready for a job interview," Rose said.
That priceless haircut, Rich said, is a starting point she can offer as a first step toward a return to life.
To the right of the salon, county of San Di­ego Health and Human Services Licensed Mental Health Clinician Joann Scott had stacks of carefully assembled information on depression, anger, anxiety and behavioral health care resources along with a basket of lavender sachets she handed out as a reminder to breath.
"Being homeless produces anxiety, it often includes trauma and underlying chronic mental illness," Scott said.
The question of 'where am I going to sleep tonight' creates even more anxiety and women, especially, feel a sense of needing to stay awake to keep from being victimized. That pull is directly tied to crystal methamphetamine use.
"I can't tell you how many clients we've worked with who have been raped or victimized," Scott said.
Working with Mental Health Services and other county partners, Scott said they are better able to connect homeless individuals with local services. That reflects a county-wide shift from criminalizing homelessness to questioning what needs are not being met, potentially reducing the number of people living and sleeping on the street.
"Our East County partnership team is amazing at clearing out the parks while connecting the individuals living there with services, working to provide the opportunities they need. You get clients that you know are capable but their most basic needs aren't being met. When they finally get those needs met, they shine," Scott said.
On the corner nearest Reflections, East County Transitional Living center representatives were on hand with information on safe, sober living programs.
Further down the block, Lakeside non-profit Hope for the Homeless president Judy Pinkerton Scheuer handed out new underwear and socks to about 30 people "so they could step out of the shower and put on all new things" at the shower trailer.
Scheuer, who frequently goes down into the Lakeside river bed for homeless outreach said she recently delivered four rolling trash cans to the area and told residents in the homeless encampment she was not going to pick up their garbage for them but if they bagged it up she would help them get it to a nearby dumpster.
Cleaning up, Scheuer said, isn't a magic wand but "it gives dignity back to be clean" and it is a baby step toward getting someone off the street.
"One guy took a really long shower and when he got out he said it felt so good to let the water run down. He hadn't had a shower in two years," Scheuer said.
She said she hopes people living on the street or down in the river bed connect doing "something as simple as bagging up garbage or getting a shower" to changing more about their situation and that she is trying to arrange for a regular shower truck to visit the community to help create that momentum.
Rich said she left several vouchers for free haircuts with Scheuer to distribute as she thought fit, as well as several gift certificates for Walnum to have on hand for court program participants "because that haircut might help someone who is clean and sober, going for a job interview," as a way to extend the Haircut for the Homeless event until next year's event.
"You know, I could never do this on my own each year. This is really a community event," Rich said.