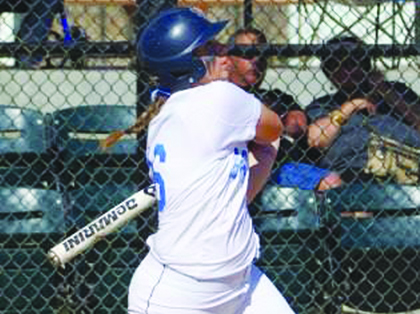 CANCELLATION OF CIF PLAYOFFS LEAVES SEASON UNFINISHED FOR CONTENDING TEAMS, SENIORS
The Granite Hills High School softball team has risen to great heights in the San Diego Section rankings in recent years, and this season was no different.
The Lady Eagles took a 6-2 record into this year's spring break with another promising season in the making after moving up to the No. 2 ranking among the section's Division I teams.
Granite Hills coach Curtis Barnes said goals were "big for the team again this year."
"Win league and go deep in the CIF playoffs," Barnes noted in a preseason preview.
The section playoffs will definitely not happen after the CIF State office released a statement last Friday announcing it has cancelled all section, regional and state championship events due to the current COVID-19 (coronavirus) pandemic.
"Based on the recent statements issued by Governor Newsom and State Superintendent of Public Instruction Tony Thurmond, regarding schools turning to distance learning for the remainder of the 2019-20 school year, the California Interscholastic Federation does not see an avenue for the spring sports season to continue," CIF Executive Director Ron Nocetti said. "As such, in consultation today with the 10 section commissioners, the decision has been made to cancel spring section, regional, and state championship events.
"We understand this is disappointing for everyone involved in education-based athletics and empathize with our student-athletes and all who are impacted by the COVID-19 outbreak. As always, our top priority is everyone's ongoing health and safety during this challenging time, and we all look forward to the day when education-based athletics resumes."
It's unclear if the section's individual athletic conferences will hold post-season events or all-star games in the wake of the state CIF governing body's decision.
It's also unclear if individual conference, school districts or school teams will announce all-league, all-conference or even if teams can present MVP awards.
When schools closed early for spring break, about a third of the spring sports season had been played.
For high school seniors, it will be a lost season.
Without the completion of the season, there will not be an opportunity to impress college recruiters or seal special memories with teammates as they prematurely conclude their high school careers.
Will some sort of final CIF rankings or mythical league championships be released by administrators?
Barnes said any type of post-season league tournament or all-star game "would be hard to organize with many seniors trying to get ready to go off to college."
Next year's seniors may have something more positive to look forward to.
Spring fling
The schedule pause came at a time when it looked like this year's Lady Eagles team was poised to take flight.
Granite Hills finished with a semifinal appearance, losing 5-1 to top-ranked Mater Dei Catholic on March 9. The Lady Eagles took a five-game winning streak into the game, including a 1-0 win over seventh-ranked Poway in the tournament quarterfinals.
Granite Hills' only other loss this season was 6-4 at sixth-ranked Patrick Henry in non-league play on Feb. 25.
Key returners included seniors Bailey Wallace, Staci Chambers, Haley Johnson, Rylee Omahen and Brooke Bertussi.
Johnson scored the lone run in the win over Poway on a home run while Chambers pitched a complete game three-hitter with five strikeouts.
Chambers, in particular, had a hot start to the season with a 5-2 record, 0.52 earned-run average and four shutout victories. She'd struck out 34 batters in 40 innings.
Chambers started the season with a 4-0 shutout win over eighth-ranked Eastlake in non-league play on Feb. 21.
She also picked up a 6-0 shutout win over Scripps Ranch on March 6 while driving in two runs at the plate. She was in the pitching circle for a 7-0 shutout win over fifth-ranked Bonita Vista on March 2 in another Cougar Classic game.
"Staci is one of the top pitchers in the county and one of our top power bats," Barnes said.
Chambers, who will continue her collegiate career at Cal-State Fullerton, is hitting .286 with three doubles and two RBI.
Wallace, who also will attend Cal-State Fullerton, led Granite Hills with a .577 hitting average to start the season with a team-leading 15 hits, six runs scored and five RBI.
Barnes calls Wallace an excellent outfielder and leadoff batter. "She is a catalyst," the Lady Eagles coach said
Johnson, who will attend the University of Hawaii, was hitting .435, with six runs scored, five RBI and two home runs.
Barnes calls her an "outstanding all-around player."
"She is a key to our offense and manning first base for us this year," Barnes said.
Rylee Omahen and Bertussi (.364 hitting average) were both tied for the team lead with six runs scored.
"Rylee is the key to our defense this year, manning the shortstop position," Barnes said. "Brooke is a strong defensive second basemen who will need to step up on the offensive side."
Freshman Jenna Haynal ranked highly among the team's impact newcomers with a .455 hitting average and four RBI.
"Jenna is our super utility player," Barnes said. "She plays mainly outfield, but we have worked her in at second, shortstop and third base."
Junior Paige Baird was hitting .273 while sophomore Chloe Knepp was 1-0 in the pitching circle with a 1.75 ERA.
Granite Hills, Santana, Steele Canyon and Grossmont comprise this year's Grossmont Hills League.
Santana entered the spring break pause with a 5-3-1 non-league record while Steele Canyon and Grossmont were both 4-4-1.
Samantha Sullivan was hitting .471 with four RBI in nine games for Santana entering spring break, followed by Joey Barkhimer with a .462 hitting average, three doubles and eight RBI.
In six pitching appearances, Barkhimer sported a 1.01 ERA with 32 strikeouts in 27 innings.
Freshman Jazmin Williams was showing potential for Steele Canyon with a .375 hitting average and one home run in seven games.
Junior Tayler Thomas was also hitting .375 with five RBI for the Lady Cougars through eight games.
Grossmont featured several players hitting the cover off the ball, led by senior Katalina Contreras with a .500 hitting average through six games, five RBI and one home run.
Other top hitters for the Lady Foothillers included junior Kimmy Bond (.471), sophomore Caitlyn Potts (.444), sophomore Isabel Cervantes (.400) and freshman Jade Daley (.389).
Freshman Katelynne Parent (.312 hitting average) led the team with seven RBI, followed by Cervantes with six RBI.
Potts led the Grossmont pitching corps with a 3-0 record and 3.11 ERA.
This year's Grossmont Valley League lineup includes seven teams: El Capitan, Helix, Mount Miguel, Valhalla, El Cajon Valley, West Hills and Monte Vista.
El Capitan was off to a 7-1 start in non-league play prior to the break, followed by Helix at 5-1, Mount Miguel at 2-2, Valhalla at 2-3-1, E Cajon Valley at 1-2, West Hills at 1-3-1 and Monte Vista at 1-3.
El Capitan boasted 10 players with greater than .350 hitting averages. Brooklyn Fukushima led the Lady Vaqueros with a .600 hitting average while Alexa Williams (.462), Ava Gall (.417) and Brandy Taylor (.353) all led the team with eight RBI.
Williams led the El Capitan pitching staff with a 5-0 record, 1.42 ERA with 36 strikeouts in 29 innings.
Junior Audrey Kull led Helix with a .591 hitting average while freshman Angel Riggins carried a .429 hitting average with a team-leading nine RBI into the break.
In five pitching appearances, sophomore Sophia Rumano was 3-0 with a 0.00 ERA with 33 strikeouts in 19 innings.
Valhalla sophomore Abigail Johnston was hitting .462, followed on the scoresheet by senior Bailey Munch (.417) and freshmen Cadyn Ruffer (.400) and McKayla Fish (.364).
Monte Vista senior Dessire Corona had blasted the cover off the ball through four games with a .714 hitting average and eight RBI while classmate Meeah Matanane had compiled a .647 hitting average with seven RBI.
Granite Hills softball: by the numbers
A check of the San Diego Section record book shows that Granite Hills won the Division I softball championship in 2008 and was runner-up in the Division II finals in 2015.
The Lady Eagles posted three runner-up finishes in the Class 3A championship game in 1983, 1984 and 1992.
Granite Hills finished 21-10 last year, including a perfect 10-0 record in Grossmont Hills League play.
The Lady Eagles finished 24-9 during the 2018 season while advancing to the Open Division semifinals after bagging another league title.
The team finished 25-9-1 in 2017 with yet another league title and finished 18-13-1 in 2016 with an appearance in the Division II semifinals.
Granite Hills finished 24-10 in 2015 with a runner-up finish in the Division II championship game.