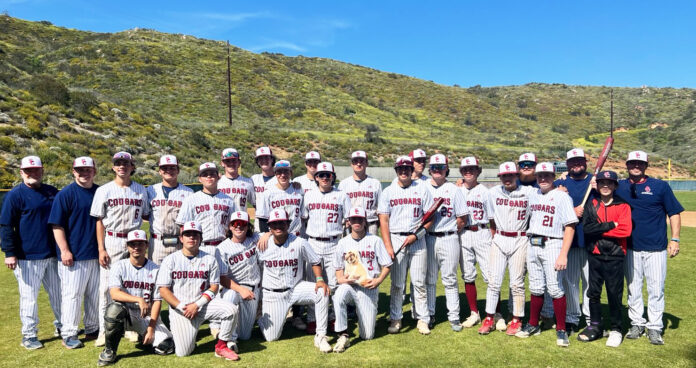 Recent rains have played havoc with spring sports schedules, particularly high school baseball and softball schedules.
As a result, no championship games were played in both the Hilltop-Lolita's tournament and GMC tournament to start the season. But the weather did not delay this year's 72nd annual Lions Tournament, which went off without a hitch with games played April 3-6 throughout the county.
The tournament was as competitive as always – and chock full of East County teams.
All 11 Grossmont Conference schools participated alongside Christian High School from El Cajon and Liberty Charter High School from Alpine.
Steele Canyon won the Classic A Division title while Liberty Charter finished 4-0 in the Division 1 tier but just missed the playoffs because of a tie-breaker.
"We play in the Lions tournament every year and it means a lot to us that we always have a good showing," Steele Canyon head coach Jesse Evans said. "We hadn't won one of the divisions since 2016. In 2016 we won the 6A Division with one of my assistant coaches Tanner Logan on the team.
"It was awesome to win the Classic Division this year. It means a lot to our program and to me. I played in the Lions Tournament when I played at El Capitan for head coach Steve Vickery.
"Our pitching was awesome the entire tournament, and we had a thrilling walk-off home run by Tommy Molina against Patrick Henry (in pool play). Our expectations moving forward are to compete for a league title and make a run in the playoffs."
The Cougars finished 4-0 in this year's tournament, starting with a 7-5 victory against Sage Creek on April 3, followed by an 8-0 shutout win over Chatswroth on April 4 and a key 3-0 victory against Patrick Henry in eight innings on April 5.
Steele Canyon met Palisades from Pacific Palisades in the championship game on April 6, winning 5-2 to cap a perfect run in the county's oldest and most prestigious regular season event.
Palisades entered the game with a sparkling 13-1 record, but the Cougars clawed them when the opportunity arose to play a team of that caliber.
Junior Greyson Tamborski pitched five innings, allowing six hits and one walk, to pick up the win on the mound while senior Nico Cornelius pitched a scoreless sixth inning and sophomore Tommy Rimoldi came on in the seventh inning to notch the save.
Offense came from several players.
Matt Marshall drove in a run on a sacrifice fly in the early going while J.T. Hendrie drew a bases-loaded walk to drive in a run to pad the team's early lead to 4-1.
Hendrie also had two hits while designated hitter Caleb Entrekin scored two runs.
Molina, a senior catcher and Point Loma Nazarene commit, blasted a three-run home run to push the Cougars past the Patriots and into the championship game. Hendrie, a junior righthanded pitcher/right fielder, hurled a complete game four-hit shutout with six strikeouts.
Other standout players this season for Steele Canyon (9-6 overall) include senior left-handed pitcher Branden Jackel, another Point Loma Nazarene commit, and senior center fielder Will James, a Cal State Eastbay commit.
Offensive leaders through nine games included Hendrie with a 0.412 hitting average and one RBI, sophomore Azyel Castro (0.308, one RBI), Tamborski (0.280, one double), Rimoldi (0.280, one RBI), Entrekin (0.259, six RBI, one home run), James (0.233) and Molina (0.182, five RBI).
Pitching leaders included Tamborski (0-0) with a 0.00 earned-run average (five strikeouts in 4.1 innings), Jackel (3-0) with a 0.26 ERA and 45 strikeouts in 27.1 innings, sophomore Hunter Haase (0-0) with a 2.62 ERA (three strikeouts in 5.1 innings), Rimoldi (1-0) with a 4.20 ERA (five strikeouts in 6.2 innings) and Hendrie with a 6.30 ERA (11 strikeouts in 13.1 innings).
Lions brew
Liberty Charter's success this season — the Lions are off to a 5-1 start — cannot be underestimated.
The team does not have a baseball field on campus and must practice on a turf field at nearby Joan McQueen Middle School.
"Our team is made up of a good core of players with a solid pitching staff," head coach Kerry Keehl said.
Liberty Charter won its opening game of the season, 5-0, over Escondido Charter in non-league play on March 6. Junior Jaxon Adrain pitched five innings with seven strikeouts while collecting two RBI at the plate. Sophomore Andruw Godinez drove in one run while senior Nathan Bott doubled twice.
The Lions dropped their next game, 11-5, to Kearny on March 28 before heading into a long break because of seven rainouts.
Liberty Charter opened Lions tourney play with an 11-6 win over Crawford as sophomore Drake Keehl (triple) collected four RBI and Adrain (triple), freshman Isaac Anderson, senior Tyler Peet (double), sophomore Nathan Banks and sophomore Brody Harris (triple) each drove in one run. Harris earned the win with five strikeouts in 3.1 innings.
The Lions made it two wins in a row with a 7-4 victory against Hoover as Keehl (double) racked up three RBI and Godinez, Banks and Harris each had one RBI. Godinez (10 strikeouts in 5.1 innings) received credit for the win.
Liberty Charter defeated Mountain Empire, 11-1, to improve to 3-0 in the long-standing tournament as Harris collected three RBI, senior Josh Hyler and sophomore Jaren Klindt each had two RBI and Anderson and Banks each drove in one run. Adrain was the winning pitcher with four strikeouts in 4.1 innings.
The Lions competed tourney play with a 5-1 win over the Rock Academy as Adrain had two hits, scored one run and drove in one run, Bott had four hits and drove in one run and Godinez (double) scored one run with one RBI. Bott (six strikeouts in 3.1 innings) recorded the win on the mound while Harris struck out eight batters in 3.2 innings.
Liberty Charter is scheduled to open Summit League play April 17 at Chula Vista Learning Community Charter, then host Ocean View Christian Academy on April 20. Other league opponents include Foothills Christian, Mountain Empire, High Tech High Chula Vista and Bayfront Charter.
The Lions will play a non-league game against El Cajon Valley on May 8. League play wraps up May 12.
Ocean View is off to a 4-1 start while Bayfront Charter is 3-2 and HTH Chula Vista is 5-5-1.
Batter up
Monte Vista (Division 4) finished 3-1 in tournament play, while Granite Hills (Open Division), Valhalla (Division 5) and El Capitan (Division V) all finished 2-2.
Among other East County teams, West Hills (Premier Division) finished 1-2 while Santana (Open Division) and Helix (Classic Division) both finished 1-3.
Grossmont (Open Division) and El Cajon Valley (Division 2) both finished 0-3 while Christian (Open Division) and Mt. Miguel (Division 3) both finished 0-4.
Division champions also included La Costa Canyon (Open A), Torrey Pines (Open B), Scripps Ranch (Classic B), Lone Peak (Premier A), Bakersfield Christian (Premier B), Francis Parker (6A), Broomfield (6B), Montgomery (5A), Maranatha Christian (5B), Escondido (4A), Classical Academy (4B), Clairemont (3A), Bishop's (3B), Colfax (2A), Sutter (2B) and Division 1 (Woodland Christian).
Prep Baseball Standings
GROSSMONT HILLS LEAGUE
League/Overall
Santana 1-0, 7-5
Grossmont 1-0, 5-10
Helix 0-0, 2-9
Steele Canyon 0-1, 9-6
Granite Hills 0-1, 7-4
GROSSMONT VALLEY LEAGUE
League/Overall
Valhalla 1-0, 9-4
El Capitan 0-0, 11-4
El Cajon Valley 0-0, 3-6
Monte Vista 0-0, 7-7
Mt. Miguel 0-0, 5-8
West Hills 0-1, 6-6-1