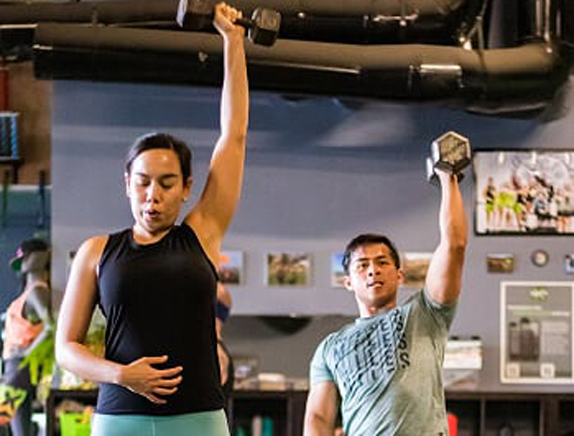 By Dan Hark
NXPTOwner/Trainer
We are embarking upon week three dealing with the parameters of Covid-19 as gyms across California are closed. I have spent quality time with my family, knocked out a bunch of projects that have been on my list for years and been able to watch the Marvel Avenger movies from beginning (Captain America) to end (still have Infinity War and End Game left) with my boys.
That is all great and we wouldn't trade time with our loved ones or the blessings this time off has brought us. But, now going into week three the anxiety and weight of bills, rent/ mortgage, continued shelter in place order and all the stresses of life are setting in stronger than ever. And to top it off, our leaders in office have no end date to the quarantine, no solution and no plan.
We are outside our comfort zone.
As cliché as it sounds, this is exactly what we mean when we compare the physical struggle within your workout, to the struggles of life. In your workouts, you hit a point where it isn't fun anymore. The excitement and high wear off and you feel like quitting. At NXPT we've built a culture, you have a fitness family around you that keeps you going and where you'll always hear you can do it! Now that all gyms are closed, stay strong, we are here to support you and the community at large to stay healthy during this challenging time.
As we navigate through this time that will become history, we are stronger together!
A personal example and mindset I frequent in running races. I have run 5+ ultra-marathons. The reason I enjoy Ultra's over other races is you can't B.S. 30+ miles. You find out quick who put in the work, and who didn't. After mile 20, when your legs are depleted, the elements are harsher than ever and you still have 10+ miles to go- you can't win or even finish, alone. From the team you trained with, coaches, our NXPT members, motivators that fed into your mindset, your pit crew at transition pushing food and fluids down your throat and for me, the people you told that you would finish and win.
The point, alone you can't accomplish much. When you have a system of supporters working together you can accomplish, or in the case of Covid-19, persevere anything.
NXPT is that team, that system, that community to support you and your health goals. We are currently offering Facebook Live at home workouts Monday- Friday, 7 a.m. to help you stay fit during this time. These workouts are programmed for the beginner and advanced alike and can be done with simple items most of us have at home. Follow us on Facebook at NXPT Fit to get started. If you miss a 7 a.m. workout you can go back to the videos at a more convenient time for you. Find at home workouts on our Utube channel as well at NXPT Fit.
NXPT is more than fitness, it's a lifestyle. Visit our website NXPTFIT.com and let's get started working towards your fitness goals. NXPT La Mesa is located at 7450 University Avenue, La Mesa 91942.