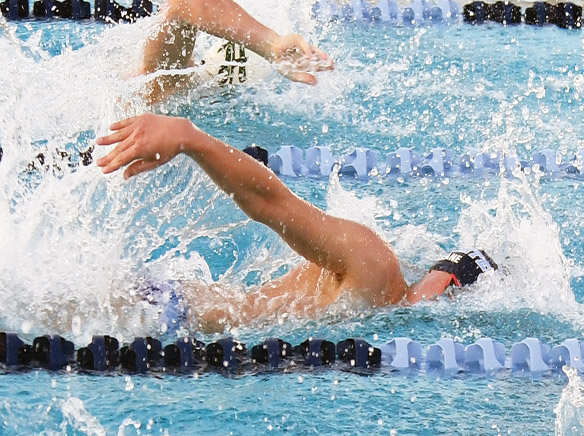 Granite Hills sophomore swimmer Erin Kluge will have to wait until next year to renew her quest to set school records.
Swim coach calls premature end to spring season 'a bummer for all these athletes in all the sports'
The cancellation of this year's San Diego Section playoffs has been a crushing blow to many student-athletes, especially seniors.
In particular, it wiped out what could have been a banner year for the Granite Hills High School swim and dive team.
The Eagles had definitely made a splash in the pool with an undefeated start in two league dual meets, but that's as far as the season progressed before it was put on pause due to the coronavirus pandemic.
It served to cut shot what could have been spectacular varsity debut seasons for freshmen Izzy Cox and Aidan Keane, in particular.
Both were undefeated in their events through the first month of the season. Sophomore Erin Kluge remained undefeated in league events.
"Izzy was on track to break the school record in 50 free," Granite Hills coach Cathy Elgas said. "Erin was on track to break her school records she broke last year."
They will have to wait.
But there's no waiting for the school's senior swimmers. They'll have to start anew in college.
"We feel awful for the seniors who didn't have any closure to their four years," Elgas said. "Rhett (boys coach Rhett Gaeir) has all his senior boys swimming who played polo. All the senior girls swam as well, which helped the depth of an already strong team. Such a bummer for all these athletes in all the sports."
It's been an emotional time for everyone associated in a support role for high school athletics, from athletes to coaches, from parents to administrators.
San Diego Section Commissioner Jerry Schniepp posted an open letter to student-athletes on the section's website.
It reads:
"To all student-athletes, as you have likely heard the most recent updates regarding COVID-19 restrictions in California, you know that school, as we know it, will not resume for the remainder of the year. Your lives abruptly changed a couple of weeks ago and I know that you miss being around your friends, having a daily routine and playing the sport that most of you have loved since you were very young.
"You also recognize now that with no schools open physically for the remainder of the year, we do not see an avenue to resume the spring sports season. The CIFSDS held out hope and worked on plans for some semblance of a season for as long as we could. We contemplated and drafted different scenarios where we would have shortened seasons, modified schedules with no playoffs and games with no spectators. But now that it has been determined for good reason that schools will not re-open, there is no scenario that allows us to resume practicing and competing at this point.
"I recognize that this is devastating news. I especially feel for the seniors on teams that will not be able to compete for their schools again. Frustration, confusion and sadness are normal emotions in this abnormal time and although I hope that you comprehend the gravity of our situation as a city, state and country, it is also normal to feel badly for yourself. It's okay to feel that.
"But remember this: athletes understand adversity. You've all had to get past injuries, tough losses and failure. You've doubted yourself when things haven't gone your way. You've struck out, lost a race you should have won or been beaten after having a big lead. Yet you still showed up for practice the next day, you got in the batter's box, the starting blocks, on the field, pool or court and told yourself, 'I can do this… we can do this.'
"As an athlete, you are better equipped to handle this tough time than most. You've dealt with difficult situations and have overcome them. Remember the lessons that you've learned in sports and use them. Just as you have done as part of a team, we now must battle through this, stick together and do our part. Stay positive and know that we will get past this and you will be stronger in every aspect of your life as a result."
Granite Hills freshman Aidan Keane had a run at a potential undefeated season put on hold.