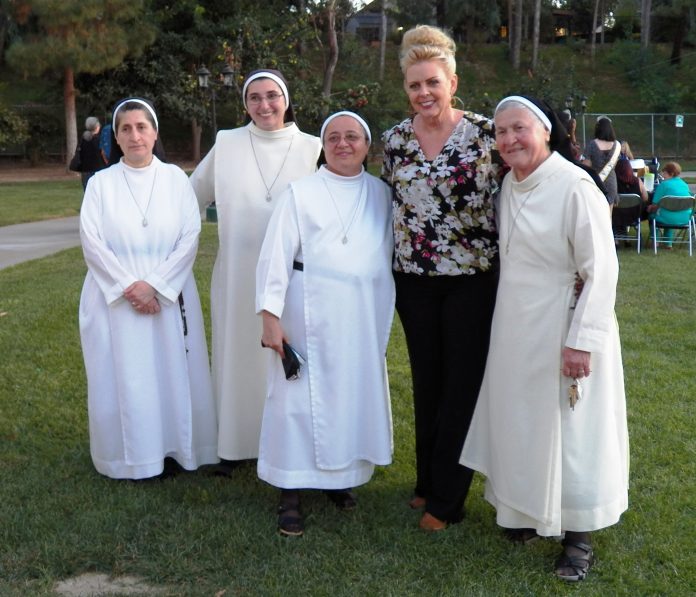 The date was Saturday, Sept. 21, National Alzheimer's Day. The location was the back lawn and patio area at Good Samaritan Retirement Center in El Cajon. The special occasion was the "Taste of the Middle East" fundraising gala. The purpose of the gala was to bring in money to expand the center's building complex with a new Memory Care Facility.
Festively decorated dining tables filled the backyard area. Good Samaritan staffers prepared the Middle Eastern cuisine served, including tabouleh, dolma, chicken tikka and beef shawarma.
Curtis Philip opened the information portion of the evening. He spoke movingly about Alzheimer's.
"This is a first death," Philip said. "Alzheimer's is a little death before dying."
Indeed, the loss of memory from any form of dementia is a partial death, because of the loss of a sense of individuality, of unique personhood, and of relationships.
Philip further noted his long friendship and admiration for Sister Alexandra, who leads the nuns of the next-door convent. The Chaldean Sisters Daughters of Mary Immaculate Conception own and operate the senior living center.
"Sister Alexandra has had a vision of taking care of the aging," Philip said. "This Memory Care Facility is among the dreams she has."
Philip said that Sister Alexandra insisted that ten beds at Good Samaritan remain available for low-income seniors.
Groundbreaking for the new facility began on Sept. 3, when about half the estimated construction costs had been raised.
Bulldozers were parked in the graded dirt, which also served gala attendees for extra parking.
Tickets for the gala cost $100 apiece. Raffle tickets were sold as well to raise more money and donations were requested.
Some 280 people were in attendance.
Susan Sorensen, administrator at Good Samaritan, offered remarks about the expansion.
"I want to thank the nuns for letting me come here," Sorensen said. "I've been here five years. We are currently a full house."
Good Samaritan now offers independent living, assisted living and hospice care.
"I do have some families waiting for rooms and at different levels of care," Sorensen said in an interview after the gala. "I have 52 rooms here at GS and currently have 59 residents. We have 29 residents at a Level 2 and seven in hospice. The rest are independent.
"What's nice about our community is once residents move in, they stay in the same room for the different levels of care. The only thing we can't keep is wandering residents. This is why we need our Memory Care."
The new Memory Care Facility, once completed, will cater to residents who have lost more of their memory competency.
"This is not just a facility, this is a home here," Sorensen said.
The gala raised around $250,000.
Anyone wishing to donate to bring this project to fruition can call Good Samaritan and ask for Sister Alexandra at (619) 590-1515, donate through the website at www.goodsamretirement1.org or email for more information at info@goodsamretirement1.org.
Those interested in moving to Good Samaritan can call Sorensen at (619) 772-5087 and schedule a tour with lunch.
They can also visit the website as well for more answers to questions.
Good Samaritan Retirement Center occupies nine acres at 1515 Jamacha Way, including a park and gardens.
The center is Catholic-based but open to seniors of other beliefs, described as "a loving place to live."