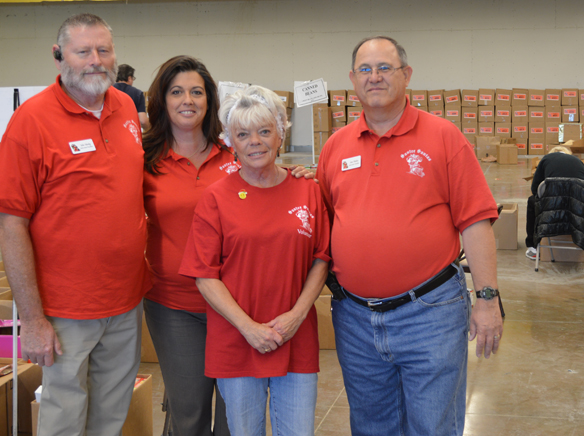 Santee Santas Foundation was founded in 1953 by two members of the Santee School District in coordination with the fire department. The first year, they delivered to five families. In the mid 80s the school district decided it was time to find volunteers to run the program, an organization run by a board of directors. It consists of 11 board members, all volunteers and it relies on community volunteers for food sorting, toy sorting and wrapping and delivery every year. It has about 1,400 volunteers in its database and normally has more than 250 volunteers actively working each year.
"Everyone here is a volunteer, no one gets paid for this," said Sam Modica, Santee Santas president. "We are incorporated to serve the under income families and seniors of Santee during the holidays."
At this time Santee Santas have 215 families this year at last count and of that there are more than 400 children in the program this year, he said.
Modica said in the yearly food drive from the school board the food donations from the school district were "way low" on the donations, but it has some cash donations and reserves in its checking account.
"So we will go and shop," said Modica. "It is never too late to donate. If they want to donate now there are around 75 businesses around the city including El Cajon, Lakeside and San Diego where they have drop boxes for people to donate food and toys."
Santee Santas are all set to deliver this year's holiday goodies on Saturday, Dec. 21 and they will continue to deliver until the last box is out of the building. For seniors, some living in mobile homes and senior retirement complexes, the Santee Santas deliver flowers in it flowers program for seniors and the same volunteers handle it all, said Modica
To find our how to become a Santee Santa, donate cash through mail or PayPal, go to www.santeesantas.org.