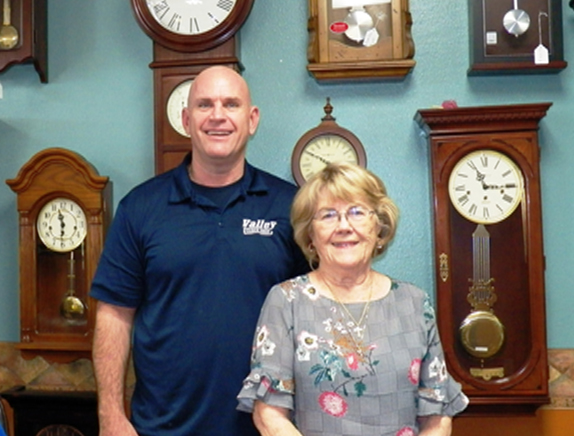 Even in this age of digital tim­ing precision, something remains immensely soothing and settling from seconds marked off tick by tock and hours counted off by chimes.
Kirk Maides, owner of El Ca­jon's Valley Clock Shop, has this observation about classic mechanical clocks. "A clock is the heartbeat of a house," Maides said.
As an expert in clock repairs, Maides knows.
The Valley Clock Shop has been a family-owned and oper­ated business in El Cajon for 43 years. Kirk's deceased father, John "Jack" Healy Maides, start­ed clock repairs as part of Magno­lia Jewelry in 1976. Kirk began working in the family business when he was eight years old.
Kirk's mother, Joann Davidson Maides, provided a little back­ground about the family business.
"People come here for clock repairs from all over San Di­ego County," she said. "My son is highly recommended for his work, and he is recognized for his integrity."
She recounted more history of the family business, "My hus­band told Kirk he needed to get a college degree, and Kirk earned a degree and taught special education."
Kirk Maides picked up the timeline, "I loved the family busi­ness and went to clock school in Pennsylvania." He noted that he is a trained horologist, which re­fers to the study of time. After his horology studies, he returned to El Cajon and purchased new tools, mills and other upgraded clock-repair equipment for the family business.
Valley Clock Shop was relocated at various sites around El Cajon throughout the years. The shop, now featuring a showroom and two clock repair units, has been situ­ated in business suites at 1177 N. Second St. for 12 years.
The shop employs five workers, in addition to Maides himself. "We are kind of the 'last of the Mohicans' with six left, maybe, as real clock repair shops in the county," Maides said.
Maides went on to describe how people owning classic clocks often mistakenly take their time­pieces to watch repair stores. "Watches and clocks are not the same," Maides said. "Clocks go easily out of adjustment and re­quire specialized repair. A clock can have a mind of its own and be a puzzle to repair." For in­stance, newer cuckoo clocks have cams, while over century old clocks have gear teeth that must be adjusted one by one.
Maides noted that he takes particular care of seniors with vintage and longtime family-owned clocks. "I have patience for them," he said. "Sometimes they just forget to wind their clocks, and that is an easy repair."
Maides spoke about one 86-year-old client, who had owned her clock for 60 years. "She called me every day ask­ing about when her clock would be done," Maides said. "She told me that her clock needed to be wound every day, and she had a hard time getting her day started without it. Clocks really can be­come part of the family."
Most of the Valley Clock Shop repair business focuses on grand­father clocks, Maides observed. The shop also repairs cuckoo clocks and wall, mantle and ships clocks. The showroom features all these types of clocks for sale.
"We will always be here to help," Maides said about walk-in inquiries. "We are carrying on a legacy."
Maides continued, "I want to do the best possible job I can, earning my name as the best I can be. There is nothing we can't fix if it is fixable."