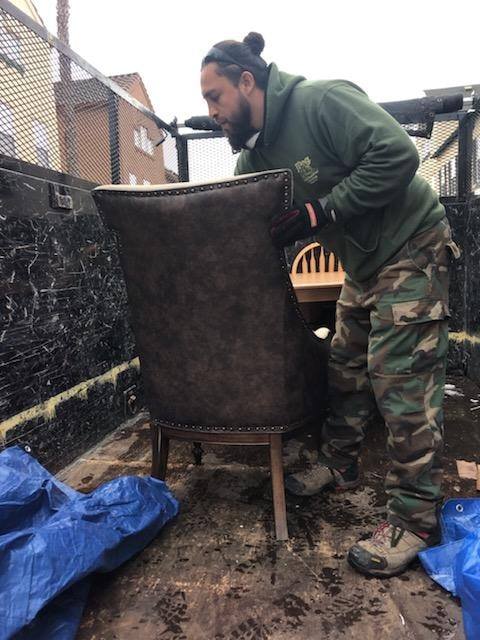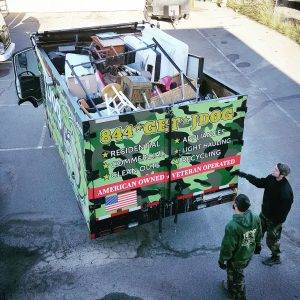 Sean Potts is an Army veteran who has served his country. Now he serves his community.
District partner for JDog Junk Removal & Hauling, Potts is new to East County but not new to the struggles of military families and veterans who are employed or assisted by the Lemon Grove company.
"Our mission is to empower veterans by employment," said Potts. "A lot of folks that come back from the military are looking for jobs and different opportunities and different skill sets."
The Lemon Grove location is one of dozens of JDogs found around the country. It currently employs four veterans and two veteran's family members.
Potts said hiring military spouses or family members is an important part of their outreach.
"It's hard for them because they move every three years," he said.
Especially for military families recently stationed in San Diego, Potts said, finding work can be critical. Moving somewhere new with kids and not enough coming in on the paycheck is hard for anyone, said Potts.
"Normally, when you come into the military, you're lower enlisted and you work your way up to being the supervisor. Well, in Southern California, with the cost of living being so high, the E1-E4s are actually below the poverty rate," he said. "With them being below the poverty line, a lot of families are struggling, plus they're moving around."
JDog employs veterans, but the work they do also helps the military community. Much of the junk they remove is donated to organizations around San Diego County, like STEP (Support the Enlisted Project) who distribute the used household items including furniture and kitchen supplies to military families in need.
JDog will fill their 18-foot box truck with recent loads and bring it to STEP. The items go quickly.
"We dropped it off at 10 in the morning and before we left for the day we got a notification saying everything was gone," said Potts.
Potts' fiance Jamie Umlauf also works for JDog as the operations manager.
"I like to think [we have] a pretty big impact," she said. "I know that we've helped quite a few military veterans and families with our furniture donations. It's really great that we get to help out."
Potts and Umlauf moved to San Diego after being told about the opportunity with JDog.
"I ended up hearing about the mission and the impact that they have on the community and the veterans and I said, you know what, that sounds like an absolutely great idea," said Potts. "So Jamie and I picked up and went all in for JDog. We stick to the mission, stick to the values and we've found it's been successful."
JDog has a multi-faceted impact on the community, according to Umlauf and Potts.
"Obviously, our purpose is to do our best on the junk removal side – a lot of people have stuff they need removed – and we serve them the same way we served our country, with respect, integrity and trust," said Potts.
But the organization also has its eye on the environment. They cross-load trucks to separate donations from recyclable metal and cardboard, paper and plastic materials.
"It's easier to go to the dump, fill up the truck and go to the dump and then go to the next job," said Potts of their meticulous method of sorting and distribution. "It's us trying to keep everything out of the landfill, us helping the community, really helping customers declutter their life, and us trying to help the veterans who work here. We're really trying to make an impact on the environment and the community."
Umlauf, whose job consists of everything from handling donations, scheduling trucks and maintaining day-to-day operations to office management and job requests, said the veteran community in East County has been wonderful.
Potts agreed.
"It's a really great feeling to get to know a lot of people who served alongside me that I never got to meet when I was in."
Potts said that if East County residents know a veteran in need of employment, he is always taking applications. He also said that using the company will support the people they employ.
"When you choose JDog, you're going to get a competitive price, you're going to be able to trust us, and we do our best to keep everything out of the landfill," he said.
Potts got his commission in January 2011 and has been stationed all over the United States on active duty and in the Reserves. He said his work here in East County strikes a deep chord.
"It's touching because being in the military myself, a veteran, these are my people," he said. "I know the struggles they're going through. To help them out and give them a little bit of comfort, it means a lot to me."