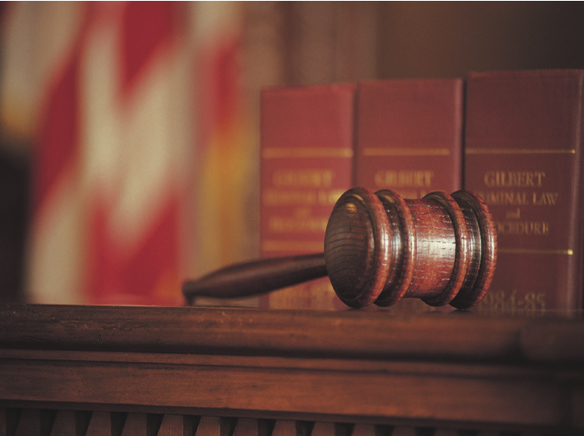 Opening statements and testimony is expected to start this week in the murder re-trial of a former El Cajon man who is accused of bludgeoning a 71-year-old man during a 2000 robbery.
Jury selection began Jan. 8 for Edward Jamar Brooks,, 39, before San Diego Supe­rior Court Judge David Gill regarding the slaying of Le­Ray "Mac" Parkins, in North Park.
A six man, six woman jury was sworn in Jan. 10, and 4-5 alternate jurors will be select­ed on Jan. 13.
A previous jury deadlocked 9-3 for conviction of first-de­gree murder on Oct. 31, 2019 after 18 hours of delibera­tions. Jurors said they could not confirm the accounts of two former East County men who said Brooks killed Par­kins with a baseball bat.
A DNA test of the empty pockets of Parkins' pants was a match with Brooks' DNA profile in 2018 and he was arrested in North Carolina.
Brooks has denied killing Parkins and his attorney said the other two men were the "real killers." Both are await­ing sentencing after they pleaded guilty to voluntary manslaughter and robbery.
Social Security fraud case
An El Cajon man who served as an Afghanistan gov­ernment official has pleaded guilty to theft of public money when he accepted Social Se­curity supplemental income.
Ahmad Yusuf Nuristani, 71, admitted he was aware that an SSI recipient must live and be a resident in the U.S. before receiving govern­ment benefits.
Nuristani has agreed to re­pay $27,492 in SSI payments and $73,090 to the state of California for health care payments and services.
Nuristani will be sen­tenced March 9 before U.S. District Court Judge Cynthia Bashant. He remains free on $10,000 bond.
"Those who abuse the trust of the taxpayer will be brought to justice," said U.S. Attorney Robert Brewer, Jr.
Nuristani is a prominent politician in Afghanistan for many decades including being the former governor of Herat province, according to the U.S. Attorney's office. He was appointed to the upper body of parliament in 2018.
Drunk decoy operation in Lemon Grove
The Sheriff's Department conducted a drunk decoy op­eration in Lemon Grove dur­ing a recent holiday in which a plain clothes deputy en­tered a liquor store and acted intoxicated.
The decoys slurred their speech, dropped items and smelled of alcohol. Then they attempted to buy alcohol–a misdemeanor offense for stores to sell to someone who is already drunk.
Four locations in Lemon Grove and four in the college area were visited. Two Lemon Grove retailers and one col­lege area store sold alcohol to the decoy.
No arrests or citations were made, however, because the department said this was for educational and awareness purposes.
Agents from the Depart­ment of Alcoholic Beverage Control explained the law to the store owners and em­ployees. The purpose for the exercise is to keep the public safe from drunk drivers and is funded from an ABC grant.
Suspended sentence for biting sheriff's deputy
A suspended four-year pris­on term was given to Layth Firas Mohammed, 24, of El Cajon, for biting a sheriff's deputy on the forearm at a Spring Valley convenience store.
Mohammed has finished a 1-year jail term on terms of three years probation in El Cajon Superior Court. A judge ordered him to pay $2,564 in fines.
Deputies were called to an Arco store on Dec. 17, 2018 where Mohammed, a store employee, was reportedly chasing a customer with a knife. He was apparently un­der the influence of a drug at the time.
Mohammed pleaded guilty to felony resisting an officer and possession of heroin for sale.
Other charges were dropped that including battery of an officer, being under the influ­ence, and hit and run.