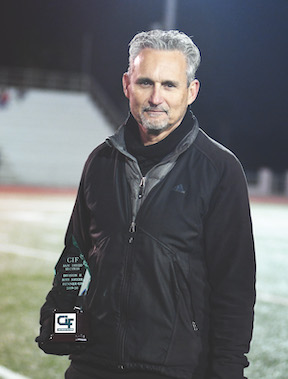 Soccer is considered a very technical and also a very passionate sport, especially at the higher levels of play.
It can be both physically and emotionally draining, as well as immensely rewarding to the psyche, and is a sport that needs to be played under control to achieve the best results.
Trying to master all these intangibles and mesh them into a cohesive game plan is not an easy task.
But West Hills High School boys soccer coach Russ Shubert has managed to do that over the years with the Wolf Pack, as he did previously with his alma mater, Hilltop High School, where he got his start both as a player and coach.
Shubert led the Lancers to the 1993 San Diego Section Division II championship.
His timeline at West Hills follows that.
The Wolf Pack captured the school's first-ever San Diego Section boys soccer championship by winning the Division III title in 2019. It was the second CIF title for Shubert in his coaching career and obviously a first at West Hills.
The Wolf Pack received a rare opportunity to win another CIF championship this year by advancing to the Division II final but came up short of that goal in a 3-1 loss to Grossmont Hills League rival Helix in a game played Feb. 29 at Hilltop High School.
By leading the Wolf Pack to this year's league championship and to back-to-back section finals appearances, it was not surprising that Shubert reaped honors as the 2019-20 San Diego Section Boys Soccer Coach of the Year.
Befitting his character, he remains modest about the award.
"As far as receiving the award, it was a great surprise and my first thoughts were that the team and my staff earned recognition for any accolades," Shubert said. "I'm proud to have been named Coach of the Year, of course, but I always talk about 'the team' more than individuals, so it's awkward speaking about myself. It's a great honor to represent our program and the school.
"The last two seasons have been outstanding in all facets. The players were super dedicated, the other coaches were all highly motivated to add ideas and support my vision, the school helped out with support and we had tons of fans out there. The parents were wonderful in their support of the team and coaches as well.
"The core of the team had been together since they were freshmen and we aimed high from the beginning to reach these goals of league and CIF titles. The league championship was special following just missing out the previous year and beating Helix at their place was extra special. The final was an odd game as we never really got going and never felt like ourselves and it's difficult to say why exactly. To be in two CIF finals, win one, play a state playoff game, win a league title, win more games over a two-season period than any team in school history, all is just amazing."
Shubert had plenty of company in the postseason awards category.
Seniors Young Truong, Gabriel Willadsen and Carter Orchulli all earned selection to the all-league first team while junior Landon Vanderhyde and seniors Isaiah McCauley and Jarrett Pricor received recognition on the all-league second team.
Truong earned additional accolades as a member of the All-CIF First Team.
West Hills finished with a 15-4-7 overall record during the 2019-20 season, including a 5-1-2 mark in league play.
The Wolf Pack received the No. 1 seed in the Division II playoffs.
"Overall, a wonderful group of players and an outstanding group that was focused and willing to sacrifice for each," Shubert said. "The substitutes throughout both years contributed a ton to our success both on game days but at training each and every day. They truly bought into the motto of "Brotherhood for 90 Minutes" and the slogan "Play Until the Game is Won."
That this year's CIF championship game took place at Hilltop High School was a special moment for Shubert, who had alumni, friends and family in the stands rooting for him and his team.
"I did feel some pressure, but it was nice having everyone out there and receive their support," he said.
Shubert, in true gentlemanly fashion, complemented Helix on its CIF championship victory.
"They were outstanding that night," he said.
CIF flashback
Micheil Ross scored in the third minute of sudden-victory overtime to lift Hilltop to the 1993 title — its third CIF title in school history — via a 1-0 win over San Pasqual. Ronnie Silva and Billy Bradley drew assists on the game-winning play that developed off a quick restart.
"It was hair-raising," Shubert said at the time. "But the whole defense played outstanding. It was an all-around effort.
"It came down to our seniors … We were loose. I told them before the game to just go out and have fun. They came through."
Shubert still has fond memories of that 1993 CIF championship season.
"I remember every minute of the season and game," recalled Shubert, who served as the Lancers' goalkeeper during his playing days from 1980-83 and earned honors as the 1983 Metro League Player of the Year. "Great game and victory in OT. Sadly, we lost Mike Ross. He passed away from cancer some years ago now. Mikey scored that goal for us — Ronnie Silva to Billy Bradley, cross and Mikey runs on and heads the ball over the goalkeeper.
"We had played San Pasqual in the San Diego Holiday tournament and won that in overtime as well, 2-1."
Both that Hilltop team and the2019 West Hills CIF championship team had lots of similarities, Shubert said.
"Almost the same records, both only lost four games all year, neither won the league, but were so good in their respective playoff runs," Shubert said.
"Both teams were teams — neither relied on one player but played as complete teams. Each had a leading scorer — Hilltop, Oscar Figueroa, and West Hills, Rian Stiles — but each played within a team concept. Both had stellar defenses and goalkeepers. West Hills only gave up 17 goals all year, three were PKs, and had 11 shutouts. Each team won a game in the CIF run in PKs."
Orchulli, the team's goalkeeper, recorded a 0.97 goals-against average in 18 game appearances this season after posting a 0.54 goals-against average in 2018-19.
"Russ has been one of the top coaches in San Diego County for over the past 25 years," current Hilltop coach John Salts said. "He had an amazing run leading the Lancers for many years before heading out east to Cuyamaca College and then onto West Hills High.
"Russ has a vast knowledge of soccer but his true strength is how he connects with his players and builds a strong bond with his teams.  This team chemistry is a key to his programs' success over the years."