Granite Hills High School's soccer program scored a prestigious double as the Eagles recorded two all-league player of the year honors to conclude the 2019-20 season.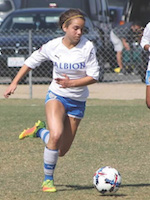 Granite Hills senior Robert Webb earned recognition as the Grossmont Valley League boys player of the year while Lady Eagles senior Naomi Ellis received recognition as the Grossmont Hills League girls player of the year.
Ellis, a defender, played in 24 games during the recently concluded season with four goals and eight assists as Granite Hills captured the league championship and advanced as far as the San Diego Section Division I championship game.
The Lady Eagles came up short in their CIF title quest after a 1-0 loss to the league rival Grossmont Foothillers.
Besides the league player of the year award, Ellis earned honors as a Second Team All-CIF selection.
Granite Hills finished the season with a 14-6-4 overall record, 7-0-3 in league.
Ellis will continue her soccer career locally at Point Loma Nazarene after signing a national letter of intent in February.
Ellis was among the first eight signings by the Sea Lions during the 2020-21 signing period.
Point Loma head coach Kristi Kiely is highly complimentary of the team's new addition.
"Naomi is a competitor in every sense of the word," Kiely said. "She is the kind of player that as the game gets tougher, she gets better. She has the ability to play all over the field, and she will bring a competitive fire to the program. Naomi has all the qualities to be a very successful player here at PLNU."
Ellis comes to the Sea Lions though the Albion Soccer Club.
Albion SC coach Loren Mahoney also reserved high marks for Ellis.
"Naomi is a quiet overachiever on and off the field," Mahoney said. "Her versatility is a huge asset on offense and her tenacity is her biggest weapon on defense. She has worked so hard to get to this point and I can't wait to see how much more she grows as a player and a person at Point Loma."
Ellis said the school's local imprint and coaching staff were among the main reasons she chose to sign with PLNU.
"Point Loma is a great school, in my own backyard," Ellis said. "However, being offered the opportunity to be part of something special by a great coaching staff, made my decision easy. I look forward to playing for championships while earning my degree."
All eight PLNU recruits will join the Sea Lions as freshmen this fall.
Point Loma Nazarene captured the PacWest Conference for the second consecutive season in 2020 and reached the championship match in the NCAA West Regional.
Ellis is among three Granite Hills players named to the 2019-20 Grossmont Hills League all-league first team, joining senior classmates Faith Allen and Emma Raymond.
The Lady Eagles had three players named to the second team: seniors Haylie Snyder and Emmie Kealaluhi and junior Bridget Cooley.
Kealaluhi collected 14 goals and five assists in 24 game appearances while Allen collected 11 goals and seven assists. Snyder collected three goals and six assists.
Grossmont (14-5-6 overall, 4-2-4 in league) landed two players each on the all-league first and second teams.
Senior Mia Foster and junior Jennifer Giovengo earned first team honors while senior Kiera Smeenge and junior Maddie Mayo received second team recognition.
Giovengo collected eight goals and eight assists to rank second in team scoring, followed by Foster on the scoresheet with nine goals and four assists.
The Lady Foothillers received the No. 2 seed in the Division I playoffs and completed a perfect run to the CIF championship title win wins over West Hills (1-0 in the quarterfinals), Our Lady of Peace (2-1 in the semifinals) and Granite Hills in the final.
Junior Karlee Kennedy scored the game-winning goal in the championship game while sophomore goalkeeper Natalie Emery made eight saves to record the shutout victory.
Foster, who is bound for Cal State Fullerton, capped her season by earning First Team All-CIF recognition.
She is a rare four-time first team all-league selection, and two-time CIF champion after Grossmont captured the Division II title in 2019. She earned Second Team All-CIF honors as a junior as the Lady Foothillers advanced to the semifinal round of the 2019 Southern California regional tournament.
"It's well-earned and deserved," Grossmont head coach Fernando Ramos said. "Mia is a very smart player with top soccer skills. She's also one of my captains and has driven her team to great achievements; her positive attitude on and off the field have helped build our squad to where we are now. I will miss her greatly and I know her soccer career will continue to grow."
Smeenge is head to play college soccer at UC Irvine.
Steele Canyon (9-9-9, 3-3-4 in league) had two first and two second team all-league selections.
Seniors Angelina Espinal and Jori Hays both made the first team while seniors Olivia Montes and Lauren Helton made the second team.
Espinal, who led the Lady Cougars in scoring with six goals and 19 assists in 17 games, earned honors as a Second Team All-CIF selection to cap the season.
West Hills (4-13-10, 1-2-7 in league) also had two first team and two second team selections.
First team picks included senior Malia Wirsig and junior Samantha James while second team picks included senior Kacey Bishop and junior Annabelle Ocampo.
Wirsig scored 14 goals in 20 games to lead her team in scoring.
Helix (13-6-3, 2-5-3 in league) and Valhalla (2-12-7, 1-6-3 in league) both had one first team and one second team selection.
Helix senior Makaia Saucier and Valhalla senior Adriana Rodriguez were both first team picks while Helix junior Makayla Robinson and Valhalla junior Jenna Smith were second team picks.
Granite Hills, Grossmont, Steele Canyon, West Hills and Valhalla all qualified for the 2020 Division I playoffs while Helix qualified for the Division II playoffs.
Steele Canyon received the No. 5 seed and advanced as far as the quarterfinals following a 4-0 first-round win over 12th-seeded Rancho Bernardo. However, the Lady Cougars could not advance farther following a 2-1 loss to fourth-seeded Scripps Ranch.
Senior Caolinn Crotty scored two goals for Steele Canyon in its win over Rancho Bernardo while senior Dahlia Alonso and junior Alexia Dugan both scored single goals. Espinal proved to be the playmaker of the match with three assists.
Senior Chloe Sevilla and junior Kassandra Jaggard both recorded four saves to share the shutout victory.
Steele Canyon captured the 2019 Division I championship after finishing runner-up in consecutive years (2017, 2018) in the Open Division final.
Helix received the No. 6 seed in its playoff division but dropped a 3-2 decision to 11th-seeded San Diego in the opening round.
Valhalla, the No. 11 seed in its division, lost, 3-0, in the opening round to sixth-seeded Canyon Crest Academy.
Steele Canyon coach Charlie Cleaves was complimentary of all the teams in the Grossmont Hills League.
"I have been saying it for a long time, but the East County and the Grossmont Hills League are as strong as any league in the North and it was great that Grossmont won the Division I title against Granite Hills after we won it the year before and West Hills won a state CIF championship (Division II Southern California regionals in 2019).
"Next year will be just as tough as anyone can win the Hills League title every year. The days of Steele Canyon winning seven championships in 10 years are behind us as all six teams are not only competing for league titles but Open and Division I CIF championships.
"As far as Steele Canyon, after three straight CIF championship games, injuries caught up with us and we just couldn't find that magical run to get us there again. Despite losing 15 seniors this year to graduation, we are returning seven very strong players who started a significant amount of games the last two years and hope to make a run for the league title and get back into the Open Division."
Grossmont Valley League honor roll taps Vaqs
El Capitan senior Rylee Helmholtz earned recognition as the 2019-20 Grossmont Valley League girls soccer player of the year, joining teammates Kelsea Torres and Elly Schram, both seniors, and sophomore Hialee Rust on the first team.
The Lady Vaqueros (13-5-1 overall, 7-0-1 in league) had four players named to the second team: junior Abigail Grondin, sophomores Kailee Rust and Ally Chase and freshman Samantha Mauzy.
Helmholtz played four varsity seasons at El Capitan, collecting 49 goals and 23 assists in 77 career games. She ended her season year with a team best 23 goals and eight assists in 16 games.
The Lady Vaqs earned the No. 3 seed in the Division III playoffs and advanced to the quarterfinal round, dropping a 5-4 overtime decision to sixth-seeded La Jolla County Day to end an otherwise highly successful season.
Monte Vista (16-4-1, 6-1-1 in league) received six all-league selections — three on the first team and three on the second team.
First team selections included seniors Ashlyn Edwards and Hunter Morton and sophomore Adriana Resendez. Second team picks included juniors Ryleigh Pittman and Carina Virto along with freshman Yulita Castorena.
Morton, who will continue her soccer career at Cal State San Marcos in the fall, racked up 41 goals and 24 assists as one of the section's elite scoring leaders with 106 points.
Santana (12-8-2, 4-4 in league) had four all-league selections — two on the first team and two on the second team.
First team picks included seniors Tatum Salaz and Hannah Cox while second team picks included juniors Shaye Blackburn and Makenna Blackburn.
Mount Miguel (8-10-1, 2-6 in league) and El Cajon Valley (0-10, 0-8 in league) each had two all-league selections.
Mount Miguel's all-league picks included junior Julianna Laverdiere on the first team and senior Izabel Grano on the second team.
Laverdiere proved to be a scoring machine for the Lady Matadors with 28 goals and eight assists in 14 games.
El Cajon Valley's all-league selections included junior Harir Maher on the first team and sophomore Jasmine Lopez on the second team.
All teams in the league with the exception of El Cajon Valley qualified for the playoffs.
Monte Vista received the top seed in the Division III bracket but fell, 4-0, to eighth-seeded Otay Ranch in the quarterfinal round as the Lady Mustangs went on to capture the division championship.
Santana received the No. 11 seed in the Division III field and ended its season with a 3-0 loss at sixth-seeded La Jolla Country Day in the opening round.
Mount Miguel qualified as the No. 3 seed in the Division V playoffs but lost its quarterfinal match by a 5-1 score to sixth-seeded San Diego Jewish Academy.
Boys basketball honor roll
Junior Carson Burton represented Santana on the Grossmont Valley League all-league first team while junior Ethan Wolchko received second team honors. Honorable mention recognition went to junior Alden Rasmusson and senior Nick DePhilippis.
Burton averaged 10.5 points per game and 4.3 rebounds per game for Santana, which finished 3-5 in Grossmont Valley League play, 9-18 overall.
Wolchko led the Sultans with a 15.9 scoring average in 2019-20 while Rasmusson ranked second on the team with a 12.6 scoring average.
Girls basketball
El Cajon Valley senior Vean Gorgees, a first team Grossmont Valley League honoree, represented the Lady Braves (5-5 in league, 16-11 overall) on the All-San Diego Section Division IV team after posting a team-leading 13.6 scoring average.
Junior Fineita Taulanga, who averaged 10.8 rebounds per game, received second team all-league recognition.
Junior Silvia Aboud (7.1 rpg) and freshman Ruth Taulanga (9.5 ppg) both received honorable mention all-league honors.
Santana senior Lakaila Aquiningnoc-David earned honors as the Grossmont Valley League Player of the Year after helping lead the Lady Sultans to the league title.
Aquiningnoc-David led Santana (9-1 in league, 15-14 overall) in assists per game while topping the team in free-throw percentage and three-point shot percentage.
Sophomore Bella Terry earned recognition as a member of the all-league first team while senior Brianna Jerig was named to the all-league seadon team.
Terry averaged 11.4 points per game to lead the Lady Sultans in the scoring column while also leading the team with 9.4 rebounds per game and 2.9 blocks per game.
Jerig ranked second on the team with a 10.9 scoring average and paced Santana with 4.8 steals per game.
Honorable mention selections included junior Joey Barkhimer and freshman Taylinn Warren.
Warren ranked second on the team with 6.7 rebounds per game.