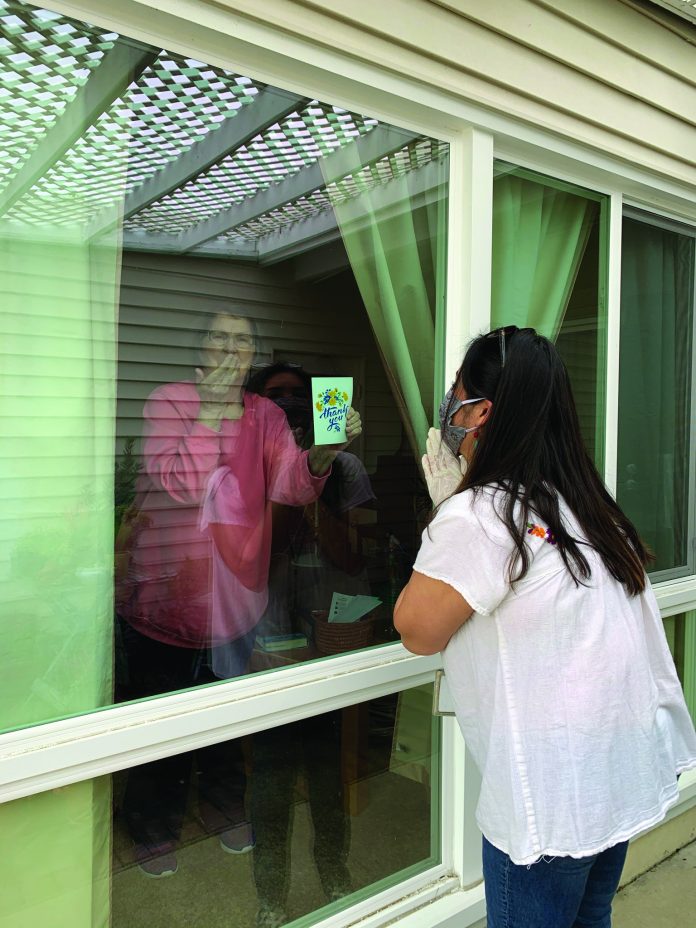 Over the course of the next four weeks, San Diego and El Cajon citizens and elderly will receive over $62,500 in groceries and essential items as a result of a donation from the LA Chargers, a funding initiative from the city of El Cajon and a partnership with Rock Church, ElderHelp of San Diego and Leave It To Us.
"The Rock Church has a long track record in El Cajon of lending a hand during adversity." said City Manager Graham Mitchell. "When our community faces challenges, the Rock has continuously risen to the challenge. This time to deliver food to those who are at risk of COVID-19. We are so grateful for this partnership with the Rock Church which allows those most at risk to stay home and safely shelter in place."
Michael Arundel, a junior at the University of Alabama, started an organization of students willing to shop for senior citizens. This group of Chicagoland area students turned into a nationwide movement of college students, "Leave It To Us – Fee Free Senior Citizen Shopping." Growing across the country, Abbie Rieder, a local SDSU student, and Rock Church member, launched a San Diego chapter. They have 27 shoppers, and growing, are ready to shop for San Diego's local seniors. Rieder along with volunteers from Leave It To Us and the Rock Church Young Adults group partnered to help the seniors of ElderHelp. Volunteers use gift cards to shop for the seniors of ElderHelp. This will be used to supplement what they receive from the San Diego Food Bank. ElderHelp will then distribute the groceries directly to the homes of seniors.
ElderHelp Executive Director Deb Martin said it is one of the few non-profits in the county that goes into the homes of seniors, provides grocery shopping, transportation, friendly visiting, medical advocacy and more for the past 46 years, starting out in the basement of a church.
"Over the years we've evolved to providing whatever social services and in-home support we can to help people aging in their homes remain in their homes as long as possible," said Martin. "We've been serving East County for quite some time…and the City of El Cajon is asking for our help with COVID-19 support in the area of food insecurity."
Martin said due to the epidemic, many seniors are not able to leave their home to go shopping for essential needs.
"We are doing everything up to their doors, keeping safe distancing and keeping them safe," she said. "We only use any funding for El Cajon for constituents in El Cajon. We have anywhere between 25 and 50 ongoing seniors in need of services on a week in, week out basis. We do grocery shopping for them, which is about a $40 expense which is really affordable since we try and provide a week to two-week supply."
Martin said they are also providing essential products like hand sanitizer, toilet paper, Clorox wipes and some of the safety and health supplies that are very difficult to find and locate. She said they are also receiving more referrals from El Cajon. "We just started with the city last week on COVID specific deliverables, so we'll be focused on that over the next couple of months," said Martin.
Martin said its volunteer pool has been affected greatly with over 350 volunteers, but 30% of them were age 65 themselves, and we asked them to put their health first and discontinue their volunteer service which was difficult because goes against what ElderHelp stands for. But they've put them to work with phone calls checking in with its more than 800 clients countywide. Martin said they immediately switched its volunteer onboarding process to 100% virtual online, which has help in bringing in 50 new volunteers a month, rather than the 10 a month with its previous onboarding process.
"They are grocery shopping, delivering groceries, helping deliver our food bank food and make regular check-in phone calls to check in on the emotional health of all of our clients," said Martin.
Rieder began the Leave It To Us San Diego Chapter because she saw the need for it in the community and had the time to make it happen.
"I'm a healthy individual and it only makes sense that someone like me who are healthy themselves to go out like me and go to stores and shop for seniors who should not be going out," she said. "And even to those at risk because they are immune compromised."
Rieder said that going out and shopping for these people in need is "awesome."
"The most rewarding part of it is getting emails from the seniors after we've delivered their groceries," said Rieder. "Seeing how grateful they are for this service. So many of them are genuinely afraid to go out. They are so handicapped by this it's honestly just a joy to help them."
Rieder said they are always looking for more seniors to serve, and that seniors in need can reach out by email or phone to request help. She said that as of now, its furthest community reach in East County is El Cajon.
ElderHelp: www.elderhelpofsandiego.org
To join or request help from Leave It To Us San Diego email sdleaveittous@gmail.com or call 1-503-313-7491.
Facebook: @LeaveItToUsSanDiego
Instagram: @leaveituptousshoppers.
www.leaveittous.global