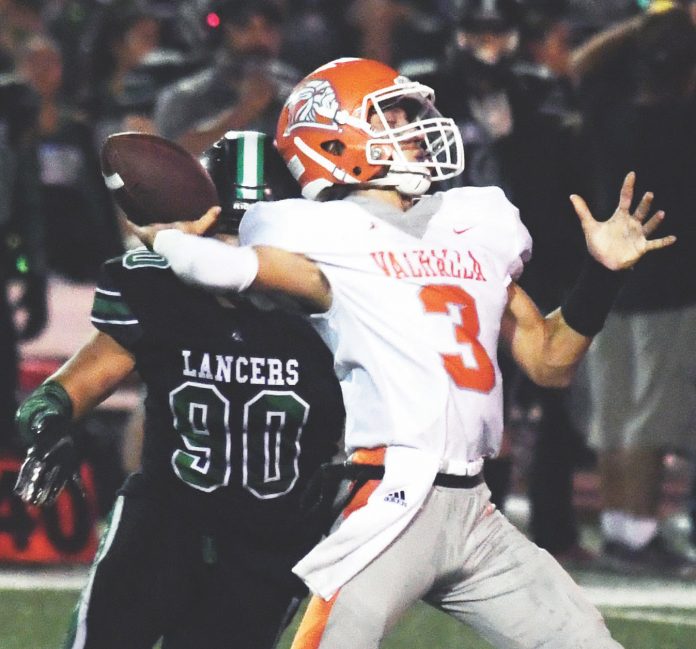 The Valhalla High School football team finished 4-7 on the field last season, including 1-4 in Grossmont Hills League play.
The Norsemen ended the 2019 season with a 21-14 loss to West Hills in the opening round of the San Diego Section Division III playoffs.
VHS head coach Michael Kastan is hoping for an improved showing in his team's record as it moves to the Grossmont Valley League this season.
"We're looking to be competitive," Kastan noted optimistically.
The Norsemen lost senior Kegan Baker to graduation at the end of the 2020 school term while Josh Meredith has since transferred to Mater Dei Catholic High School.
Baker rushed for 1,436 yards and scored 18 rushing touchdowns in nine games in 2019. Meredith ranked second on the team with 484 all-purpose yards in six games while making two interceptions on defense.
Meredith, a second team All-Grossmont Hills League selection on defense as a junior, has since committed to attend Fresno State.
But there are plenty of returners hoping to move up to major roles on this year's team.
Quarterback Luke Pillsbury, receivers Miles Tomlinson and Gonzalo Heers, offensive lineman Allen Kalasho and linebacker Eddie Villavicencio, all seniors, are two-year starters.
Receivers Marseilles Childs and Gavin Nagel both started last season as seniors, as did senior offensive linemen Ibrahim Ibrahim and Samar Farji.
Senior linebacker Basha Nooh and junior safety Giovanni Aljeo both were starters as well last season.
Pillsbury completed 40 of 94 passes for 479 yards with one touchdown last season while Tomlinson had 16 catches for 125 yards. Nagel had seven catches for 96 yards and one touchdown.
Villavicencio and Aljeo both had one interception on defense.
Impact newcomers include junior linebacker Randall Shamon, senior linebacker Ashour Shamoun, junior defensive lineman Robert Brown, senior defensive back Nobel Bromann and junior offensive lineman Jacob Campos.
Last season's record was a vast improvement over the 0-10 season the Norsemen posted during the 2018 season. Valhalla was 2-9 in 2017 following an 8-3 season in 2016.
Valhalla is scheduled to kick off the 2020-21 season with a non-league road game at neighborhood rival Granite Hills on Jan. 8.
Add Wolf Pack
West Hills finished 7-5 in 2019 while advancing to the Division III quarterfinals.
The Wolf Pack has posted three consecutive winning seasons after finishing 8-3 in 2018 and 6-5 in 2017.
Head coach Casey Ash is hoping his team can make it four consecutive winning seasons in 2020-21.
"If we get to play in the spring, I'd expect us to have one of the youngest teams in the county," Ash said. "Last season, we finished third in the league (Grossmont Valley League after Monte Vista and Santana) and advanced to the second round of the playoffs before falling to Scripps Ranch. We will be looking to improve on those results."
Top returners include senior lineman Nathan Sanchez, junior quarterback Braden Oberg, junior linebacker/running back Dylan Freund and junior defensive back Dylan Snyder.
Oberg passed for 507 yards with seven touchdowns and one interception while rushing for 170 yards.
Impact newcomers include junior defensive back/receiver Dane Schoenborn, sophomore running back/linebacker Thomas Smith and junior linemen Trevor Imbimbo and Andrew Engstrom.
Ash isn't downplaying the youth on this year's squad. Seniors accounted for 26 of the 29 touchdowns scored last season.
The Wolf Pack is scheduled to kick off play Jan. 8 with a non-league home game against the Kearny Komets.