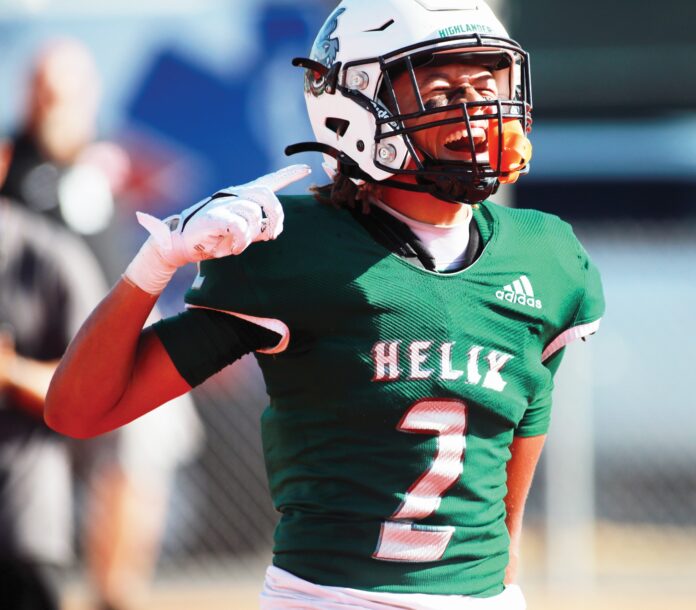 Three weeks into the current high school football season, the Mt. Miguel Matadors, Granite Hills Eagles, Santana Sultans, West Hills Wolf Pack, Helix Highlanders and El Capitan Vaqueros all seem to have winning down pat after sporting undefeated records to start the new season.
The Matadors, Sultans, Wolf Pack, Highlanders and Vaqueros are all 3-0 while the Eagles are 2-0.
Mt. Miguel recorded its third consecutive blowout win by defeating the visiting Montgomery Aztecs, 40-0, in a Thursday night encounter on Aug. 31 while West Hills captured a low-scoring 7-3 affair over the host Vista Panthers in another Thursday night contest.
Santana (18-0 over the host Coronado Islanders), Granite Hills (24-21 over the St. Augustine Saints at Mesa College) and El Capitan (27-24 over the visiting La Jolla Vikings after trailing 21-0 at one point) all captured nonleague encounters last Friday.
Helix remained undefeated after participating in Saturday's 10th annual Honor Bowl at Cathedral Catholic High School. The Highlanders tabled Red Mountain from Mesa, Ariz., by a score of 30-22 to emerge as the lone San Diego Section winner in the five game weekend series in Del Mar.
Granite Hills' victory was likely the most dramatic as freshman quarterback Zachary Benitez connected with junior running back Max Turner on a six-yard, fourth down touchdown pass with 21.5 seconds to play in regulation to give the Eagles their final margin of victory.
The Eagles entered the high-profile match-up ranked third in the section while the Saints were ranked eighth.
Granite Hills led, 7-0, after the first quarter and 14-7 at halftime. St. Augustine narrowed the score to 17-14 through three quarters before the Saints went in front, 21-17, prior to Benitez's eventual game-winning touchdown pass as freshman Honor Fa'alave-Johnson found senior Isaiah Hasten for a 10-yard scoring pass with 2:44 left on the clock.
After going up by three points, Granite Hills had to weather one last bid by the host Saints to send the game into overtime. But a 33-yard field goal attempt on the final play of the game by sophomore Sebastian Garcia sailed wide.
Benitez passed for 209 yards in the game. The win was the 11th consecutive for the Eagles dating back to last season.
Freshman William Flores keyed St. Augustine with 123 rushing yards and one touchdown.
The Saints were hampered early by the loss of sophomore quarterback Brady Palmer to an injury. Palmer had passed for 1,394 yards with 13 touchdowns as a freshman and had accumulated four touchdown passes in the opening two games of this season.
Granite Hills returns to the gridiron for a Sept. 8 non-league match-up at Eastlake High School where the host Titans (0-3) will celebrate homecoming.
El Capitan's inspirational comeback win over the Vikings (2-1) also has to be considered of the heroic nature.
Senior Julian May (121 total yards — 66 receiving, 55 rushing) scored his second four-yard touchdown of the game late in the fourth quarter to finally put the Vaqueros over the top after trailing 24-7 earlier in the game.
May's game-winning TD came after the hosts had blocked a La Jolla punt.
Junior quarterback Brandt Barker passed for 242 yards and scored once on the ground while passing 45 yards to senior Chance LaChappa (six catches, 112 yards) to aid in the ferocious El Capitan comeback.
Senior Jackson Diehl had two passing touchdowns for La Jolla, which rolled up 429 total yards in offense in absorbing the nonleague setback. The Vaqs tallied 361 yards in total offense on their side.
Mt. Miguel recorded its second consecutive shutout win as senior Caprece Pressley rushed for 134 yards and one touchdown and senior Davian McGowan collected 86 rushing yards and two scores.
Senior Jeremiah Castillo also scored one rushing touchdown in the rout.
It was the Matadors' third consecutive win against a team from the Metro Conference to open the season.
The Mt. Miguel defense allowed just 126 yards — 54 rushing yards and 72 passing yards — while scooping up three fumbles and recording one interception.
Sophomore Kyler Oberg (four catches, 64 yards) reeled in a 49-yard touchdown to lead West Hills to the road win while junior signal-called Joseph Hamilton (team-high 41 rushing yards) completed eight of nine passes for 99 yards and the game's lone touchdown.
Senior running back Linden Benson (30 carries, 140 yards) scored once while senior quarterback Alex Rico threw for 112 yards and one touchdown for Santana, which received 92 yards on nine catches from senior Trent Taylor in the win.
This year's Honor Bowl featured five games that took place last Friday (two games) and Saturday (three games). The event, which has a Northern California counterpart, serves as a fundraiser for wounded veterans.
In games last Friday, Oak Ridge held off Madison, 22-20, by stopping a potential game-tying two-point conversion attempt by the Warhawks, while Phoenix Brophy Prep out-dueled host Cathedral Catholic by a score of 31-21.
In Saturday's other games, Trinity Valley (Ft. Worth, Texas) outlasted University City, 64-47, in a gridiron shootout while Corona Centennial and Punahou, Hawaii, were embroiled in a 28-28 tie before Centennial blasted its way to a 50-43 victory.
The Highlanders led 14-0 after the first quarter, 21-7 at halftime, and took a 21-14 lead into the final period against the Mountain Lions (1-1).
Kevin Allen III emerged as the game's MVP after tallying 195 all-purpose yards (25 carries for 157 rushing yards and one touchdown to go with 38 receiving yards). Allen also logged one sack on defense.
Senior quarterback Ryland Jessee passed for 180 yards and two touchdowns – one each to seniors Jackson Daniels (seven catches, 100 yards) and Gordon Meredith (four catches, 42 yards). Senior Joshua Hossman Lees tacked on six kicking points – three successful PAT conversions and a 34-yard field goal.
The Highlanders racked up 397 yards in total offense while recording five sacks — one each by seniors Jirah Savaiineaea, Jeremiah Savaiineaea, Jordan Gash, Daniel Larsina and Allen — in claiming the emotionally-satisfying win.
Helix kicked off the season with a 38-34 non-league victory against visiting Edison High School from Huntington Beach before topping Mountain View St. Francis, 45-21, in its first road game on Aug. 25. The Highlanders opened up a 25-7 halftime lead on St. Francis.
It doesn't get any easier for the Scotties as they travel to Madison (2-1) for another non-league game on Friday, Sept. 8.
Extra points
The Grossmont Foothillers fell from the ranks of the undefeated following last Friday's 40-38 nonleague loss to visiting Palo Verde Valley. Senior quarterback Hudson Herber passed for 215 yards with two touchdowns and rushed for 90 yards in the loss.
El Cajon Valley won its second consecutive contest by derailing host Vincent Memorial, 28-21, to improve to 2-1 on the season. The
Valhalla Norsemen also improved to 2-1 with their second consecutive victory, 41-7, at San Ysidro.
Senior Darick Dubose (17 carries, 122 yards) passed for one touchdown, rushed for two more, scored on a two-point conversion and also recorded a fumble recovery on defense to key the visiting Braves.
Senior Dominic Silva continued his dominating rushing game for Valhalla by gaining 254 yards on 19 carries and scoring three touchdowns a week after scoring seven touchdowns in a 48-12 win over visiting Mar Vista.
Senior quarterback Braxton Estes connected with senior Trevor Jarbo on a 30-yard scoring pass while senior Jaylen Cruz added six more points for the Norsemen with a 99-yard fumble return for a touchdown.
Of the 12 East County 11-man football teams, nine have winning records.
The Monte Vista Monarchs are the lone Grossmont Conference team without a win to kick off the 2023 season, though the host Monarchs just missed collecting one after falling 30-27 to visiting Corona last Friday despite a three-touchdown performance by senior Brayden Andrus (two fumble returns and a nine-yard catch).
Steele Canyon dropped to 1-2 following a 33-6 loss at undefeated San Marcos (3-0) while the Christian Patriots (1-2) dropped a 37-0 non-league decision to visiting Scripps Ranch (1-1) to round out last weekend's slate.
The Foothills Christian Knights recorded their first 8-Man win of the season by defeating visiting Los Angeles Windward, 34-20, as junior Kameron Brown (175 rushing yards) scored four touchdowns.
MaxPreps Top 25 (through Sept. 5)
1. Lincoln (3-0), 2, Carlsbad (3-0), 3, Helix (3-0), 4. Granite Hills (2-0), 5. Madison (2-1), 6. Cathedral Catholic (1-2), 7. Mission Hills (1-1), 8. St. Augustine (2-1), 9. Mater Dei Catholic (0-2), 10. El Camino (2-1), 11. LCC (2-1), 12. San Marcos (3-0), 13. Ramona (2-0), 14. Poway (2-1), 15. Del Norte (2-1), 16. El Capitan (3-0), 17. Rancho Bernardo (2-1), 18. Mission Bay (3-0), 19. La Jolla (2-1), 20. Central Union (2-1), 21. Point Loma (1-2), 22. Mira Mesa (1-2), 23. Oceanside (1-2), 24. Torrey Pines (1-2), 25. Mt. Carmel (3-0)