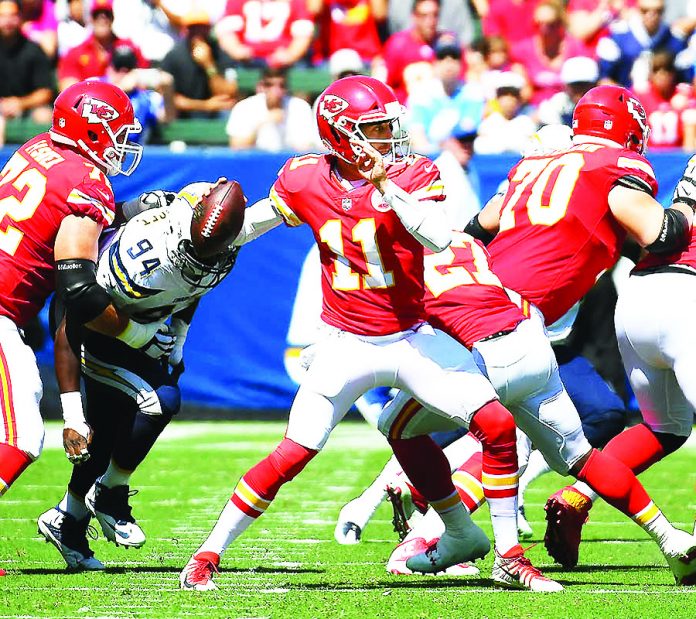 Teams have started to reach the midpoint of the 2020-21 NFL schedule. In a season like no other in league annals, it's been pleasantly competitive.
Don't be surprised if former Helix High School standout Alex Smith has his name come up for the NFL Comeback Player of the Year Award.
Smith, who has been out of action for nearly two years while recovering from a horrible leg injury during his first season with the Washington Football Team in 2018, has received the call from Washington head coach Ron Rivera to start the rest of the team's games this season following an injury to starter Kyle Allen in a 23-20 NFC East loss to the visiting New York Giants on Nov. 8.
Smith entered that game in relief duty following the gruesome ankle injury to Allen after the second-year quarterback was sacked by the Giants' Jabrill Peppers.
It was Smith's first game action in a month after making one relief appearance earlier this season.
The 16-year NFL veteran completed 24 of 32 passing attempts for 325 yards with one touchdown and three interceptions against the Giants.
His performance went much better than his first taste of action this season after entering the game following an arm injury to Allen in Week 5 against the Los Angeles Rams. Smith finished the game with nine completions for just 37 yards while being sacked six times.
There are flashes of brilliance mixed in with some hard knocks.
Smith connected with Washington receiver Trevor McLaurin on a 68-yard touchdown pass to bring the hosts to within three points on the scoreboard with roughly 10 minutes left in the fourth quarter in the match-up against the Giants.
But the game did not end in storybook fashion for the former Utah Ute.
Smith's third pick in the game came at an untimely juncture when the Giants' Logan Ryan intercepted the ball on Washington's final drive.
Allen, who passed for 610 yards with four touchdowns and one interception in five games, has since undergone ankle surgery and is likely out for the remainder of the season.
Rivera is leaning on Smith as the team's starter over top draft pick Dwayne Haskins.
Besides drawing on his previous years of experience as a starter with the San Francisco 49ers and Kansas City Chiefs, Smith is expected to serve a mentoring role for Haskins, the MVP of the 2018 Big Ten championship game. Haskins completed 50 touchdown passes during his lone season as a starter with Ohio State but had a lackluster NFL rookie season in 2019 with seven touchdowns and seven interceptions in seven starts while being sacked 29 times.
Smith also served in a mentoring role for current Kansas City signal-caller Patrick Mahomes, who led the Chiefs to a Super Bowl championship last season.
Smith continued to draw on his extensive experience in his first start this season the following week at the Detroit Lions on Nov. 15. He completed 38 of 55 passing attempts for 390 yards while being sacked twice in a 30-27 loss.
The Lions won on a 59-yard field goal by Matt Prater as time expired.
Smith's second start, in Sunday's 20-9 win over the visiting Cincinnati Bengals, was much more satisfying.
The former Highlander standout completed 17 of 25 passing attempts for 166 yards with one touchdown and one interception.
In 170 career NFL games, Smith has thrown for 34,986 yards and 195 touchdown passes.
Washington improved to 3-7 on the season following the victory against the Bengals but remained within striking distance of the NFC East leading Philadelphia Eagles (3-6-1). The Giants (3-7) and Dallas Cowboys (3-7) also shared second place in the division standings through Week 11.
Extra points
Mount Miguel High School alumnus Cory Littleton recorded eight tackles in a harrowing 31-26 AFC West victory against the host Los Angeles Raiders on Nov. 15 in which a potential Chargers touchdown was negated on the final play of the game.
Littleton, who was ruled out of the Raiders' Nov. 15 game against the Denver Broncos and Nov. 22 game against the Chiefs after being placed on COVID-19 reserve list, has recorded 48 tackles, including 31 first hits and three tackles for a loss, in eight games this season for the Raiders (6-4).