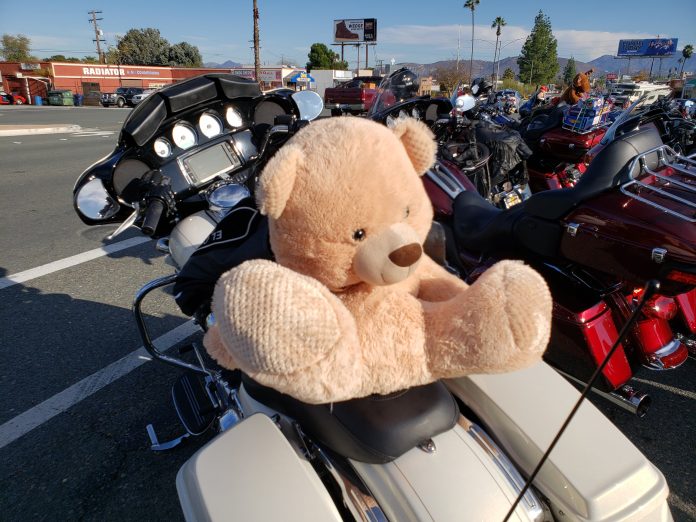 Each year, local units of the Marine Corps Reserve collect new, unwrapped toys through the Toys For Tots program and distribute those toys as Christmas gifts to less fortunate children in their home communities.
This year, Retired Marine Corps Staff Sgt. Michael Harris said he expects about 70,000 requests to come in to Toys For Tots.
To help fill the requests, up from about 64,000 last year, Harris has organized a Toys For Tots ride on Sunday, Nov. 22 with El Cajon H.O.G. motorcycle club along with San Diego Jeep club, Tierra Del Sol 4×4 club, San Diego Adventure Riders, and others all delivering hundreds of donated toys to a centralized collection point at the Del Mar racetrack.
Harris said he initially began volunteering with the main Toys For Tots program when he was stationed at Miramar; he later organized the first Toys For Tots ride to draw attention— and hopefully more donations—after he realized the extent of local need.
"It was at the very end of the last time I handed out presents and we were beat, we'd been there since early morning till 5 p.m., maybe 6 p.m. every day. I look out and there's these two ladies with their heads down, talking quietly, looking ashamed to be there. I went out to talk with them— one explained her husband just up and left her with nothing. She was living with her friend and they had seven kids between the two of them," Harris said.
Struck by their need, he walked back inside, told all the volunteers they needed to gather everything they could for those kids and have it staged at the rear door.
"Then, I had them pull around and snapped open the warehouse door so they could see all the toys waiting for them. They just lost it. We started putting toys in the car and tying bikes to the roof, and they're crying because we had done something to make sure their kids had Christmas. That stuck in my head and that's why I do this event," Harris said.
The ride took root in 2014 when Harris gathered his fellow H.O.G.s for a ride to pay their respects on Veterans Day at the Miramar National Cemetery, then go donate toys at the Marine Corps Reserve center.
The first year they gathered donations, "We had 32 bikes donated" for kids; that number doubled that the next year. By the third year they drew enough attention to have 111 bikes donated and "next thing I know I'm getting a call from the Del Mar racetrack".
The Toys For Tots ride has since turned into a full-scale event and now includes a full day at the track with the Marine Corps band playing for race attendees, free admission with donated toys, opportunity drawing prizes and a full day dedicated to gathering donations during a regular year.
Last year, the ride garnered a record 3,942 toys and more than $18,500.
Unfortunately, because of COVID-19 physical distancing guidelines this year, "We're going to basically pass off the toys to the Marines waiting there on Sunday like a drive-in, thank them and move on," although Marine Corps service members will be at the track from 10 a.m. to 3 p.m.
"If anybody wants to make a donation this year, they're welcome to turn up during those hours with new, unwrapped toys for younger kids or things like sporting goods and earbuds for teens, or money donations," Harris said.
Donations can also be dropped off at "any fire department or at El Cajon Harley-Davidson," Harris said and "if you come by that morning before we leave, you'll see us all ride out with the donations".
"100% of all money and toys go straight to the Marines for this program. Any money collected goes to buy more toys. We don't take a dime," Harris said.
Financial donations can be made directly to the main organization at toysfortots.org
Donations will also be accepted locally from now through Dec. 18 at any fire department or at El Cajon Harley-Davidson, located at 621 El Cajon Boulevard.