Billy Thigpen is a career educator with a background in social services running to represent District 4 on the El Cajon City Council. His opponents are Phil Ortiz as well as Dunia Shaba and Estela De Los Rios.
Thigpen, 42, said he's done a lot in his life but this is a whole new world he is navigating.
Citing his family's history of serving the city as his motivation to run— his grandfather Edwin Thacher was the first municipal court judge in El Cajon— Thigpen said he wants to "continue that legacy of service as a way to impact the community."
He said his top priorities are correcting the impact of COVID-19 on the community; addressing homelessness; developing plans to make neighborhoods more accessible; improving financial transparency of local government; and working on a sustainable Climate Action Plan that meets state goals.
"I believe our job is to equip the next generation to be better than we are and if every generation does that, we're on the right path," Thigpen said.
He began his career in education locally, he said, as a supervising case manager for disabled adults and at youth camps throughout Southern California, then taught in special education classrooms for a decade in New Orleans before returning home to El Cajon.
He now works as an internal auditor with the national team of Teach For America, a non-profit organization that works to confront educational inequity through two-year teacher commitments at schools in low-income communities.
"The economic crisis isn't going to go away until the health crisis is solved. In the meantime, we have to focus on keeping people at home," Thigpen said, although he did not specify how people who need to go out and earn a living could possibly remain at home.
He said the city needs to combine strategies for economic recovery with a long-term approach to eliminating the health crisis of COVID-19 itself.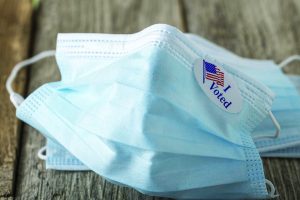 He also said a long-term approach is needed to address homelessness, that the city needs to look at what resources are available and where the money is being spent.
"We need to dig into data and see what has been effective long-term, not a piecemeal plan… We need to question: should police officers be the ones responding to calls for homeless help? We need to combine that with looking at whether we need to expand the psychiatric emergency response team PERT, and social service officers," Thigpen said, citing groups like East County Transitional Living Center and Crisis House as great examples of community organizations working toward solutions.
"Enhancing our public transportation is big. Just from comments I've heard while campaigning from people who rely on public transportation— they need clean, reliable, safe transportation from all areas of El Cajon…  We need to partner with San Diego Association of Area Governments and Metropolitan Transit System while advocating for the needs and best interests of our citizens. I would like to see expanded bus routes that run to the highest need areas. I have mixed feelings about expanding the trolley line because it has potential to disrupt living areas and businesses but that is something I would look at and see if it is feasible," Thigpen said.
He acknowledges revenue is down due to the pandemic, an additional struggle he says requires navigation but hopes district representatives are talking to constituents to gather feedback and ideas directly from the community to continue strategic development outside the downtown area.
Also on his list of priorities: improving fiscal transparency, which he says begins with being aware of where campaign money is coming from.
"Nationally, I'm not a fan of Super PACs. I think Citizens United should be overturned," Thigpen said.
The Citizens United case he refers to dates back to a 2010 Supreme Court ruling that allows independent expenditure-only committees, commonly known as Super PACs to campaign for candidates with no limit on spending, unlike regular political action committees.
Thigpen says they are different from residents contributing to local candidates for municipal elections.
Thigpen has amassed less than $5,000 in campaign contributions, he said.
"Regarding defunding, Democrats pick really bad statements. That wasn't great messaging. No, we should not defund the police, but I think when you get to the gist of that statement it is more along the lines of reform, enhance, make the situation better. That goes to where I would be talking about allocation of funds, like if 50% of our city budget is spent on police then we need to look at how that 50% is being spent," Thigpen said.
He went on to say he would potentially shift funds between departments.
"For example, if we're funding social services could we drop some funding from SWAT? If we're financing equipment, how much money are we spending on unused or underused equipment. Are we spending money on deescalation or spending money on ongoing training? Look at different sections of the police department and make sure we're putting funding where it needs to be to keep our officers and community safe," Thigpen said.
Asked about the Black Lives Matters movement and affiliated protests, Thigpen speaks from experience.
"I stood on the corner of Magnolia and Main, protesting and while a lot of people honked support, I also got a lot of pushback and epithets screamed at me. For anyone to say that racism doesn't exist is misinformed. I think Black Lives Matter is very relevant. I understand our local Black community is only 5.5% but that is still over 5,000 people who are feeling the pain of what's been happening. I don't know a single Black person who says their life matters more than anyone else, simply that they want it to matter," Thigpen said.
If elected, he said his goal would be to bring diverse voices to city council through advocacy.
"At the end of the day, I would want my constituents to say 'he was worthy of my vote' by bringing integrity and a different voice to council. My goal would be to serve every day with humility, courage, compassion and integrity."
Hell, I've got two of those words tattooed on my back," Thigpen said.