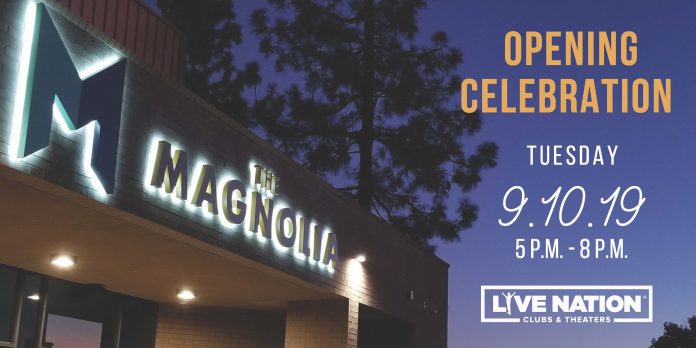 When El Cajon City Council first tested the waters as to the future of the East County Performing Arts Center, George the Younger was president of the United States, and hurricane Katrina would cause $125 billion in damage and take 1,800 lives.
Several council meetings included discussions on land use and possible interior improvements on the center — names of everything from a local theater company to a hotel to Point Loma's Rock Church were dropped as possible anchor tenants as the city scrambled to raise funds that the Great Recession was about to scuttle.
But the recession couldn't subside quickly enough, and memories of Bush and Katrina are as scattered as they are distant. It's a new day as well for the arts venue, replete with $8.2 million in recent repairs and a new name to go with them.
This month marks the opening of The Magnolia, shuttered for the last ten years as the city sought new management and struggled with refurbishment. A VIP lounge, bars with craft beers and cocktails and elevator access to upper-level seating are among the building's new features; beer festivals, movie nights, food trucks and street fairs are envisioned on an outdoor plaza and with acoustics and sightlines that El Cajon city manager Graham Mitchell says, "match any building anywhere in the country."
Most of the funding for the project came from the sale of the city's former police station on Fletcher Parkway.
Virtually no exterior changes to the building itself are planned.
Construction problems discovered last fall forced a delayed opening at the venue, originally scheduled to open May 1.
New manager Live Nation Clubs & Theaters, a division of Beverly Hills-based Live Nation Concerts, promotes more than 25,000 shows in 1,700 venues every year, with more than 20 million fans in attendance. It oversees spaces including the Fillmore theaters and counts the San Diego House of Blues club and Observatory North Park among its properties, as well as Santa Ana's Observatory music venue.
Queen Nation, a nod to Freddie Mercury and Queen, will inaugurate things on Thursday, Sept. 12, at 7 p.m. Jazz-fusion guitarist Al Di Meola will perform on Sept. 24, and the Roy Orbison & Buddy Holly Rock 'n' Roll Dream Tour, a holographic tribute to both stars, is set for Oct. 1. Patti LaBelle, Pat Benatar and Engelbert Humperdinck are scheduled in the weeks ahead, as are installments of Master Chef Junior Live! and the World of Dance tour.
The 1,210-seat Magnolia, at 210 Main St. adjacent to City Hall, was built in 1977 as a joint effort between the Grossmont-Cuyamaca School District and the City of El Cajon. It had hosted numerous local, national and international events, with no seat farther than 100 feet from the stage and no center aisle. Local publications often named the center the best of its kind in the area, and it had been described as the area's most acoustically perfect.
But amid its closure in December of 2009, it had lost money yet again. It fueled nearly $600,000 in revenue that year but generated more than $741,000 in expenses. The race was on as council debated the venue's future for what seemed like an eternity.
In a published report from 2015, former Mayor Bill Wells had said, "Frankly, if it was a perfect world and we had plenty of money, we wouldn't have to lease out the theater for any days. Unfortunately, that's not the reality. We've gotten quite a bit of advice from other small theaters who've really guided us on the process, and they recommended getting financials in order, undergoing renovations and then hiring the manager."
Eventually, that advice was heeded, and City Council in 2018 voted additional funds for renovation — scant months later, the city anticipates exponential cultural and commercial returns on a venue that at one time had nearly outlived its usefulness.
"This is a special moment for not only El Cajon but the entire San Diego region," said Mitchell. "The completely renovated Magnolia represents another jewel in the continued growth of the entire region."
Such growth, added assistant city manager Vince DiMaggio, may promise several directions in which the community can accelerate business development.
"The Magnolia," DiMaggio said, "is a cornerstone piece [for] new and extended business opportunities. This could include new or expanded restaurants, additional hotels and lodging establishments, multi-story mixed-use residential and commercial development, meeting and business facilities that serve the concertgoing public, such as pubs and wine-tasting activities."
Katrina has been overshadowed by a guy named Dorian, and given the current vibe at the White House, a lot of people pine for a Bush surrogate, if nothing else. But the Magnolia reflects a shift in area priorities, the ten-year lapse notwithstanding. Just as history repeats itself, it can also exceed its own expectations.
An open house will be held at the Magnolia on Tuesday, Sept. 10. For more on the venue, see magnoliasandiego.com.