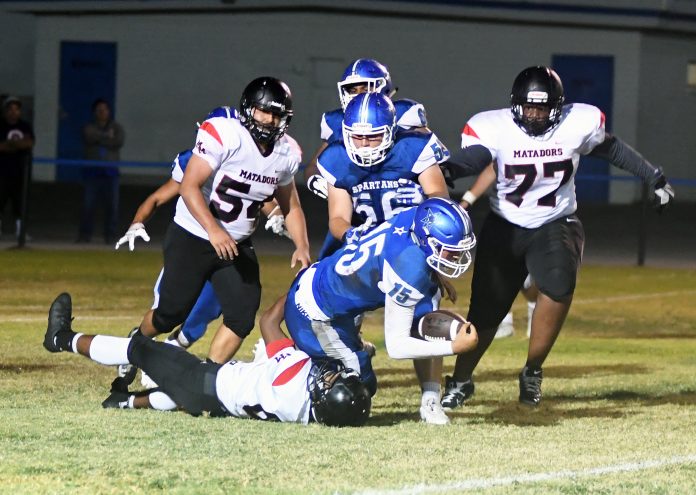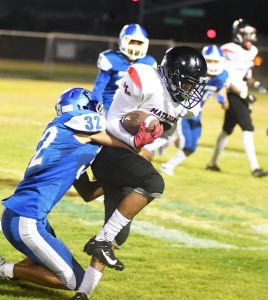 It's difficult to gauge the fortunes of high school football teams based on one game alone, especially season opening games.
There are too many variables: strength of schedule, adapting to new game plans, losses due to graduation or incoming transfers to a program.
But charting teams two games into a season makes projections somewhat more meaningful.
That being said: six East County teams find themselves with perfect 2-0 records to kick off the 2019 season, five teams are 1-1 and two teams are 0-2.
It's a smorgasbord of talent, to be sure.
The Mount Miguel Matadors are somewhere in the middle of the mix, at least for now.
"We're trying to focus from week to week, playing one game at a time," veteran head coach Troy Starr said. "The effort from the kids is always there; we're just making too many mistakes."
The Matadors, who finished 3-7 last year, kicked off the new season with a 40-34 loss to visiting Patrick Henry on Aug. 23 in a game that was entirely winnable on the part of the hosts.
Mount Miguel erased some of that pain with last Friday's 44-7 drubbing of the host Chula Vista Spartans in a key match-up of Division IV teams.
The Matadors, who were down to a roster of 24 players, made the most of what they had by capitalizing on miscues by the host Spartans and stretching Chula Vista's defense on deep passing plays.
Mount Miguel junior quarterback Jacob Laverdiere finished the game with 317 passing yards and four touchdowns while senior receiver Jahiem Allen-Pompey racked up 180 yards on seven catches, three of which went for touchdowns.
The Matadors scored six touchdowns in the game while adding a pair of two-point safeties on defense.
"It's a real good win for the kids — they've been working hard," Starr acknowledged.
The visitors never trailed in the game to kick off Labor Day Weekend, taking a 17-0 lead on 27-yard scoring pass from Laverdiere to Allen-Pompey with 4:50 to play in the first quarter and adding two more points when CV signal-caller Omar Perez was called for intentional grounding while standing on the goal line.
The Matadors made the score 10-0 when Perez was sacked in the end zone 1:30 later.
Laverdiere extended the Mount Miguel lead even further when he scored on a one-yard sneak with 4:42 left in the first half.
The Spartans made a dent on the scoreboard when senior standout Dylan Sallee caught a 10-yard scoring pass on a desperate fourth-down play with 37 seconds remaining before halftime.
The second half was full of highlights for the Matadors as they racked up a dominating 27-0 scoring advantage.
Allen-Pompey scored his second touchdown on a 24-yard catch with 10:27 left in the third quarter and was back in the end zone just 1:32 later when he hauled in a 43-yard scoring bomb.
31-7 Mount Miguel.
Junior Joseph Castillo caught a 24-yard touchdown pass with 1:30 to play in the third quarter and senior tight end Jordan Williams scored on a five-yard run with 7:33 remaining in the game.
Laverdiere passed for 2,935 yards and 27 touchdowns as a sophomore in 2018 while Allen-Pompey logged 706 receiving yards and caught seven touchdowns last year.
Starr said the Laverdiere-Allen-Pompey combination is "real important for us."
Chula Vista, fell to 0-2, appeared to have all the momentum to start last Friday's non-league contest after driving to the Matador five-yard line. However, the Spartans were thrown back by the Mount Miguel defense and then missed a 28-yard field goal.
The hosts marched to the Matador four-yard line on their next series but fumbled the ball, with Williams making the recovery.
Mount Miguel travels to Solana Beach to take on Santa Fe Christian (2-0) in a non-league game Sept. 13, starting at 3:30 p.m. before returning home to host likewise undefeated Valhalla on Sept. 20.