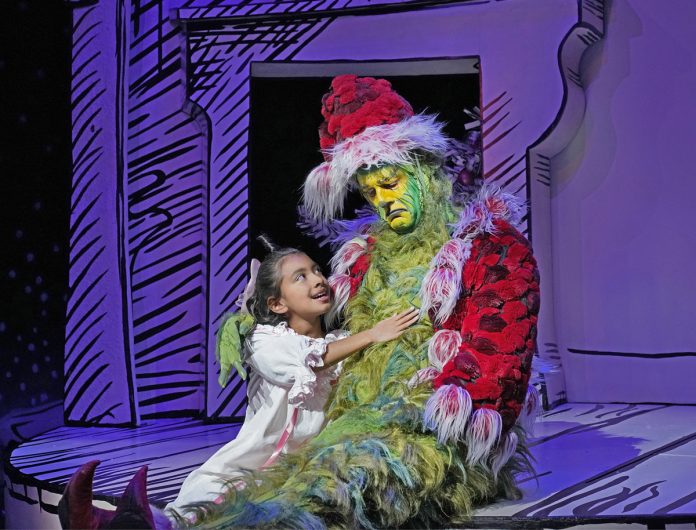 The Old Globe theater's 23rd annual production of Dr. Seuss's How the Grinch Stole Christmas! will be presented as an audio production on KPBS radio this year.
The show will be broadcast at 89.5 FM as well as live-streamed on www.kpbs.org at noon on Nov. 26, Dec. 5, Dec. 20 and at 6 p.m. on Dec. 24.
KPBS General Manager Tom Karlo said the station is thrilled to partner with the Old Globe and bring the show to San Diego airwaves.
"It reminds me of when families would gather around the radio to listen to entertaining storytelling. Today the radio experience has expanded via smart speakers, webstreams, the KPBS app, and traditional radio devices. I hope that in whatever manner families listen, they feel their hearts grow three sizes with joy in hearing this iconic story and sharing the experience alongside their community."
Tommy Martinez, who plays Young Max said preparing for the show looked very different this year. Rehearsals took place online, sometimes in the form of Zoom calls with Broadway veteran John Treacy Egan who plays Old Max and Edward Watts as the Grinch with director James Vasquez giving feedback virtually.
"The Zoom calls were great because I could still see Ed on the screen so I could react to him and sometimes James would just close his eyes and listen, then come back with guidance and get us to a unique place of connection," Martinez said.
Having played the role of Young Max onstage in 2018 and 2019, Martinez said this year wasn't about a true rehearsal process because "it's so different in this medium" but not being in the same room as the other actors was challenging in its own way.
"It was so much more personal to do it this way rather than on stage where the show is largely presentational, but working off people on screen you can't feel that in-person energy. I was a little thrown off trying to react and work out how to get the point across when people would only be hearing the show," Martinez said.
Although he is used to listening to recordings where he is singing, Martinez said he would likely record his voice delivering lines and listen for key moments if he had to go through a similar aired production approach in the future.
"As we were working, JT has this incredible voice for radio and an audio medium- it was so neat to listen to what he was doing, listening to his narration. His vocal ups and downs and inflections taught me so much," Martinez said.
Leila Manual,12, returning for the third year as Cindy-Lou Who said she also felt less connection by playing off the cast on Zoom but created her own audience with photos.
"It was a lot less active and you don't really have that much connection because everyone is in their own space, but I had a picture from sixth grade with the audience staring at me and it helped," Leila said.
The actors, she said, were given microphones and equipment they could use from home to plug in and achieve something resembling show quality, however her biggest challenge was still with technology. Her father, Valentine Manuel crafted a box at their Chula Vista home surrounded by noise-muffling blankets where she could sing without outside sound interfering.
"For the show itself, we use a website called Zencaster. My microphone is plugged into my computer. When we were practicing singing Santa For a Day, there was a buzzing sound so we actually used three other mics as well just like in the regular show," Leila said.
Leila, who says it is her "dream to become a professional actor" thought last year was her final run as Cindy Lou-Who and was surprised at the opportunity to play the part again on air.
"There's just so much excitement playing her part, she's like a brave, strong girl," Leila said.
The good part of having the show aired as a radio production, she said, is that "everyone has an opportunity to hear the show for free and get that warm feeling".
Old Globe Artistic Director Barry Edelstein said the intimacy of radio and its broad, easy access will bring the show to a new San Diego audience and "spread the magic of theatre and the healing spirit of Dr. Seuss around our region at a time when both could not be more needed".
Martinez said it is such a neat story to share and "even though we can't physically be on stage, at least there is a form of it" to share with an audience.
Old Globe Artistic Director Barry Edelstein said it's impossible to imagine the holidays in San Diego without the Globe's production of Dr. Seuss's How the Grinch Stole Christmas!.
"We were not about to let the coronavirus make a Grinchy move of its own and take this grand tradition away from us," said Edelstein.