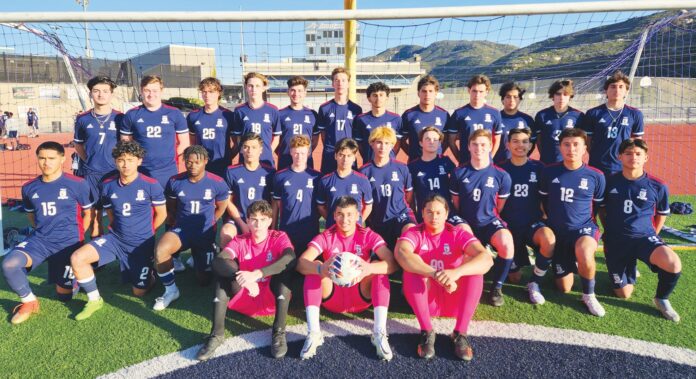 It's been a steady rise up the ranks for the Steele Canyon High School boys soccer team.
Two years ago, the Cougars lost the Division IV championship game, then last year won the Division III championship before going on to win the state regional championship.
Steele Canyon moved to Division II this season with a goal to match those high standards.
"This year we returned seven starters from our state championship team last year, so the expectations for the season were high to say the least," Steele Canyon coach Justin Johnson said. "In addition to that we added three new players who decided to come back and play their senior year after playing MLS Next for the past two seasons and a transfer student — all who had significant impacts for us.
"We were an incredibly talented team, but we knew it would be a challenge figuring out how to put all of those pieces together to maximize our potential. It wasn't always smooth but over time we figured it out and the boys were playing really well together after winter break and having so much fun doing it."
The new-and-improved Cougars ended up winning the Grossmont Hills League championship with a 9-0-1 league record and, according to Johnson, "were excited to start the playoffs" Steele Canyon (16-5-2) received the No. 2 seed in the Division II field and a first-round bye and progressed from there with a lot of confidence.
The Cougars defeated seventh- seeded San Ysidro, 3-1, in a home field quarterfinal match on Feb. 18 and recorded a 1-0 win over third-seeded Hilltop (11-5-7) in a home semifinal match on Feb. 21.
The game against Hilltop, the Metro-South Bay League champion, was a rematch of last year's Division III championship game won 3-0 by Steele Canyon.
"We had quality performances in the quarterfinal and semifinal to earn us another shot at a CIF title," Johnson said.
The Cougars faced top-seeded La Costa Canyon in the championship game at Bonita Vista High School on Feb. 24. The Mavericks (16-5-4) eked out a slim 1-0 victory to capture this year's division championship.
"We played really well and created so many chances over the course of the game but just couldn't find the back of the net," Johnson said. "In the end, a PK in the 15th minute was enough for our opponent to take home the title.
"It's tough emotionally to play so well and fall short of your goal but there are life lessons to be learned from this experience and that's what we've been focusing on as well as celebrating our seniors and all they've accomplished over their four years here.
"We have a lot to be proud of as a program and our returners are really looking forward to getting to play in Division I next season and fight for another title."
GROSSMONT CONFERENCE SOCCER STANDINGS
Boys Standings
GROSSMONT HILLS LEAGUE
League/Overall
Steele Canyon 9-0-1, 16-5-2
Granite Hills 5-2-1, 8-9-3
Valhalla 4-3-3, 6-6-9
West Hills 4-5-1, 5-13-3
Grossmont 4-6-0, 7-9-3
Helix 3-5-2, 6-10-2
Santana 1-6-3, 7-10-4
GROSSMONT VALLEY LEAGUE
League/Overall
Monte Vista 7-1-0, 16-8-2
Mt. Miguel 3-4-1, 9-11-3
El Capitan 3-5-0, 12-15-1
El Cajon Valley 1-7-0, 9-15-3
Girls Standings
GROSSMONT HILLS LEAGUE
League/Overall
West Hills 6-2-0, 19-10-1
Granite Hills 5-2-1, 12-7-2
Grossmont 4-3-2, 5-8-5
Santana 3-3-2, 8-5-4
Steele Canyon 2-4-2, 6-11-7
Helix 1-6-1, 3-11-5
GROSSMONT VALLEY LEAGUE
League/Overall
Monte Vista 8-0-2, 14-6-3
Valhalla 5-1-4, 7-7-6
El Capitan 4-2-4, 9-7-5
Mt. Miguel 2-7-0, 8-9-0
El Cajon Valley 0-10-0, 6-12-1