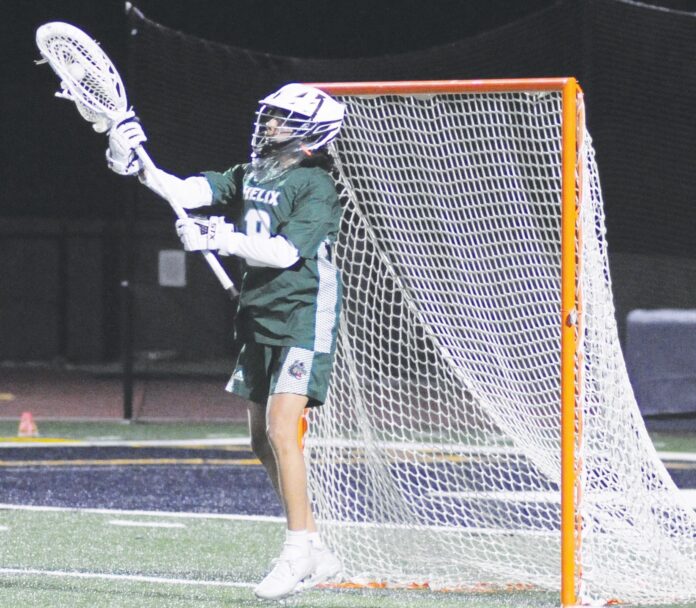 The Helix Charter High School boys lacrosse team finished 2-11 overall last season, 1-7 in Grossmont Conference play. The Highlanders have set a new course this year: put a lasso around the newly minted San Diego Section Division III championship trophy.
The section has expanded to four playoff divisions for the 2023 spring season: Open Division, Division I, Division II and the new Division III tier.
"We have some potential," Helix coach John Whittles said. "We've got a lot of kids who are in their second year on the team, who are starting to come around. We're trying to take down the Division III title for the first time."
Other teams in the new tier include San Diego, Del Lago Academy, Hilltop, Sage Creek, Army-Navy Academy, Olympian, Mission Bay, RBV, Mira Mesa, Monte Vista, Preuss UCSD Academy, Canyon Hills, Mater Dei Catholic, Otay Ranch, West Hills, Classical Academy and Mar Vista.
All those teams competed at the Division II level last season.
Helix entered this season ranked first in the division ahead of San Diego, Del Lago and Hilltop. The Highlanders opened the new season with a 12-6 win over Hilltop on March 4
So far, so good for the La Mesa team.
"West Hills and Army-Navy seem to look like they have pretty good teams," Whittles said.
Sophomore Ryan Appenzeller had four goals in the season opening win while classmate Carter Kleis netted a hat trick in his first game.
Torrey Pines, La Costa Canyon, Grossmont, Cathedral Catholic, Santa Fe Christian, Bishop's, San Marcos and Poway were the early season picks for this year's Open Division playoffs. Other Division I teams to open the season include La Jolla, Coronado, Westview, Patrick Henry, Carlsbad, La Jolla Country, St. Augustine, Mt. Carmel, Scripps Ranch, Valley Center, Del Norte and Granite Hills. Pacific Ridge, Francis Parker, Rancho Bernardo, Santana, Eastlake, San Dieguito Academy, Canyon Crest Academy, Valhalla, Fallbrook and Bonita Vista entered the season as the top 10 teams in Division II, followed by Point Loma, El Camino, Foothills Christian, El Capitan, Mission Hills and University City.
Helix met Bonita Vista in nonleague action on Monday in the Barons' new on-campus stadium. The visiting Highlanders came home with a 13-5 setback.
Bonita Vista improved to 4-0.
The Barons had opened the season with non-league victories against West Hills (9-8 in overtime on Feb. 27), Mira Mesa (15- 1 on March 1) and Mar Vista (20- 2 on March 3).
Eastern exposure
The Grossmont Conference is fielding eight teams for the 2023 season: Grossmont, Granite Hills, Helix, Valhalla, Santana, El Capitan, Monte Vista and West Hills.
Monte Vista faced off the new season 2-0 with non-league victories against Otay Ranch (9-4 on Feb. 23) and Del Lago (14-2 on March 2).
Santana opened the season 2-1 with wins over La Jolla Country Day (9-4 on Feb. 23) and San Dieguito Academy on Feb. 28) and a 7-6 loss to Del Norte on March 3.
West Hills opened the season 2-2 with wins over San Diego (6-5 on Feb. 24) and Olympian (8-1 on March 1) and losses to Point Loma (14-2 on Feb. 21) and Bonita Vista.
El Capitan is 1-1 following a 15-2 win over Valhalla on Feb. 28 and a 16-2 loss to Granite Hills on March 3.
Granite Hills (1-1) opened the season with a 19-7 loss to St. Augustine on March 1.
Grossmont faced off its season with a 9-7 win at Westview on March 1.
Valhalla is 0-3 following losses to Army-Navy (17-7 on Feb. 22, University City (21-9 on March 3) and El Capitan.
Foothills Christian is another East County team participating in the 2023 season. The Knights opened the season on a positive note with a 17-2 non-league win on Monday.