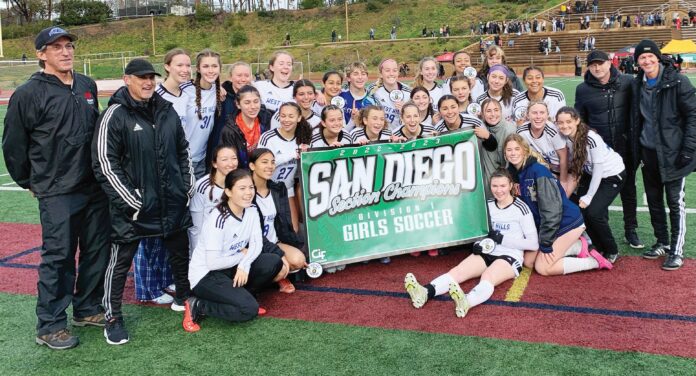 Hilltop High School alumnus and former soccer coach Russ Shubert is no stranger to winning CIF championships, both with the Lancers (Division II boys in 1993) and with West Hills High School (Division III boys in 2019 and Division I girls this season).
Depending on a records search, he may be the first coach in San Diego Section history to win CIF championships in both gender fields.
In other words, the accolades keep rolling in.
"This year's team was a complete team; they worked extremely hard for each other," Shubert said in regard to West Hills' girls team. "The senior class were great leaders and we kept a single focus throughout the season.
"As cliché as it sounds, we approached each game in a singular manner, meaning we called each game the final, so when we reached the CIF final, it was a game like the 27 before and our mental toughness came through.
"Overall, it's truly the most complete team I've had the honor to coach; they had great team spirit and created amazing memories."
West Hills, the reigning Grossmont Hills League champion, received the No. 7 seed in the Division I playoffs and began an uphill trek that included three wins against higher-seeded opponents.
Along the march, West Hills posted three consecutive shutout victories to advance to the championship game.
The Lady Wolf Pack (6-2in league, 19-10-1 overall) blanked 10th-seeded Poway, 3-0, in firstround play on Feb. 14 and shut out second-seeded Coronado by a 2-0 score in the quarterfinals on Feb. 17. A second-half goal by Ryann Keefe on a set corner kick play led to a 1-0 West Hills victory over sixth-seeded Point Loma in the semifinals on Feb. 22.
The Lady Wolf Pack defeated top-seeded Carlsbad, 3-1, on Feb. 25 to lay claim to the division championship.
Junior Alexis Leath, West Hills' leading scorer, SDSU commit and a second team all-section selection last season, scored two goals in the final with an assist. Gabi Mullett scored one goals while seniors Reagan Vanderhyde and Leah Clemons also recorded one assist each.
Junior Alexa Peterson made seven saves to buttress the victory. Leath scored both goals in the huge win over No. 2 Coronado. She scored on a penalty kick in the second minute of play to set the upset victory in motion and added a goal with 20 minutes to play, assisted by Cyann Retzloff.
In the win over Poway, Taylor Splettstoesser got the ball rolling, so to speak with a goal on a direct free kick 15 minutes into the game while Leath added two second-half goals.
S
hubert pointed out that the team's journey to the division championship – and Southern California regional playoffs – was a true team effort and selfless one.
"The midfield and defenders were solid units that were able to control tempo in many games that allowed the team to play creatively in attack," the coach pointed out. "Our goalkeeper is an outstanding player. Along with our back four, we were difficult to break down. The defense had 13 shutouts, only giving up one goal in the San Diego Section CIF playoffs."
The 2022-23 season was about team building.
"We played in two tournaments in Orange County in the early season and took some losses where we played our younger players, creating a great deal of depth and that paid off the throughout the season," Shubert said.
The CIF championship qualified the Lady Wolf Pack for the SoCal Division II regionals as the No. 4 seed. West Hills defeated fifth-seeded Etiwanda, 3-2, in the quarterfinals on Feb. 28 but ended its season with a 2-0 loss to top-seeded Hart in the regional semifinals on March 2.
Hart doubled up second-seeded San Marcos, 4-2, in the regional championship game. San Marcos advanced as far as the section Open Division semifinals to qualify for the regionals.
West Hills previously won the section Division II championships in 2002 with a 3-0 win over Patrick Henry and in 2010 with a 1-0 win over Steele Canyon. The Lady Wolf Pack was second to Westview in 2008 and to La Jolla in 2017.
ROAD TO A CHAMPIONSHIP
Temecula Valley 4, West Hills 0
West Hills 2, Montgomery (Santa Rosa) 2
Norco 2, West Hills 0
West Hills 6, University City 0
Canyon Crest Academy 2, West Hills 0
West Hills 1, Classical Academy 0
West Hills 4, Central Union 0
Patrick Henry 3, West Hills 0
West Hills 3, Capistrano Valley 1
West Hills 8, Montgomery (San Diego) 0
West Hills 4, San Diego 0
Cathedral Catholic 5, West Hills 2
West Hills 3, Helix 0
West Hills 3, Santana 0
West Hills 2, Granite Hills 1
West Hills 1, Steele Canyon 0
West Hills 5, San Ysidro 0
West Hills 4, Helix 0
Santana 1, West Hills 0
West Hills 2, Granite Hills 1
Steele Canyon 1, West Hills 0
West Hills 3, Poway 0
West Hills 2, Coronado 0
West Hills 1, Point Loma 0
West Hills 3, Carlsbad 1
West Hills 3, Etiwanda 2
Hart 2, West Hills 0