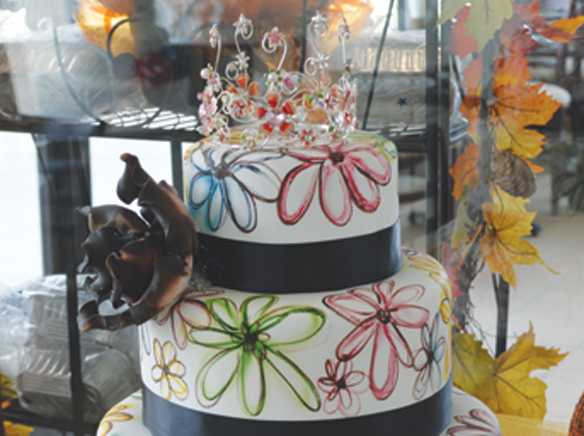 For 31 years, it has built its reputation throughout San Diego County and Southern California one layer at a time.
Cake layer that is.
For 31 years, it has built its reputation throughout San Diego County and Southern California one layer at a time.
Cake layer that is.
Flour Power Custom Cakery is known for its made from scratch cakes for all occasions. It specializes in wedding cakes and the assortment of flavors, designs and decorations are only limited to the imagination. A dream of Cecelia Greenaway-Davis, a special education teacher, Flour Power came after she stopped teaching to raise her children, but insisted that once they hit school age, she would go back to school and learn to be a baker.
Her goal—an artistic and fun career.
With the help of her husband, James Davis, turned a small family cakery into a small enterprise, partnered with many of the finest hotels, restaurants and private venues in the area. Flour Power now has 18 employees and delivers its goods throughout San Diego County.
But cakes were only the beginning. Now in its repertoire of delectable delights, Flour Power is as well known for its cupcakes, pastries, pies, cookies and seasonal sweet treats. It was the perfect match for celebrating National Dessert Day on Oct. 14.
It was a difficult decision to narrow down the perfect dessert, but with the help of James Davis, he provided a sampling of delicacies, both traditional and seasonal, that sent the taste buds soaring in sweetness in search for the ultimate dessert.
The journey of self-indulgence, began with its signature. A freshly made chocolate cake. But this cake was anything but ordinary. The dark chocolate cake was moist, almost creamy with a delicate light chocolate mousse. Covered with whipped cream frosting and an overabundance of thinly shaved white chocolate that melted in the mouth like cotton candy, this cake was a chocolate lover's fantasy. As rich as the cake was, it was still light and airy and settled just as light in the stomach.
But the delicacies did not stop there. With two of Flour Power's current seasonal treats, came the Raisin Nut Bars and Pumpkin Apple bread. Both exceptional in taste, it is the ability to taste all of the ingredients that make these dishes stand out. The Raisin Nut Bars were full of raisins, had a fudge brownie moist texture and the taste blended itself into a creamy, dessert bar with the freshness of the fruit and a gingerbread like seasoning. Along with the pumpkin apple bread, which needed nothing to complement it, these two seasonal treats are ready for the next holiday get together and makes making it at home seems moot at this point.
But it did not stop there, with an impressive array of cookies, each one was a culinary delight. But it was the coconut macaroons that stood out, making the sweet taste buds screaming for more. Lightly browned on the outside, each bite was like biting into the center of a coconut confection candy.
With all the samples to choose from, it is impossible for this critic to narrow it down to one, but there is a must try for the baklava lover. Its assortments of rolled baklavas alone are worth a trip to Flour Power over and over again. Especially the baklava rolled in crushed pistachio nuts. It is not the sticky mess of most baklavas, but the generosity of the nuts, the flakiness of the pastry dough and the sweet mix of honey is unmatched.
And this is from a person that has tried baklava from many regions of the world, all authentic and traditional. It is a must for any baklava lover.
It is no wonder of this family owned bakery's success. Though National Dessert Day is past, why wait until next year to try some of East County's best pastries and cakes? And for that special birthday, anniversary, wedding or any special occasion, Flour Power Custom Cakery is the place to go.
Flour Power Custom Cakery is located at 2389 Fletcher Parkway in El Cajon, has a Wedding Salon on premises and another one at its La Jolla Wedding Salon.
The Davis's do business the old-fashioned way, but its products are the best of today's selections. For more about Flour Power Custom Cakery go to flourpowercakery.com.