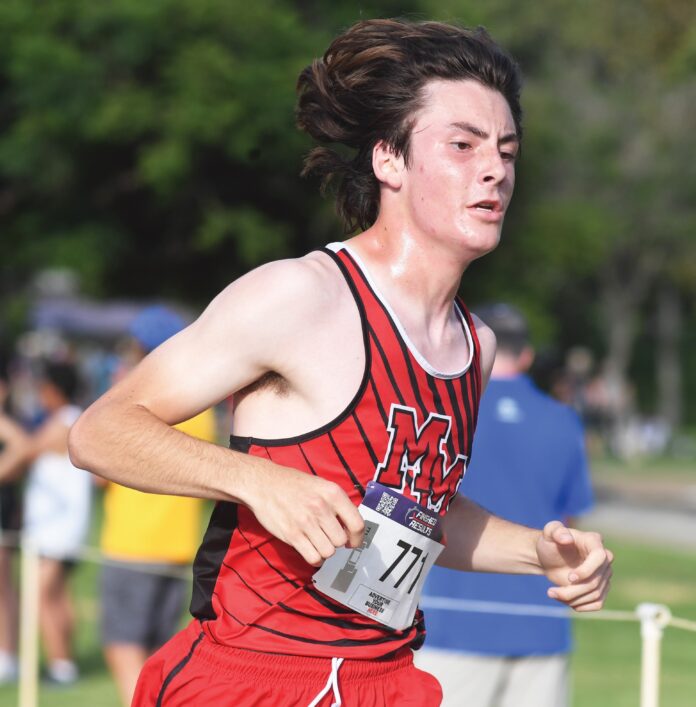 The Mt. Miguel High School football team isn't the only sports team on campus making headlines this fall. Try the boy's cross country team, for starters.
Matador senior Garrett Cloyd captured top scoring honors in last Friday's fourth annual Ian Cumming/Tim Latham Invitational at Rohr Park in Chula Vista, winning by a prestigious 34-second margin in leading his teammates to a fourth-place team finish among the 14 scoring teams in the Red Devils boys varsity division.
Cloyd covered the 5K course in 16:55.6 to win the first-ever invitational race in his career.
"I feel great," said Cloyd, who head coach Antoine Woods lists as the top returning boys cross country runner in the Grossmont Conference this year. "I know coming into the race I was among the top runners. I just got out hard. I built a lead at the beginning that, running alone, I felt I could hold it."
West Hills junior Daniel Vestemean finished in second place in 17:29.1 while Mission Viejo sophomore Troy Turner was third in 17:46.2. Crawford sophomore Leo Lorenzano placed fourth in 17:57.0.
With three of the top six place-finishers, and four of the top 11, Mission Viejo won the team title with 59 points, followed on the scoreboard by Mission Bay with 74 points. The San Diego Cavers were third with 105 points, followed by Mt. Miguel in fourth place with 150 points.
West Hills placed eighth as a team with 196 points while Monte Vista was 12th with 264 points.
Woods is looking for good things from his team this season despite the Matadors moving up a division. Mt Miguel ended last season with a fourth-place team finish at the San Diego Section Division IV championships.
The Spring Valley team will be competing against theoretically stronger and deeper Division III competition this fall. If so, the Matadors are fully prepared to do battle on the running course.
"They are all returners, we only lost two seniors," Woods said. "The top five are returners. We took fourth at CIF last year. They moved us up to Division III. We'll be racing against some of the best competition in the section.
"We are a very confident group. We're looking forward to the challenge. We love being underdogs."
Mt. Miguel had three runners place among the top 15 finishers in the 101-deep race.
Junior John Simon placed 12th in 18:17.1 while senior Dason Hege finished 14th in 18:19.7.
The Matadors' five scorers were rounded out by junior Richard Aguilar (65th, 20:31.8) and senior Jaison Lattisaw (77th, 21:52.6).
Monte Vista's top place-finisher included senior Edward Phillippi (13th, 18:17.6) while Valhalla, which did not field a full team, was led on the course by sophomore Jaden Tawasha (30th, 18:59.0).
Mustang Boys Varsity Division Helix sophomore Tyus Joseph keyed East County runners in the 108-deep field with a 10th place individual finish in 17:17.1, followed by junior teammate Joel Nickerson in 11th place in 17:20.9.
Junior Orlando Carrillo (21st, 17:51.2) led Granite Hills on the course while freshman Myles Cata (25th, 17:55.7) and junior Loan Reyes (27th, 17:58.5) keyed Grossmont. Helix senior Dylan Towne made the top 30 cut in 28th place in 17:58.9.
The battle for the division title was fought between three teams: Sr. John Bosco (79 points), Scripps Ranch (84 points) and Point Loma (88 points). The spread between the next three teams was close as well with Bonita Vista securing fourth place with 144 points ahead of fifth place Helix (146 points) and sixth place Eastlake (167 points).
St, John Bosco recorded three of the top five place-winners, including the top two finishers: seniors Aiden Aldana (15:57.3) and Andrew Perez (16:31.5). Scripps Ranch sophomore Nathan Bamford (third, 16:41.4) and Francis Parker senior York Bourgeois (fourth, 16:50.7) were the top San Diego region placers.
St. John Bosco junior Alex Leon (fifth, 17:07.7) and Olympian senior Angel Cordero (sixth, 17:16.5) both finished ahead of Helix's Joseph and Nickerson. Bonita Vista senior Ian Ridge (ninth, 17:23.6) and Point Loma senior Noah Snider (10th, 17:25.1) rounded out the top 10 individuals.
Mustang Girls Varsity Division Helix freshman Kate Weaver paced East County runners with a fourth-place finish in 16:11.7 – nearly two minutes behind race winner Jaelyn Williams, a sophomore superstar from Eastlake, who timed 14:17.2 to place 75 seconds ahead of runner-up Ariella Llorens, a sophomore from Francis Parker.
Grossmont senior Suhey Arce finished ninth in 16:46.4 while sophomore teammate Kaci Brownsberger was 12th in 17:04.5 in the 97-deep field.
Scripps Ranch won the division with 39 points, followed by Francis Parker with 94 points, Our Lady of Peace with 100 points and South County giant Eastlake with 124 points. Helix finished 12th among the 13 scoring teams in the division with 294 points.
Red Devils Girls Varsity Division
Seven East County runners finished among the top 25 individuals in the 88-deep field: Monte Vista senior Samantha Thompkins (16th, 18:46.4), Mt. Miguel junior Aneeta Matti (18th, 18:47.8), West Hills sophomore Mikaela Estrada (19th, 18:50), West Hills senior Taya O'Harran (20th, 18:52.0), Valhalla senior Alana Perry (23rd, 19:14.7), Mt. Miguel senior Tana'ina Reyes (24th, 19:17.9) and Valhalla senior Aubrey Zerkle (25th, 19:24.7).
Valhalla (fifth place, 160 points), West Hills (sixth place, 166 points) and Mt. Miguel (ninth, 197 points) were bunched up in the middle of the 12 scoring teams. Mission Viejo took first place with 40 points, followed by Imperial in second place with 81 points. Valley Center was third with 125 points, followed by Hilltop in fourth place with 143 points.
Mustang Boys JV Division
Helix, led by freshman Yannic Rosenberg (10th, 16:03.3) and junior Wyatt Robertson (16th, 16:15.5), placed fifth in the team standings with 130 points while Grossmont, led by senior Benjamin Noble (18th, 16:19.9) and sophomore Alejandro Trillas (21st, 16:25.8), placed eighth among the 12 scoring teams with 164 points.
Bonita Vista (80 points), Eastlake (104 points), Otay Ranch (112 points) and Point Loma (112 points) were the top scoring teams in the division. Southwest freshman Carlos Martinez (14:57.7) outdueled Otay Ranch junior Zachary Salamida (15:26.9) for first-place honors in the 145-deep field.
Red Devils Boys JV Division
West Hills freshman Ryan Revak topped the 81 runners in the division with a time of 15:37.0 to finish 23 seconds in the clear at the finish line to key the Wolf Pack to a second-place team nod among the eight scoring teams.
West Hills placed three runners among the top 15 finishers, with freshman Noah Spencer finishing seventh in 16:34.0 and sophomore Drew Johnson placing 13th in 17:02.8. Wolf Pack senior Nathan Ritter (23rd, 17:36.0) and Valhalla senior Bashar Abdulahad (25th, 17:43.8) both cracked the top 25 individuals.
San Diego claimed first place with 32 points ahead of West Hills (55 points) and Imperial (80 points) in the highly competitive field. Valhalla (145) was sixth while Monte Vista (198) was seventh.
Mustang Girls JV Division
Grossmont, led by sophomore Nicole Taylor (10th, 14:34.6), was the highest scoring East County team in the division with 148 points to finish fifth in the 12-team field. Granite Hills was ninth with 267 points while Helix was 12th with 316 points.
Granite Hills sophomore Keona Hamilton finished 26th in 15:32.9, followed by Grossmont sophomore Panagiota Georggin (27th, 15:38.1), Granite Hills freshman Josephine Knapp (44th, 16:20.2) and Grossmont freshman Natalie Kelly (46th, 16:21.9) in the 172-strong division.
Point Loma freshman Paige Eudy was the division's top individual in 13:41.8 ahead of Sweetwater sophomore Alexi Montoya (14:08.4).
Red Devils Girls JV Division
Valhalla notched a fourth-place team finish among the seven scoring teams in the 85-deep field. The Lady Norsemen were paced by freshman Giana Tawasha (ninth, 15;39.6) while West Hills, which did not field a complete team, was led by sophomore Kimberly Cruz (17th, 16;03.8). Mission Viejo topped the field with 32 points, followed by Imperial (46 points) and Hilltop (79 points).
High Tech High Chula Vista sophomore Isabella Nazario timed 13:36.5 — 47 seconds ahead of Mission Viejo junior Gabriella Cordova (14:23.1) — to score top individual honors.
Mustang Boys Frosh/Soph Division
Helix finished 11th among the 11 scoring teams in the massive 194-deep division, the largest on the day in the 10 division field.
Freshman Oscar Gaitan led the Highlanders in 57th place in 17:45.4. Point Loma freshman Jonah Turner led all runners with the top time of 14:35.6. Francis Parker sophomore Austen Boyd was next in 14:53.3.
Point Loma won the team title with 48 points to edge Otay Ranch with 63 points. St. John Bosco was third with 80 points, followed by four Metro Conference teams: Bonita Vista (fourth, 127 points), Sweetwater (fifth, 159 points), Olympian (sixth, 170 points) and Mater Dei Catholic (seventh, 188 points).
Red Devils Boys Frosh/Soph Division
Monte Vista (ninth, 243 points), West Hills (10th, 246 points) and Mt. Miguel (13th, 346 points) were in the middle of the scoring in the 142-deep field.
Monte Vista freshmen Sebastian Lamas (18th,16:52.3) and Robert Phillippi (33rd, 17:35.3) led the East County contingent. Mt. Miguel sophomore Ivan Cueva was 36th in 17:48.2.