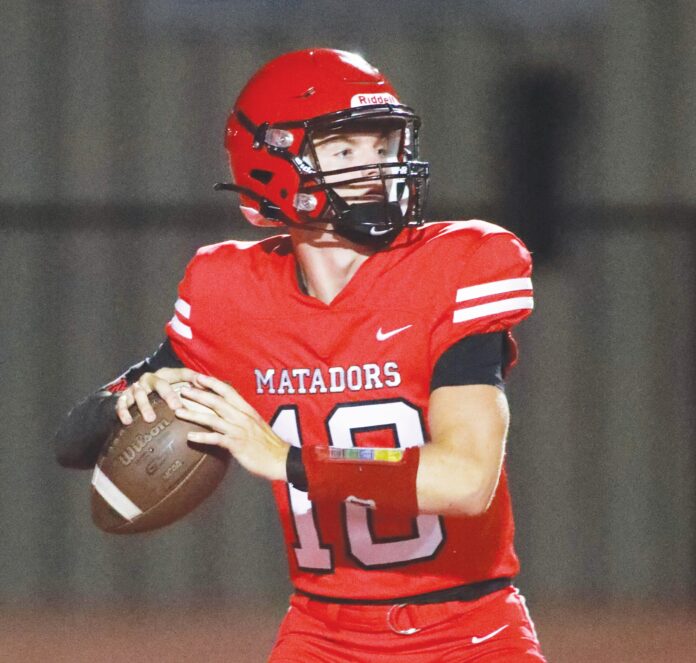 The East County ranks of prep football unbeatens took a few hits over the past weekend as three teams saw their perfect starts abruptly end.
•Steele Canyon handed previously undefeated El Capitan a 42-6 thrashing as senior Johnathan Sablan and sophomore Nico Jara each scored three touchdowns for the victorious visitors.
•Santana lost, 28-21, at Fallbrook in a special Thursday night affair as the host Warriors snapped a 21-all tie with a fourth-quarter touchdown.
•West Hills dropped to 3-1 following its 35-14 loss to visiting Patrick Henry.
Three East County prep teams remain undefeated.
The Helix Highlanders and Mt. Miguel Matadors are both 4-0 while the Granite Hills Eagles are 3-0.
•Helix topped host Madison, 53-19, to make a bold statement in a bid to move up the section rankings.
•Granite Hills spoiled Eastlake's homecoming with a 35-7 non-league victory, surrendering a late touchdown to fall just short of posting a shutout win.
•Mt. Miguel overwhelmed host Grossmont, 66-20, to set a school record for most points scored in a single game.
Big dogs
Senior running back Kevin Allen III rushed for 132 yards and two touchdowns to lead Helix to its fourth consecutive non-league victory.
Trailing 7-3, the Scotties took the lead on a 65-yard scoring run by Allen. After the score flipped to 13-10 in Madison's favor, Helix senior Jackson Daniels made a superlative one-handed catch in the end zone to push the Highlanders to an 18-13 halftime lead.
Allen scored on a 12-yard run to start the second half and the Scotties' defense took care of the rest.
Senior Anthony Gash forced a fumble that teammate Michael August-Smith scooped up for a 40-yard touchdown return. At 39-13, Helix was rolling.
Senior quarterback Ryland Jessee connected with senior Gordon Meredith on a passing play to increase the Helix lead to 46-13.
Junior Alex Rubalcaba had one interception and three caused fumbles on defense.
The Highlanders wrap up non-league play on Friday, Sept. 15, with a non-league game at Cathedral Catholic (1-3).
Soaring Eagles
Granite Hills freshman quarterback Zachary Benitez continued to excel with 119 passing yards and one touchdown while rushing for another score as the Eagles ran their winning streak to 12 games over the past two seasons.
Juniors Max Turner (nine carries, 83 yards) and Pablo Jackson (eight carries, 77 yards) each scored one rushing touchdown while Turner also had two catches for 42 yards and a touchdown reception.
Senior Nokoi Maddox also scored on a 34-yard punt return while junior Trent Whitlock tacked on five successful PAT conversions to round out team scoring.
The Eagles outgained the host Titans 322-136 in total offensive yards.
Granite Hills is scheduled to host Madison in a high-profile non-league game on Sept. 22 after Thursday's game non-league game at Central Union in Imperial Valley.
Matador pride
Mt Miguel remained undefeated as senior Matthew Barton passed for 247 yards and four touchdowns and senior Davian McGowan rushed 17 times for 225 yards and three touchdowns.
Senior Jeremiah Castillo had a big game as well with four catches for 162 yards and two touchdowns, including a 90-yard scoring reception to set the tone in the game.
Sophomore Zane Rottier rushed six times for 50 yards and one touchdown while senior Johnny Castro caught a 28-yard touchdown pass.
The Matadors amassed 528 total offensive yards in the statement win while the Foothillers had 172 yards in total offense (132 rushing, 40 passing).
Senior Isaac Aceves (13 carries, 54 yards) scored one rushing touchdown while senior Cody Bigley (11 catches, 173 yards) scored one receiving touchdown.
Mt. Miguel hosts Bishop's (0-3) in a non-league game on Friday, Sept. 15, in a bid to stay unbeaten on the season.
Grossmont (2-2) plays at Monte Vista (1-3) in its next game on Sept. 22. The Monarchs picked up their first win of the season by a score of 41-28 at San Ysidro. Monte Vista led by scores of 13-0 and 27-7 in putting away the victory.
Made of Steele
The Steele Canyon defense didn't bend much, nor much less break, by holding the usually high-powered El Capitan offense to 194 total yards — 98 rushing, 94 passing.
The Cougars, who led just 7-0 after the first quarter, ballooned the halftime score to 42-6 with a second-quarter 35-point outburst.
Sablan opened scoring on a 70-yard run to make the score 7-0. Jara then scored on back-toback 77-yard and 71-yard punt returns to advance the score to 28-0.
Steele Canyon (2-2) was set to host Valhalla (2-2) in the teams' annual Jamacha Helmet rivalry game on Thursday, Sept. 14.
Before hosting the Grossmont Foothillers on Sept. 29 to kick off Grossmont Hills League play.
El Capitan (3-1) hosts Santana (3-1) in another non-league encounter on Friday, Sept. 15.
Junior Ayden Banegas led the Vaqs on the ground with eight carries for 52 yards while junior Brandt Barker completed five of 13 passing attempts for 77 yards.
Home of the Braves
El Cajon Valley needed a penalty and a last-second field goal from senior Cristofer Gonzalez to nip the host Montgomery Aztecs, 27-24, to improve to 3-1 on the season.
Senior Darick Dubose collected 230 total offensive yards by passing for 130 yards with one touchdown and one interception, rushing 20 times for 100 yards with one touchdown and scoring on a 52-yard fumble return on defense.
Senior Paris Dixon had two catches for 76 yards and one touchdown while senior Chris Cosio had one interception.
Gonzalez accounted for nine points — three PAT and two field goals, including a long of 41 yards. He hit from short range on the game-winner after the initial kick had been blocked.