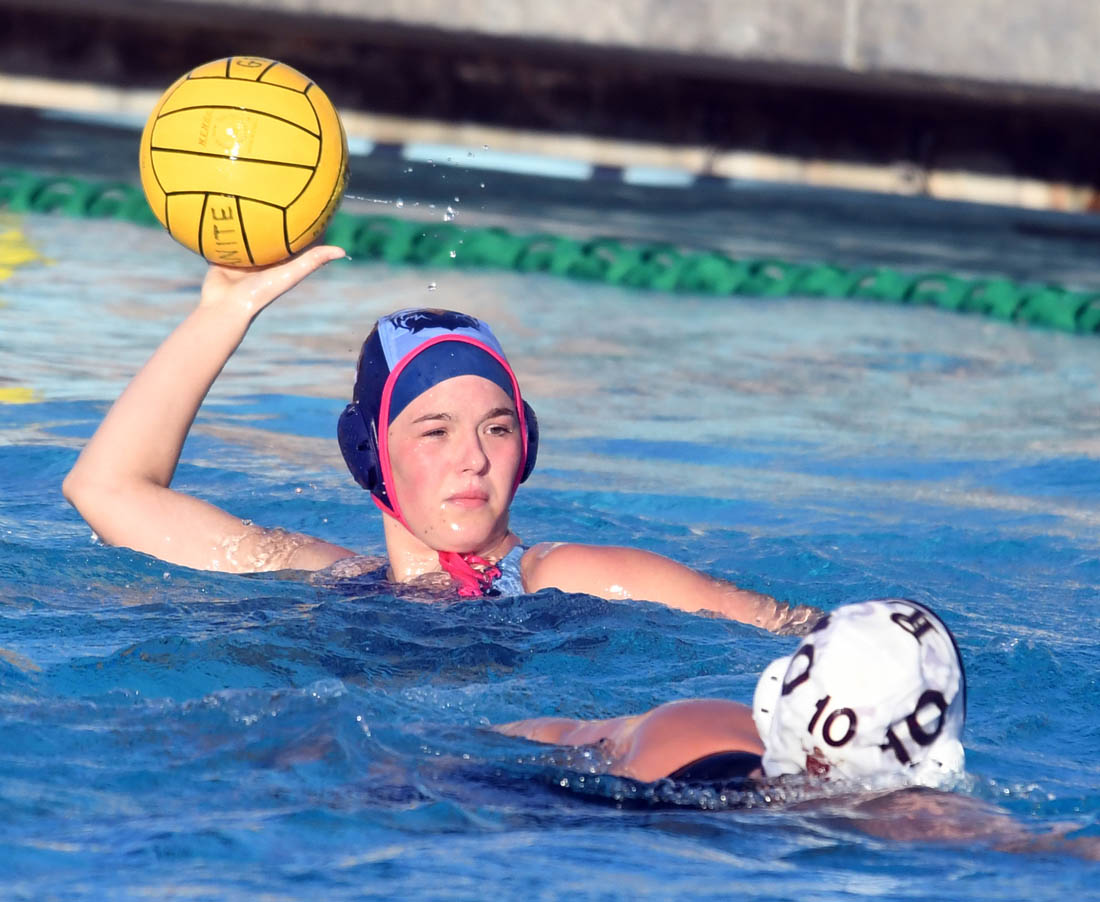 It was a time to honor the top San Diego County girls water polo players in 2019-20 during the annual senior all-star game held March 7 at the Coggan Family Aquatic Complex in La Jolla.
Six East County athletes helped buoyed the rosters of both squads — the Large Campus team and the Small Campus team — in the postseason showcase.
Granite Hills goalkeeper Nia Payne, the Grossmont Valley League Player of the Year, helped brace the Large Campus team alongside Lady Eagles teammate Audrey Laskey, Helix's Josephine Reinicke and Grossmont's Haili Fellabaum.
El Capitan's Taylor North and Stephanie Beville suited up for the Small Campus team.
Laskey and North, both first team all-league selections, each scored goals in the game, won 8-4 by the Large Campus team, while Payne made 10 saves to guide her team to the win.
Laskey gave the Large Campus team a 2-1 lead midway through the second quarter while El Capitan's North scored late in the third quarter to start a comeback for the Small Campus team after it narrowed the score to 5-3.
Rancho Bernardo's Margaux Pierquin led the Large Campus team in scoring with two goals while Carlsbad's Laurene Padilla, Vista's Sydney Spence, Poway's Grace Kellerman, El Camino's Mira Barr, Granite Hills' Laskey and Patrick Henry's Claire Sutliff each scored one goal.
Carlsbad's Kallie White, Westview's Julia Derunes and Poway's Madelei Marciniak each contributed two assists for the Large Campus team while Padilla and Eastlake's Karyed Espinosa also chalked up assists.
Carlsbad's Lauren Schmidt also made five goalie saves to help buttress the victory.
The Small campus team also received goals from La Jolla's Jessica Newell and Bishop's Sierra Martin and Katie Scott.
The Bishop School's Doug Peabody and University City's Beto Vasquez coached the Small Campus team; Poway's Crystal Patterson and Patrick Henry's Charlie Equels coached the Large Campus team.
The San Diego Section awarded championships in four divisions this past season. Second-seeded Bishop's defeated top-seeded Carlsbad, 10-5, to win the Open Division title while top-seeded Poway sped past seventh-seeded Westview, 16-11, to win the Division I championship.
Top-seeded Mar Vista edged sixth-seeded La Costa Canyon, 10-9, to claim the Division II title while second-seeded Santa Fe Christian slipped past top-seeded Monte Vista, 7-6, to win the Division III championship.
Finals took place Feb. 22 at La Jolla High School.