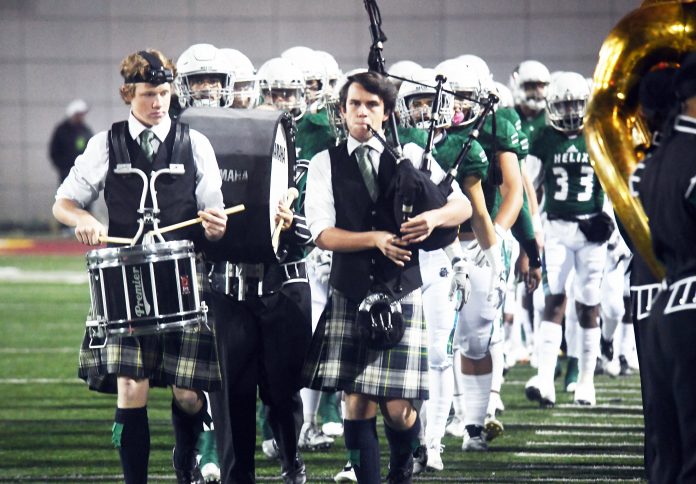 Thunderstorms and humid weather descend on East County every August as well as the opening of high school football training camps.
While the region received a preview of the former over the first weekend of the month, the latter will not happen this year.
As things currently stand following the July 20 decision by the State CIF Office to adopt a modified calendar for the 2020-21 season, practice for the upcoming football season will start on Dec. 14 in advance of the official kick-off to the 2020-21 season on Jan. 8.
Instead of practicing amid sweltering mid-summer heat, high school football players will be shivering in the coldest part of the Southern California winter.
But the seasons have become blurred in recent years.
Even amid a traditional sports schedule, the season never really seems to end. Offseason workouts and club practices seem fill in the gaps between CIF play.
High school sports have become a year-round endeavor.
Though players will not be donning pads and hitting sled targets in August, planning for the new season remains a hot topic among San Diego Section coaches, East County coaches among them.
The San Diego Section advisory committee's various sports panels are currently holding online conferences with new section commissioner Joe Heinz and his staff in an effort to build a workable 2020-21 calendar following the release of a modified season schedule.
Heinz has set a mid-August date to complete the task and get the ball rolling, so to speak.
Granite Hills High School football coach Kellan Cobbs remains optimistic about the upcoming season for his team even though the schedule has been pushed back nearly four months.
"I was a little disappointed we didn't get our official season dates," said Cobbs, a former Eagle who graduated in 2005 before stepping on board as head coach in 2012.
One of the biggest challenges he presently faces is filling in holes in the team's schedule.
Granite Hills has eight games currently locked in after two games were lost due to the schedule modification.
The Eagles were originally scheduled to host Poway on Aug. 21, then host neighborhood rival Valhalla on Aug. 28. Granite Hills was scheduled for a third consecutive home game on Sept. 4 against Madison before hitting the road for a scheduled Sept. 11 game at Clark High School in Las Vegas.
The Eagles were scheduled to play at Otay Ranch High School on Sept. 18, then host El Capitan on Sept. 25.
Following a bye week on Oct. 2, Granite Hills was scheduled to host Desert Vista High School from Phoenix.
Grossmont Hills League play was scheduled to kick off Oct. 16 with a game at Grossmont, followed by a game at Steele Canyon on Oct. 23 and a final season wrap-up Oct. 30 by hosting defending Open Division champion Helix.
All those dates will now have to be rescheduled.
Also up for discussion is the length of the season, whether teams will play a full 10-game regular season schedule with or without a bye week, or if the season will be trimmed back to nine games and the exact structure of the section playoffs.
The state playoffs have been cut to just one game, eliminating the regional qualifier.
"We lost two out-of-state games and not knowing when I can schedule a game, basically has limited us to not being about to pick up teams from the Southern Section," Cobbs said. "Every other section has timelines but us, so that was frustrating."
Cobbs said he is personally against expanding the football season to 11 weeks.
"We are already squeezing kids in the spring and pushing it back another week just cuts into those sports even more," he said.
So, when practices finally do start, what does the 2020-21 Granite Hills team expect to look like?
"We, like every year, expect to play great defense and play a physical brand of offense," explained Cobbs, whose team last year posted a 5-6 record that included a 25-16 loss to sixth-seeded La Costa Canyon in the opening round of the Division I section playoffs. "We have four returning starters on the offensive line, so we look to really establish our running game."
Top returners include senior defensive back Matt Keely, senior quarterback Justus McComb, junior offensive lineman Tanner Vielguth and junior receiver/running back Jaquayle Hodges.
Keely and Vielguth were both named first team all-league last year while McComb was named all-league second team.
Keely ranked fourth on the team with 55 total tackles (second among underclassmen to fellow junior Michael Wallace) while recording two sacks, three interceptions and one caused fumble. He also caught 16 passes for 395 yards and five touchdowns on offense.
As a team, the Eagles recorded 24 sacks, 10 interceptions and made seven fumble recoveries.
Keely, whom Cobbs expects to draw scholarship interest, moves to the team's Eagle position, which Cobbs said "will allow us to do more things on defense."
McComb returns as one of the section's marquee offensive players. The Granite Hills quarterback totaled 3,185 yards in offense last season — 2,691 passing yards and 494 rushing yards — for an average of 289.5 yards per game.
McComb completed 24 touchdown passes against 12 interceptions while rushing for seven touchdowns.
He remains a force in the signal-calling position.
"He has Division I offers and should have a great season for us," the Granite Hills coach said.
Hodges combined for 264 total offensive yards, rushing for 158 yards and one touchdown while making 13 receptions for 106 yards and one score. He expects to play a "huge role" on offense this year according to the coach.
Cobbs feels Vielguth, who also competes on the school's wrestling team, has the potential to be Division I football player.
Impact newcomers include junior Desmond Glass, who steps in at center and has the chance to be a key piece to the team's offensive line, and senior tight end/outside linebacker Joseph Holt, a transfer from Mission Bay, who currently holds some Division III offers and will add a lot of athleticism to the team's defensive line, according to the coach.
Cobbs said Jordan Glaze, Moshi Tileia and Josh Xander all expect to play key roles on varsity as incoming freshmen.
Hear them roar
Monte Vista head coach Ron Hamamoto lists senior linemen Jesse Schroeder, Aaron Bustos and Adrian Ortiz, senior linebacker/running back Lamonta Jenkins, senior defensive back/receiver Brandon Deacy and senior quarterback Jasyon Mikha as the defending Grossmont Valley League champion Monarchs' top returners for the upcoming season.
Schroeder and Jenkins both earned all-league honors in 2019.
Monte Vista finished 6-5 last season, 4-0 in league play, with a season-ending 47-0 loss to ninth-ranked Poway in the opening round of the Division II playoffs.
Extra points
The Grossmont Valley League includes seven teams this season with each team playing six league games. The 2020-21 league line-up includes El Cajon Valley, El Capitan, Monte Vista, Mount Miguel, Santana, Valhalla and West Hills.
It looks to be very competitive.
Some games have already been rescheduled.
Valhalla will host Hilltop in a non-league game on Jan. 8, followed by a home game against Mt. Carmel on Jan. 29. The Norsemen will play at league game at Santana on Feb. 5, host West Hills on Feb. 12 and play at El Capitan on Feb. 26.
In other season openers set for Jan. 8: West Hills will host Kearny, Monte Vista will play at Lincoln and Helix will play at Mission Hills Alemany.
Grossmont is now scheduled to host Lincoln on Feb. 5.