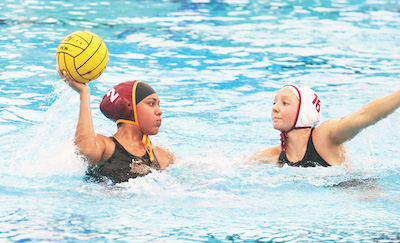 The 2019-20 Monte Vista High School girls water polo team was braced by five returning starters who clearly keyed the team's fortunes during its run to a history-making runner-up finish in the San Diego Section Division III championship game.
The field five starters who provided leadership in the pool included seniors Naidelyn Cruz Garcia, Kay Kowalewski, Daisy Diaz and Keala Macias as well as junior Patricia Ramos.
"Just with their leadership, they were so dependable, putting a full effort into anything we did," said Monte Vista coach Kimmy Keach, who earned honors as the Grossmont Valley League Coach of the Year. "They never gave up and helped us get to where we ended up.
"It took being dedicated and being a program to get us to the finals. It started in the summer and continued in the swim season. It was about never cancelling practice. We swam and practiced to be competitive with the top teams."
Monte Vista (20-7 overall) finished 4-4 in Grossmont Valley League play. The Lady Monarchs received the No. 1 seed in the Division III playoffs and advanced to the championship game with victories against eighth-seeded Otay Ranch (14-8 in the quarterfinals) and fifth-seeded Valley Center (8-7 in the semifinals).
Monte Vista's championship drive was stalled with a 7-6 setback to second-seeded Santa Fe Christian (23-7) in the championship game.
It marked the second consecutive top four finals appearance for the Lady Monarchs, who advanced to the Division III semifinals in 2018-19.
Monte Vista had two players named to the 2019-20 all-league first team: Ramos and Kowalewski. The Lady Monarchs had three players named to the all-league second team: Diaz, senior Faith Hinkley and junior goalkeeper Isabella Gaddie.
Monte Vista's all-league honorable mentions included Cruz Garcia and Macias.
Kowalewski led Monte Vista with three goals in the championship game while Cruz Garcia, senior Faith Whitall and Ramos each scored one goal. Gaddie had nine saves
Kowalewski, Ramos, Diaz and Hinkley were All-Division III First Team selections while Whitall, Cruz Garcia and Macias were All-Division III Second Team picks.
"We finished the season with a 20-7 record and made school history, playing for a CIF title in girls water polo for the first time," Keach said. "We played a strong schedule and beat several Division II teams and all Division III teams, with the exception of the final, including Santa Fe Christian at the East County Invitational, going 4-1 and only losing to Mar Vista, the Division II champions this year."