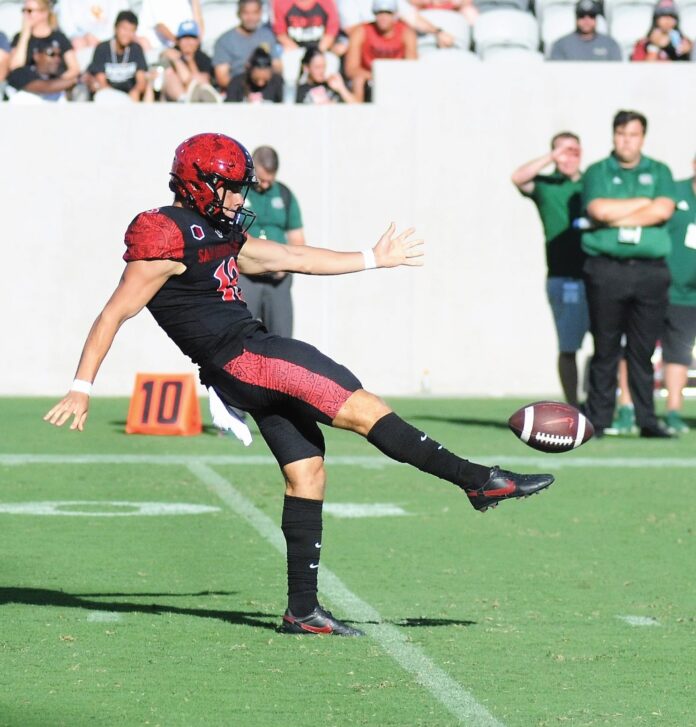 First games in a season aren't usually spectacular. It often takes a while to get the timing down and allow team chemistry to develop.
For the better part of last Saturday's non-conference season opener against Ohio University at Snapdragon Stadium, the outcome remained in doubt for the host San Diego State University Aztecs before they managed to persevere for a 20-13 victory.
Trailing 6-3 late in the second quarter, the Aztecs rallied with 17 unanswered points to skip in front, 20-6, midway through the fourth quarter. The Bobcats scored with 1:59 to play but the hosts managed to clamp down on defense to claim the come from- behind victory in front of 23,867 fans.
SDSU heads into Saturday's home game against Idaho State (7:30 p.m. kickoff) with a 1-0 record to accent the positive.
"It's great to start the season with a win," SDSU head coach Brady Hoke said. "It was great to get out there and have another opponent, a little different color jersey.
"When you work as hard as these guys do, it's great to see them win. It's great to see them play well. It's not as fun when they don't play well. Last year, there were three games that we got beat because we didn't finish. That's one of the things we talked about. We have to finish everything we're doing. We did finish (against Ohio), which is a positive."
The season-opening win reeled in accolades for a pair of Aztecs: linebacker Cody Moon earned recognition as the Mountain West Defensive Player of the Week while West Hills High School alumnus Jack Browning was named the MW Special Teams Player of the Week.
The award was the first for Moon, a junior transfer from New Mexico, while Browning, a senior kicker, picked up his third career weekly award.
The reigning MW Special Teams Player of the Year and preseason MW Special Teams Player of the Year, Browning accounted for eight of SDSU's 20 points in a seven-point victory with a pair of field goals (49 and 21 yards) and two extra point conversions. The Lakeside native also punted three times for a 56.3 average with all three punts measuring more than 50 yards (57, 60 and 52). The 56.3 average was the highest in the country last weekend (minimum three attempts).
Browning, who handles all three kicking duties, also averaged 55.3 yards on four kickoffs.
Moon registered a team-high 12 tackles (seven unassisted) in his first game at SDSU, while adding a pass breakup and a quarterback hurry. Moon's 12 tackles were more than the next two Aztecs combined as he helped limit the Bobcats, a 10-win team a year ago that returned nearly all of its offensive and defensive players this season, to 13 points.
Senior tight end Mark Redman accounted for two touchdowns (13 yards to end the first half and four yards with 5:39 remaining in the game) as senior quarterback Jalen Mayden completed 17 of 27 passes for 164 yards with two touchdowns and no interceptions.
Sophomore linebacker New Zealand Williams had one interception for 40 yards as the Aztecs totaled three picks in the game on defense.
Several San Diego County prep alumni made significant contributions in the SDSU victory.
Senior running back Kenan Christon (Madison) rushed for 45-net yards on 11 carries while red-shirt freshman Trey White (Eastlake) recorded his first career interception.
Additionally, junior receiver Mekhi Shaw (Scripps Ranch) had three catches for 48 yards while senior cornerback Noah Tumblin (Mira Mesa) recorded five tackles (all assists).
Extra points
SDSU improved to 16-1-1 all-time against teams from the Mid-American Conference.
The Aztecs have won eight of their last nine season home openers and are 46-17-4 overall in season home openers, 54-42-5 all-time in season openers. They improved to 6-2 at Snapdragon Stadium.