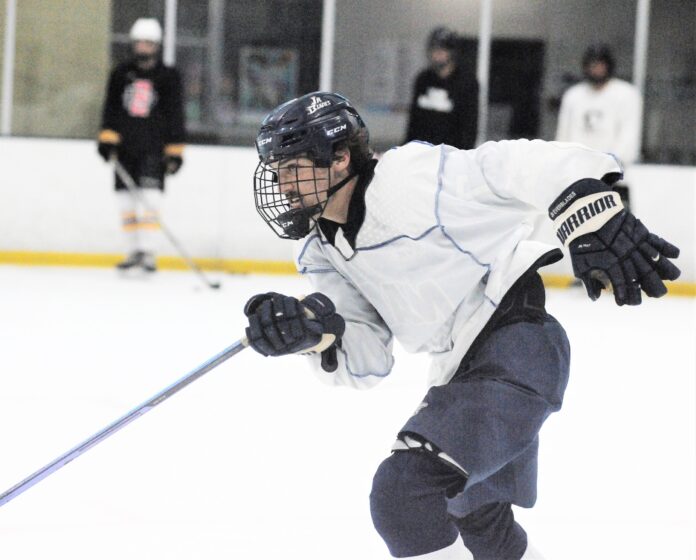 Never mind that temperatures outside the Kroc Center Ice Arena were pushing 90 degrees this week. Inside was the coolest place to be as nearly 40 recruits and walk-ons were under the watchful eyes of San Diego State University men's ice hockey head coach Phil Bateman and assistant coach Clark Oliver as they attended the team's tryouts, Aug. 26-29, for the upcoming 2023-24 American Collegiate Hockey Association Division 1 club season.
Following the selection of the team after Tuesday's final tryout session, Bateman said practices would start on Thursday, Aug. 31, in advance of the team's season opener Sept. 15 against Loyola Marymount University at the Kroc Center.
With just a handful of returning players off last year's inaugural
Division 1 team, this season's roster will be largely filled by newcomers, but chock full of top-flight talent, according to Bateman.
"This will be an improved group," the SDSU bench boss assessed. "Our forwards will have a lot more skill, a lot more pace, a lot more size, too. The defense is exceptional, just a lot more professional blue line than we've ever had. It's an extension of our goaltending, very mobile, very agile, creative with the puck. It's an exciting blue line and goaltending. That's what I focused on during the off-season."
SDSU's inaugural Division 1 season was tough numbers-wise in more ways than one. The Aztecs, moving up from a successful 12-5-1 Division 2 season in 2021-22, finished 1-20-1, snapping a 0-19-1 start in their final homestand of the season.
Bateman said a small tryout of 20 players had much to do with the team's disappointing record. There just wasn't much to pick from, though the team challenged as best it could. That shouldn't be a problem this season with the major influx of new talent.
Bateman, in fact, believes the Aztecs will be fielding their best-ever team in school history this season.
Third-year player Marcus Kim, among SDSU's small core of returners, said he is looking forward to the new ice campaign.
"I think we have great talent coming back but most of the team is new," said Kim, an Irvine native. "It's a whole re-set. We kept our top guys from last year and added to that. I think this team will do better than last year. We competed really hard last season. We just didn't have the guys to push us over the hump. We do this year. We're very strong defensively. We've brought in four new goalies. We're going to be greatly improved."