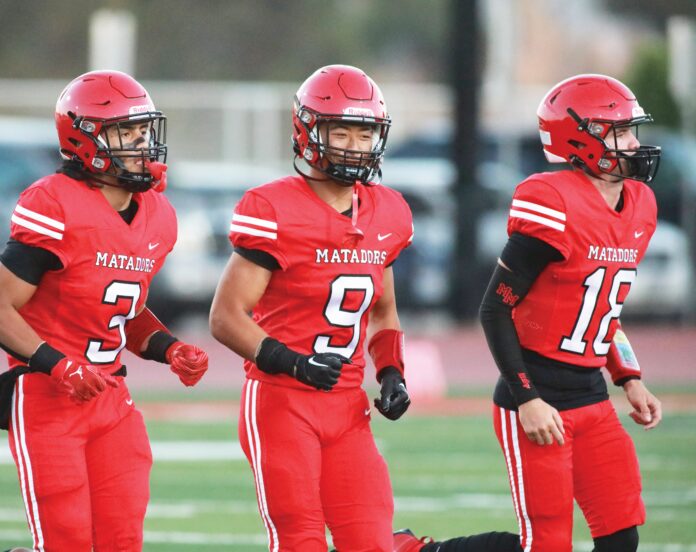 With blowout wins in their opening two games, one has to wonder just how good is this 2023 Mt. Miguel Matador team? Obviously, pretty good.
And likely better than last year's 4-7 playoff squad.
The Matadors — fresh off 48-14 and 49-0 wins over the Sweetwater Red Devils and Chula Vista Spartans, respectively — hope to get a better bead on what to expect this season when they engage the Grossmont Foothillers in a non-league road game on Sept. 8. Prior to that, Mt. Miguel was scheduled to host the Montgomery Aztecs (1-1) in a Thursday night matchup.
Grossmont has kicked off the season with a 2-0 start under new head coach Anthony Lawrence following non-league victories against San Diego (34-14 on Aug. 18) and Olympian (44-22 on Aug. 24).
Four games into the season should provide a very good barometer.
In the meantime, Matador seniors Matthew Barton and Jeremiah Castillo are certainly raising the standard high.
Barton passed for five touchdowns in last Friday's win — three of them to Castillo (four catches, 134 yards) — while completing 13 of 15 attempts for 364 yards and a phenomenal 166.0 quarterback rating.
On the season, Barton has logged 628 passing yards and eight touchdowns while Castillo has 211 receiving yards and three touchdowns.
Barton can heave the ball down field. Castillo had one 73-yard score while senior Johnny Castro scored on a 55-yarder.
The Matadors rolled up 470 yards in total offense against Chula Vista, including 106 rushing yards.
Senior Davian McGowan scored one rushing touchdown and one receiving touchdown in the win over the Spartans. He rushed six times for 53 yards and had three catches for 36 yards.
Sophomore Zane Rottier led the Mt. Miguel ground troops with five carries for 63 yards. Castro had three catches for 84 yards.
The Spartans accumulated 204 total yards — 135 rushing yards and 67 passing yards. Junior La'Darrione Perkins led the Spartans with 95 rushing yards.
Around East County
Grossmont doubled up the visiting Olympian Eagles behind 320 passing yards and five touchdown passes by senior Hudson Herber in a Thursday night game. Senior Cody Bigler had nine catches for 203 yards and three touchdowns while senior Elias Burlazza had five catches for 40 yards and two scores.
The Foothiller defense collected four interceptions, including two by senior Joshua Ferrera (team-high 14 tackles), two fumble recoveries (one each by junior Julian Garcia and senior Alishan Kushaliyev) and one sack (senior Jacob Sutter).
Garcia and senior Zelan Reynolds also had picks in the game.
Herber has passed for 617 yards and nine touchdowns in two games while Bigley has 343 receiving yards and five touchdowns.
With seven rushing touchdowns in last Friday's 48-12 nonleague win over visiting Mar Vista, Valhalla senior Dominic Silva has to be counted among the game-breakers this season. Silva rushed for 252 yards on 28 carries to lead the host Norsemen (1-1) to their first win of the season. In two games, he has rushed for 477 yards and scored eight TDs.
Two weeks into the season, four Grossmont Hills League teams sport 2-0 records: West Hills, Helix, Santana and Grossmont. Granite Hills is undefeated at 1-0.
Junior quarterback Brandt Barker completed all seven passing attempts for 246 yards and four touchdowns in El Capitan's 55-0 non-league win at Canyon Hills. Senior Chance LaChappa had three catches for 116 yards — two of them touchdowns — while senior Julian May (two catches, 78 yards) and junior Ayden Benegas (one catch, 33 yards) each had one touchdown reception.
The Vaqueros (433 total yards) also scored three rushing touchdowns — one each by junior Brady Joralemon (five carries, 103 yards), junior Garrett Luckinbill (four carries, 34 yards) and Benegas (one carry, three yards).
The El Capitan defense had four sacks, one interception and two fumble recoveries.
In other games:
•Senior Ryland Jessee passed for a pair of touchdowns in Helix's 45-21 win at St. Francis while senior Kevin Allen III rushed for 106 yards and scored one touchdown.
•Sophomore Kyler Oberg (two catches, 96 yards) had two receiving touchdowns while senior quarterback Alistair Ayersman (five-of-six passing, 129 yards) completed two touchdown passes in West Hills' 33-7 non-league win at Coronado.
•Senior Darick Dubose tossed a pair of touchdowns to lead El Cajon Valley (1-1) to its first win of season, 21-13, over visiting Classical Academy.
Prep Football Scoreboard
NON-LEAGUE GAMES
Thursday, Aug. 24
Grossmont 44, Olympian 22
Kearny 22, Monte Vista 20
Friday, Aug. 25
Mt. Miguel 49, Chula Vista 0
El Cajon Valley 21, Classical Academy 13
El Capitan 55, Canyon Hills 55
West Hills 33, Coronado 7
Helix 45, St. Francis 21
Santana 34, Sweetwater 8
Valhalla 48, Mar Vista 12
Madison 33, Steele Canyon 7
California School for the Deaf-Riverside 28, Foothills Christian 26
Saturday, Aug. 26
Christian 20, Bishop's 10