There will be fall football after all.
The Mountain West Conference Board of Directors met on Sept. 24 to discuss the possibility of playing the 2020 season after initially announcing an indefinite suspension on Aug. 10 due to health concerns amid the COVID-19 (coronavirus) pandemic.
After the meeting, the league reversed course and announced on Sept. 25 that the 2020 football season will start on Oct. 24. Subject to state, county and local approval, San Diego State University will play an eight-game regular-season schedule.
The MW championship game scheduled for Dec. 19.
The league announced its 2020 schedule will be released soon.
The Aztecs are among 12 conference members.
MW West Division members include Fresno State, San Jose State, UNLV, Nevada-Reno, Hawaii and SDSU. The MW East Division includes Boise State, Wyoming, Colorado State, Utah State, New Mexico and the Air Force Academy.
Hawaii defeated SDSU to win last year's MW West title while  Boise State finished atop the East Division standings. Boise State defeated Hawaii, 31-10, in the 2019 MW championship game.
Seven MW teams participated in postseason bowl games: Boise State (Las Vegas Bowl), Hawaii (Hawaii Bowl), Nevada-Reno (Potato Bowl), SDSU (New Mexico Bowl), Utah State (Frisco Bowl), Wyoming (Arizona Bowl) and Air Force (Cheez-It-Bowl).
SDSU finished the 2019 season 10-3 overall after defeating Central Michigan, 48-11, in the New Mexico Bowl.
"I am excited our football student athletes are going to have the opportunity to compete this fall," SDSU director of athletics John David Wicker said. "While we still have work to do with campus and local county colleagues on a full return to play, we have made significant strides in returning our players to practice in a safe and healthy manner.
"We will continue to learn from those that have already begun competing this fall to ensure our health and safety protocols are at the levels we need to enjoy a successful 2020 football season."
"I am very excited that we are getting back to football," SDSU football head coach Brady Hoke said. "Our guys have been working hard and it will be great to get back out on the field. We can't wait to compete. I don't have any doubt that the priority has always been the health and well-being of our student athletes with the safety protocols we have here at San Diego State. I know the conference and all the (MW) institutions have been following the advice of the medical and athletic training staffs, and we're going to go about this as safely as we can."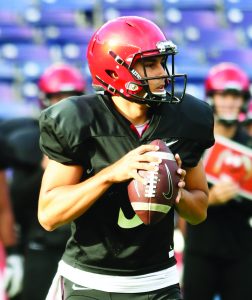 The SDSU roster includes four East County high school alumni: sophomore quarterback Carson Baker (Helix), junior safety Rashad Scott (Helix), sophomore wide receiver Jesse Matthews (Christian) and sophomore linebacker Michael Shawcroft (Helix).
While the return to the field is great news for everyone associated with the SDSU team, fans will have to tail-gate long distance.
The Aztecs announced on Sept 15 that home games have been moved to the Health Dignity Sports Park in Carson. The move was made to facilitate on-site construction of the school's new football stadium on the recently purchased SDSU West parcel in Mission Valley, the current site of SDCCU Stadium.
Plans are to deconstruct the existing stadium ahead of schedule to advance the timeline of the SDSU Mission Valley project.
SDCCU Stadium is now scheduled to be demolished in the first quarter of 2021; the new 35,000-seat SDSU stadium is expected to open in time for the 2022 season.
Besides the new stadium, the Mission Valley site is expected to also include a mixed-use development that is transit-oriented  and will expand the university's educational, research, entrepreneurial and technology transfer programs. SDSU Mission Valley will also include transit, retail, housing and the development of more than 80 acres of community parks and open space, including the 34-acre River Park.
With the move now made official, the Aztecs have played their last game at SDCCU Stadium. That came on Nov. 30 — a 13-3 non-conference victory against BYU as Baker completed 19 of 24 passes for 172 yards and one touchdown.
The existing Mission Valley stadium, previously known as San Diego Stadium, Jack Murphy Stadium and Qualcomm Stadium, first opened in 1967.
The Aztecs' first game at San Diego Stadium was on Sept. 15, 1967, when SDSU defeated Tennessee State 16-8.
"Once the sale of the site was finalized with the city, and we knew we could play football in Aztec Stadium in fall 2022, based on all the information we had gathered, it became clear the existing stadium had to come down in the first quarter of 2021," Wicker said.
"Our intention had been to play a final season in SDCCU Stadium. Unfortunately, COVID-19 has forced our hand and we must move the 2021 games as well."
According to the university, the decision to demolish SDCCU Stadium earlier than originally planned will advance the timeline for the entire project.
"This is not a decision we made lightly," explained Tom McCarron, who serves as senior vice president of SDSU Mission Valley Development. "Getting the site ready for future development is critical for SDSU to realize the vision we have shared with the community over the past many years. The accelerated development timeline not only keeps the stadium on schedule, but also the River Park and development pads for the residential housing and Innovation District."
Dignity Health Sports Park, which opened in 2003, is located about 110 miles north of SDCCU Stadium.
"Although I am disappointed that we will not be playing our home games in San Diego (this) year, I remain incredibly excited about playing in our new stadium in the fall of 2022," Wicker said.