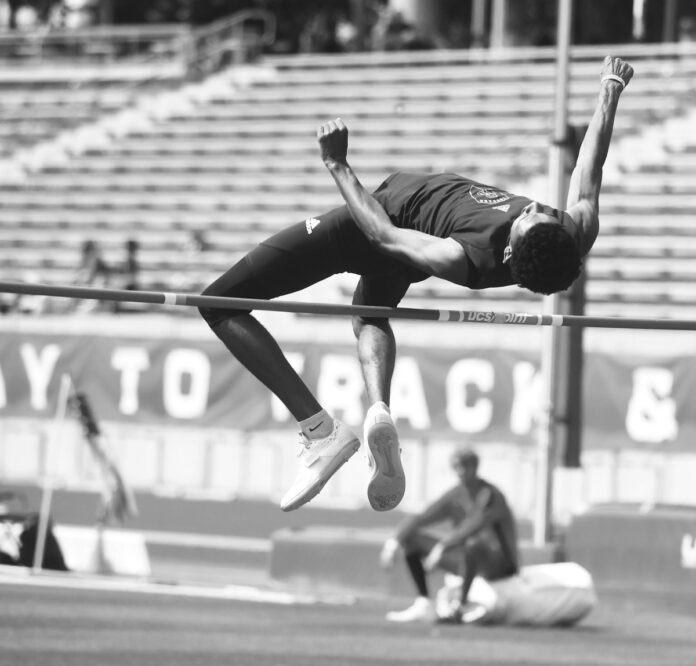 The 102nd California state track and field championship meet unfolded last Friday and Saturday at Buchanan High School in Clovis to its usual fanfare as the greatest high school event of its kind in the United States at the finest high school track and field venue in the state.
The event attracted nearly 8,000 fans on the opening day. The attendance topped that for the finals the following day. East County student-athletes made a dent in the competition with three medals.
•Steele Canyon senior Leon Gillis tied for the silver medal with a second place showing in the boys high jump by clearing 6-5.
•Helix Charter junior Adren Parker set a new San Diego Section in the boys 400-meter dash enroute to recording a fourth-place finish while Parker helped anchor the Highlanders' school record-setting fifth-place finish in the boys meet-concluding 4×400 relay.
Overall, it wasn't a bad haul for section participants at this year's meet. The section nailed down two gold medals — San Diego senior Charlize James in the girls 100-meter low hurdles and Cathedral Catholic junior Kapiolani Coleman in the girls 300 low hurdles — and 22 medalists overall (15 on the girls side and seven on the boys side.
The top three place-finishers in each event in all divisions at the preceding section finals qualified for last weekend's prep extravaganza. The top nine placefinishers in each running event and the top 12 place-finishers in each field event qualified from last Friday's preliminary trials to Saturday's championship finals.
The top six place-finishers on the second day earned precious state medals. It was an experience to be cherished.
"We've had a resurgence in track here at Helix the last four years," coach Rodney Van said. "We've brought the program back into prominence with balance between the track and football teams. Once we did that, it culminated in our success this year. That's been a plus for us."
Gillis cleared 6-9 earlier in the season to challenge for the state lead in the event. He cleared 6-6 to earn the Division I silver medal at the section finals behind Eastlake senior Justin Cardoza (6-8). Both jumpers cleared 6-5 at Saturday's state finals — two of seven to do so.
Cajon senior Seth Johnson was the only one to successfully navigate 6-7 to win this year's state gold medal. The remainder of the field was decided by misses to determine the order of the rest of the medals.
Gills tied with De La Salle junior Chuckwunonso Udeh and Davis senior Ray Oldham for second place while Cardoza tied with Justin-Siena junior Travis Hightower and Crossroads junior Cole Hoegl for fifth place.
A total of 11 jumpers cleared the opening eight of 6-4 during last Friday's prelims. Parker, who advanced to the state meet as the Division I section champion in the 400 dash with a time of 47.31, set a new section record of 46.82 as the No. 4 qualifier at last Friday's prelims. He timed 47.68 in the finals the next day to medal after lowering his own school record in the prelims.
"It was a good race and I feel accomplished," Parker said in recounting his state medal performance. "I wasn't able to take it to the next level (the next day from the prelims) like I wanted but I want to come back next year and win it."
Central senior Jeremiah Walker won this year's state gold medal in 47.49, followed in a blur by West Ranch senior Christopher Goode in 47.51 in second place and Granada Hills junior Dijon Stanley in third place in 47.51.
Parker finished just 0.19 seconds out of first place. Otay Ranch senior Haydn Brotschi finished eighth in 48.57 as the section's second runner in the race. Parker blazed a final 400 split time of 46.6 to zoom past several opponents to help the Scotties win their heat and place No. 2 overall among prelim qualifiers with a time of 3:17.47.
"I didn't want to let my team down," Parker said. "They put me in a good position, I finished it."
Cathedral won the state title the next day in 3:13.87, followed by Central in second place in 3:14.78, Long Beach Wilson in third place in 3:15.16 and Rocklin in fourth place in 3:15.72. Helix's fifth-place 3:15.79 clocking eclipsed a school record that had stood since 2003. Dublin (sixth) followed Helix across the finish line in 3:19.63. San Marcos, also representing the section, finished eighth in 3:19.97.
Senior Xavier Van ran the first leg on Helix's school-record setting relay, followed by senior Tibyasa Matovu on the second leg and freshman Laurence Burston on the third leg.
"Each leg was great — we all ran for each other," underscored Parker, who ran a torrid 45.8 split in the final "We wanted to make it memorable because some of us would be running together for the last time. It was great."
Matovu, who qualified for the state meet in both the boys long jump and 4×400 relay, finished eighth in the long jump at Saturday's finals with a mark of 22- 6.75. He qualified for the state meet with a personal record mark of 23-3.5 to win the Division I section gold medal.
"It was pretty hard to compete, but I came out eighth in the state of California," he said. "That's something to be proud of."
Van and Burston were both appreciative of their opportunity to compete at this year's elite meet.
"It was amazing to see how we started and how we ended the season," Van said. "We kept building. We're happy."
Burston hopes it is a launch pad to future greatness.
"I've been running since I was 6 and it's always been a dream of mine to make the state meet and medal," Burston said. "Now I want to come back and do better."
Eastern exposure
East County qualified student athletes in nine events for last weekend's meet.
Liberty Charter junior Micah Sanchez placed 18th in the boys 1600-meter run in 4:20.75 in last Friday's prelims after posting a Division III gold medal-winning mark of 4:16.80 at the preceding section finals, a personal best.
Among relay teams, Steele Canyon finished 19th out of 24 teams in the boys 4×400 in 3:24.97 (slower than the 3:22.20 posted at the section finals) while Helix finished 11th among 26 teams in the boys 4×100 with a time of 41.75 (bettering the mark of 42.03 at the section finals).
Santana junior Jenna Fields (long jump, triple jump) and Steele Canyon senior Arionn Livingston (girls 400 dash) also qualified from the section finals.