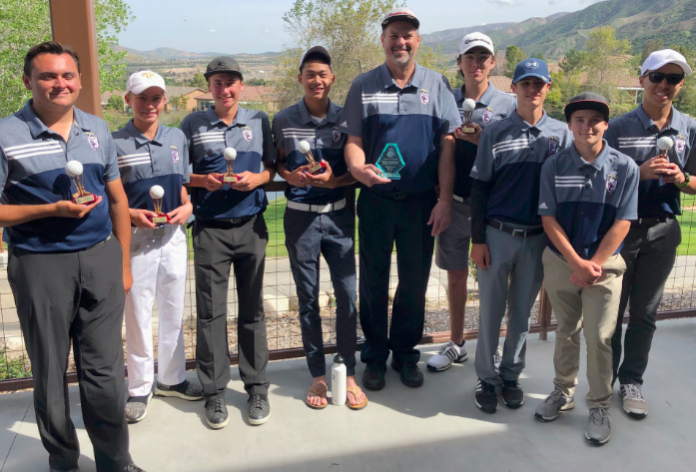 The Steele Canyon High boys varsity golf team is 14-0 this season with a 4-0 record in the Grossmont Hills League heading into the final two weeks of the regular season.
The Cougars are ranked tenth in the county and defeated Grossmont Valley League-leading West Hills (9-4), in an early-season encounter at Steele Canyon Golf Club.
Steele Canyon's best-scoring quintet is a very consistent and unheralded group.
Sophomore Shea Lague has been the lowest scorer on the season, including an 18-hole tournament score of 73 over the Glen Ivy (par 72) course in Corona as Steele Canyon won the Santiago Sharks Tournament in Corona.
Lague is the 52nd-ranked player currently in the section this season. The highest ranking of any East County player.
Freshman Phillipe Yturralde, juniors Kyle Lague and Bobby Rickey, along with senior Antonio Martinez have all been ranked among the top 100 players in the county this season.
Rickey had impressive back-to-back sub-par rounds of 34 (Sycuan Oak Glen) and 33 (SCGC) back in late February.
Granite Hills (8-4) is currently 3-1 in the Hills League. The Eagles are ranked 32nd in the county, but second among East County outfits.
The Eagles are led by sophomore Trevor Finch and junior Sam Graves. The duo both shot season-low rounds last week in a win over Monte Vista.
Finch is the 67th-ranked player in the county and second-ranked among the locals.
Meanwhile, the Wolf Pack are 7-0 in the Valley League, securing at least a share of the title.
West Hills is a senior-laden squad with leading returnee Janidu Goonatilaka but freshman Jorge Oros has the team's lowest scoring average in relation to par this season.
Junior Jackson Vail turned in his best card of the season, shooting a 40 in the Pack's key 16-stroke league win over its closest challenger, Grossmont (5-3), which is currently in second in the Hills League at 3-1.
The Foothillers have the two top players in the circuit in senior Tanner Askey and freshman Brandon Hang.
Santana (8-6) sits third with a 3-3 Valley League mark.
Sultan senior Joseph Morgan shot a season-best, even-par 36 over the Carlton Oaks front nine in a non-league win over El Capitan last month.
The Eagles, Foothillers are possibly headed to the Division I playoffs, while Helix (4-4) is on the bubble.
In Division II, West Hills, Santana and El Capitan are all likely headed to the postseason, while Valhalla is suffering a rare down season and could miss the dual-meet playoffs, although the Norsemen sit just outside the current playoff standings.
Currently, the San Diego Section still uses enrollment as the criteria for divisional placement.