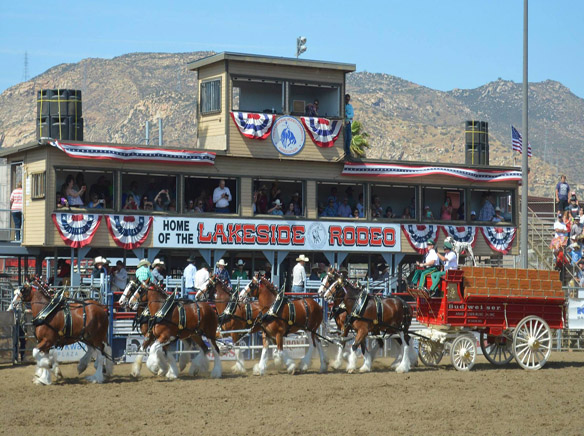 On April 1 the El Capitan Stadium Association announced the cancellation of its largest fundraisers of the year, the Lakeside Rodeo, until 2021, which was to be held April 14-26. A non-profit, the ECSA has dedicated its profits to the youth of Lakeside for more than 56 years. Its donations to the community average more than $100,000 a year and, in 2019, the ECSA reported it donated more than $150,000 in funds to local youths, teachers, schools and community youth leaders. Annually it provides more than $7,000 in scholarships. Since its beginning in 1920, the ECSA has returned more than $5.8 million back into the Lakeside community.
The COVID-19 pandemic is affecting more than just the ECSA. The Lakeside Chamber of Commerce cancelled its Western Days Parade, the Lakeside Optimists cancelled their barbecue dinner to begin Western Days and the Lakeside Historical Society cancelled its Western Days breakfast, one of its largest fundraisers of the year.
Betty Washburn, El Capitan Stadium Association contract secretary, said rodeos in the same time frame have cancelled or rescheduled. The Clovis and Springville rodeos cancelled, but the Auburn and Ramona rodeos rescheduled to later dates in August.
"Unfortunately without a rodeo that is our main fundraiser for the year, and having no events, we have no income," said Washburn. "But without knowing when and if this coronavirus is going to subside anytime soon and not having any defined information on it, I had dates in August, but the board chose to cancel everything until next year."
Washburn said that competitive cowboys and cowgirls are going to be looking for rodeos, because this is how they make their money, and they are going to be looking for rodeos to make up for the funds they are missing with the closures.
"But we can't do anything until we know what is going to happen," said Washburn. "Right now, everybody's kind of sitting home and waiting."
Washburn said the best way to help ECSA is through donations.
"Right now I'm processing refunds for those who have already bought tickets. A lot of people are saying instead of sending their money back, to just donate it," said Washburn. "We are right in the middle of building our new restroom and that is going to take a hit, so we need to figure out how to finish paying for that to get it finished. Plus, we have our everyday expenses like everybody else, so we are trying to find ways to keep us afloat right now."
Washburn said the ECSA is also looking for how to get events set up for late summer and fall to try and make up for some of the money. She said hopefully the Bulls Only Rodeo will be in July, it has barrel races in August and a lot of school events already booked for August and into September, along with the Ham Radio Association and the El Cajon Gem & Mineral Society Annual Show.
"We do a lot of different types of things on the rodeo grounds. Basically, for most events, they use the building, patio and the parking lot. We rent that out for weddings and all sorts of events," said Washburn. "We're still here. We'll take any type of donation if people want to help us out. Contact us and we'll set it up."
The ECSA can be contacted at (619) 561-4331.