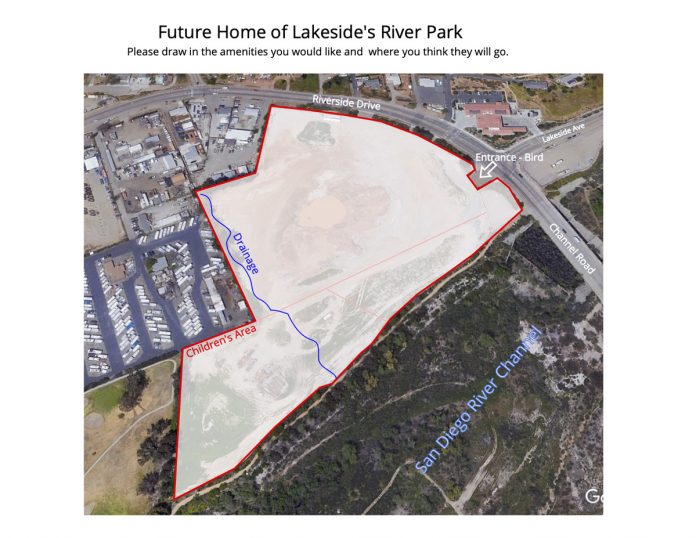 When Lakeside River Park Conservancy Executive Director Robin Rierdan kicked off the first in a series of five public meetings on what a future 15-acre park might include, she made clear from the start that the design will look different from any other in the area, should include dynamic features instead of a predictable play structure, might have a pool that can transform into a skatepark, and ideally will be based on direct input from children and teens.
"We were established in 2001 with the promise from Hansen Aggregates that we would be getting this 15-acre piece of property, which is being donated and valued at nearly $15 million… Now, there is an 8.5 million dollar grant coming up on March 12 that requires public workshops so we're interested in every idea you've ever had, from fun things to kids to fun things for adults," Rierdan said.
She encouraged kids under the age of 18 to ask questions throughout the presentation and bring forth spontaneous ideas, then launched a quick multimedia presentation of ideas gathered from parks all over the world that could be used as a jumping off point for the Lakeside park.
Photos of Swizerland's Kannelfedpark illustrated how a splash zone and pool used by tots to cool off in summer could be drained into a concrete skate zone for older children in chillier months.
Repeatedly, Rierdan observed that photos taken of children playing in parks all over the world appear to suggest they prefer swings to any other play structure, possibly she said because "it's not static, it has interesting movement and they can control it within their world".
In other photographs, Swiss Naturbad Riehen featured a public pool cleaned by natural algae and surrounded by loosely landscaped growth rather than concrete so it "looks like the ponds everyone used to swim in" Rierdan said but is safely maintained.
"Notice this doesn't look like our rectangular pools with everyone stuck in the blazing heat," Rierdan said, pointing out the organic shape, shaded areas and blurred border between pool area and contiguous landscaping.
More practically, Rierdan also pointed out the portable bathrooms, easy to hose out and lock up against any potential vandals.
"The next step in park development she said, looking to American sites, is building parks for kids such as Shorebird park in Berkeley where kids can build forts with real hammers and nails so they are constantly evolving the play space rather than revisiting a static structure.
One parent, Jay Chesser said "we have a very litigious nature" and questioned the viability of some ideas, however Rierdan said she gave the same presentation to the foundation's insurance agent before the meeting and was told everything she presented could likely be insured except for a large slide.
"One thing we will do is require a liability release waiver like you've never seen before. We don't want anyone getting hurt but we also can't account for stupid," Rierdan said.
Chesser also asked how much thought was given to avoiding duplicating amenities already installed at other area parks such as the skate park at Lindo Lake and the Santee baseball field, which launched a bevy of ideas from attending kids.
Among the suggestions: a parkour section and a large trampoline, paintable forts, themed areas and places to hold holiday events like pumpkin carving, and a climbing wall.
One young adult, Austyn Chesser said no kid wants to go down the same slide 28 times so components that could be manipulated into different spaces "like legos" that can be built and rebuilt into different shapes would give kids of all ages multiple play possibilities.
Franziska Collier, a parent who logged onto the meeting with her children said she grew up in a socialist country where "we played with nothing, whatever was around us, sticks," and thinks it is important to focus on letting kids use their creativity once the initial burst of energy at a park wears off.
"There could be things like chess boards on tables so people can bring their own pieces. Also, why not make a trade market for things we could reuse, like once a month have families trade toys," Collier asked.
Rierdan agreed, and furthermore suggested "a lending library for toys so kids could check out a bike, art supplies, something interesting to do for the day".
She also said fire pits would be a great component to add as the park location— directly across the street from the Lakeside fire station— means reasonable fires might be a viable option.
"I also want a spot for urban art where taggers can come in and do graffiti art, legitimately," Rierdan said.
Permanent art that allows for interactive climbing and playing could be installed, she said, as well as borrowing art and education displays from museums after curated shows are removed for storage.
A small exhibition hall might go onto proposed plans, as well as an area where adults can simply participate in the things that interest them such as crafting or band rehearsals so "kids can watch with nobody shushing them" and learn in an informal setting Rierdan said.
She closed the meeting by encouraging attendees to submit letters with requests and rough sketches of what they'd like to see at the park, and spread the word of the workshop process. All future meetings in the series are listed at: www.lakesideriverpark.org